Madonna And This Dog Have A Lot In Common Based On These Photos
By Chalice Bailey March 9, 2023
---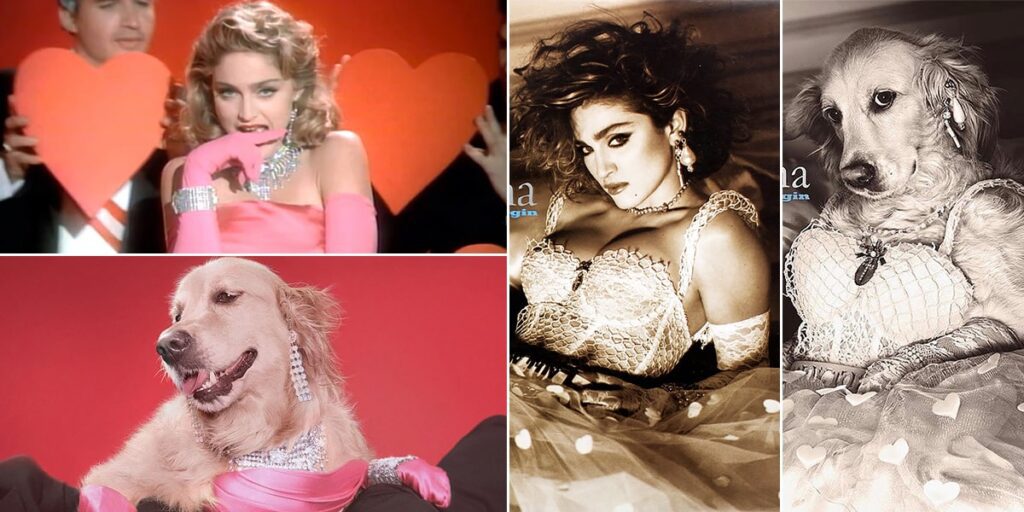 We all have different ways of expressing our admiration for celebrities. It may just be enough for some people to follow them on social media and that may be enough to keep them updated. However, Vincent Flouret has taken his adoration to the next level. By photographing his dog, Max, he has recreated iconic celebrity photos, primarily of Madonna.
The snapshots display Vincent's tremendous skill and thorough knowledge of the Queen of Pop's discography. Flouret's playful take on celebrity-inspired photography has gotten viral online, gaining over 100,000 likes and hundreds of comments from amused fans. Beyond that, the photos put Max in the spotlight. Vincent's project is an innovative and humorous way of showing his admiration for his idol. Take a look!
The Max and Vincent Tandem
French fashion photographer Vincent Flouret enhanced his work only after collaborating with City Shelters in Los Angeles to create adoption awareness. His creative vision reached new heights when he decided to use his canine companion Max to recreate some of Madonna's iconic music video scenes and album covers.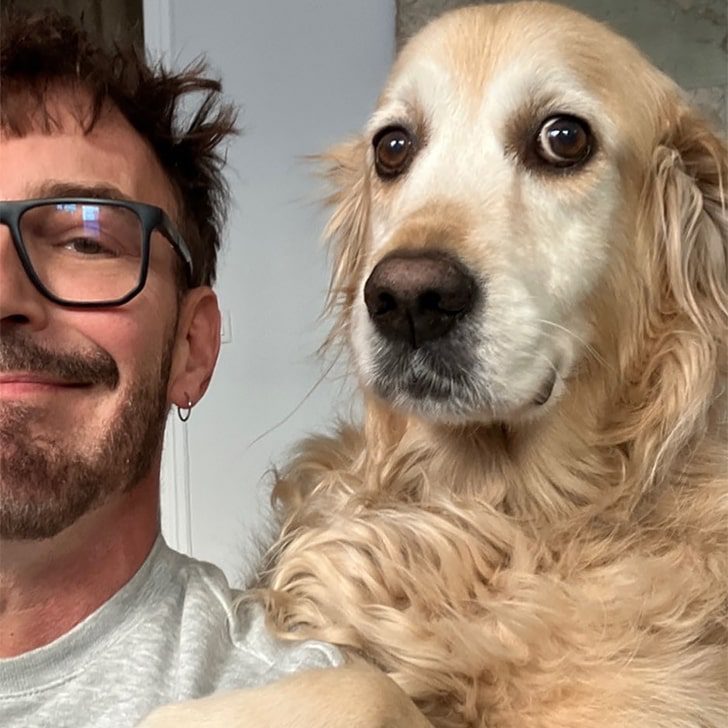 Together, Vincent and his golden retriever have created some stunning works of art. This partnership between the duo is truly a match made in heaven, as their unique and creative visions have come together to form something truly special.
Madonna's Ray of Light
In 1998, Madonna released her seventh studio album, which had an eclectic mix of acid electronica, psychedelia, and Kabbalah music. It became so popular that it soared to number one in 17 countries and sold 16 million copies worldwide.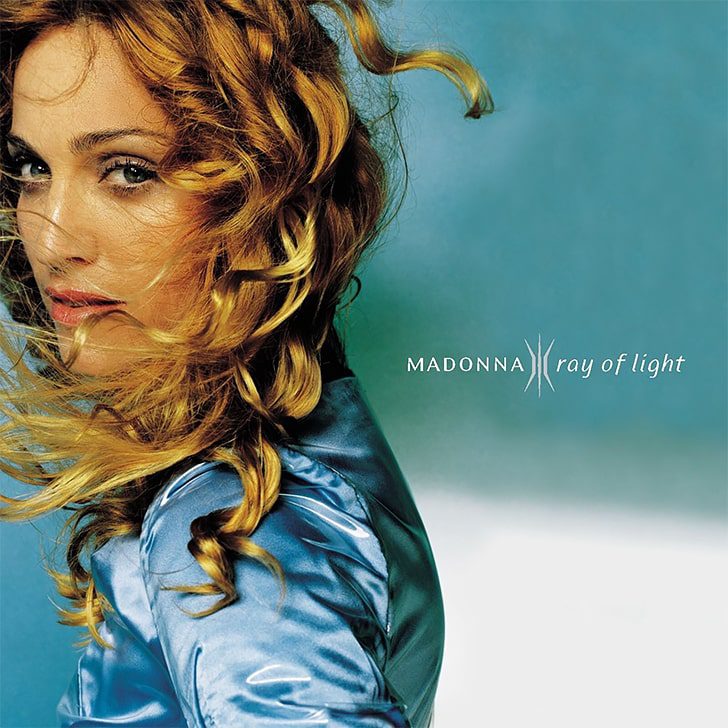 The album was a bright beacon of hope, demonstrating that the Michigan-born star still appealed to the masses. It was a breath of fresh air, and the success of this body of work with four Grammy wins proved that the superstar was still a force to be reckoned with.
Maxdonna's Take On It
Max stepped into the spotlight, ready to recreate the iconic album cover of "Ray of Light." His transformation was remarkable! He had the same windblown hair, facial expression, and even the same stance. It was as if he was channeling his inner pop star.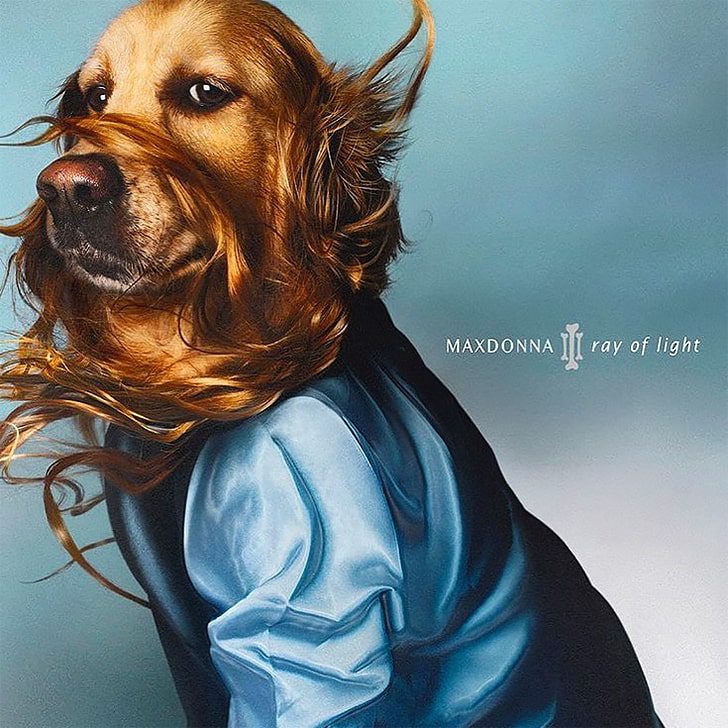 However, there were some slight differences between his version and the original. For instance, the background had a different shade of blue, and his shirt was a different shade too. Nonetheless, his album cover recreation was truly a sight to behold, wouldn't you agree?
Her Highest-Selling Album In America
It's not unusual that Madonna chose the title "Like a Virgin" for her second studio album and lead single. On top of that, it wasn't surprising that the song's ambiguous lyrics sparked debate among fans regarding its meaning. Despite all that, the album became the first by a female artist to sell more than five million copies in the United States.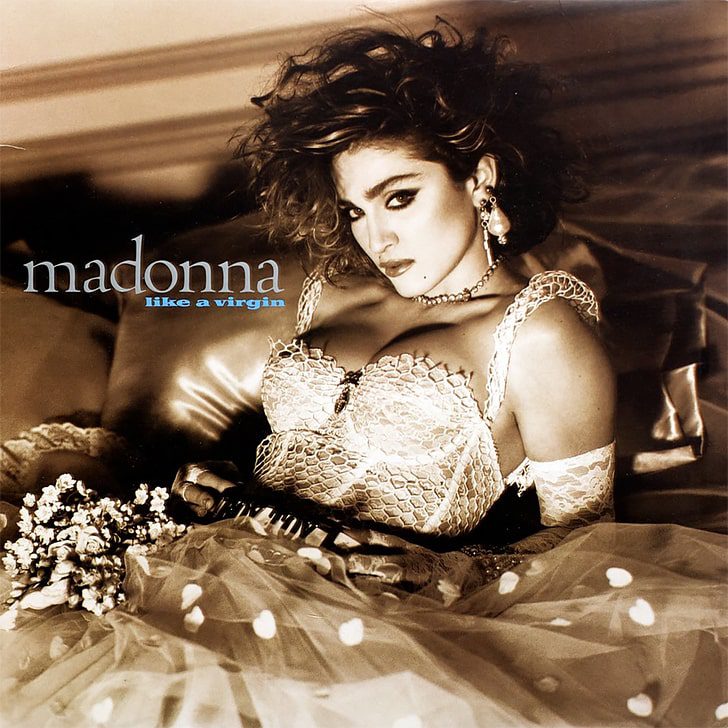 Steven Meisel, a renowned American fashion photographer, shot the cover. From its innovative title to its captivating cover, the 1984 album was an instant success.
Like A Canine
Vincent may not have the same level of fame as Steven Meisel, yet his skill is unparalleled. The amount of detail in this image is astounding. His pup's dress replicates Madonna's iconic white wedding gown from the original masterpiece.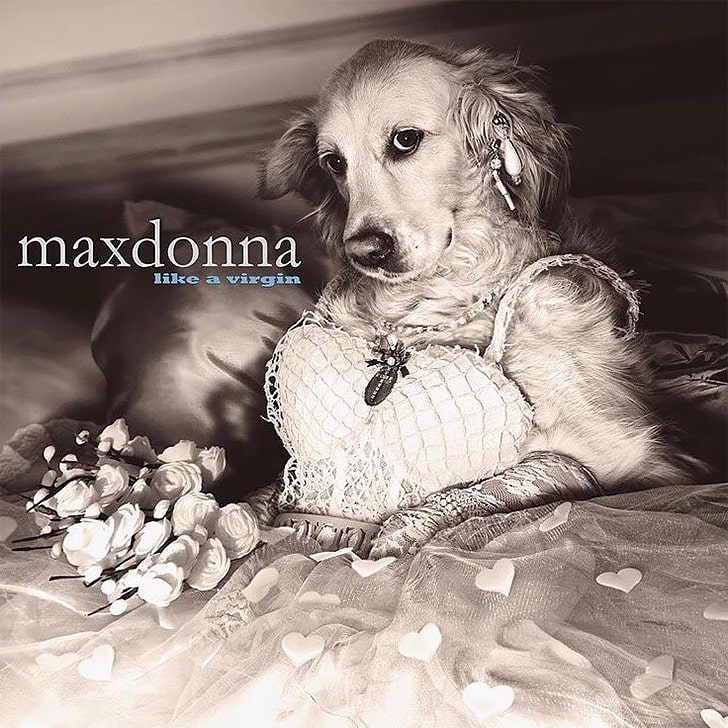 Maxdonna also put in effort for this memorable tribute photo. We can't believe how he managed to sit still like that with various ornaments adorning his ear and a plethora of other accessories. Unimaginable to most, this ball of sunshine achieved the impossible.
Taking A Dip Into Acting
Madonna has become an icon not only in the music industry but also in fashion. This is evidenced by her appearance in the 1985 comedy-drama "Desperately Seeking Susan." In the movie, she plays Susan, an independent and spirited woman living in New York City.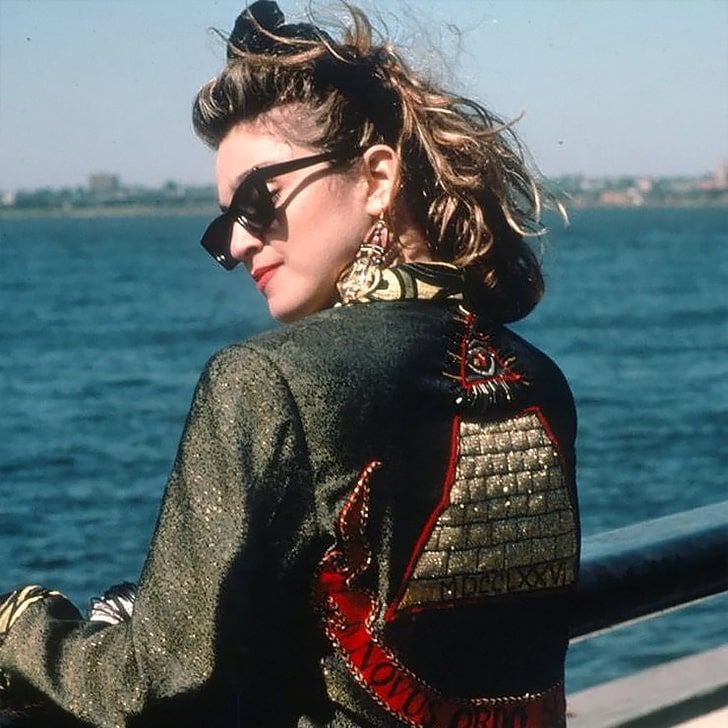 The movie was highly acclaimed, but what really made an impression was the jacket worn by the Rock and Roll Hall of Famer. This garment, designed by Santo Loquasto, quickly became a legendary piece of pop culture and has been a style staple for decades.
Max Has A Better Expression, Though
People have been trying to mimic Madonna's remarkable style for years, but Max has achieved it with minimal effort. And if there were a competition for who wore the jacket most stylishly, this fashionable pup would easily emerge victorious.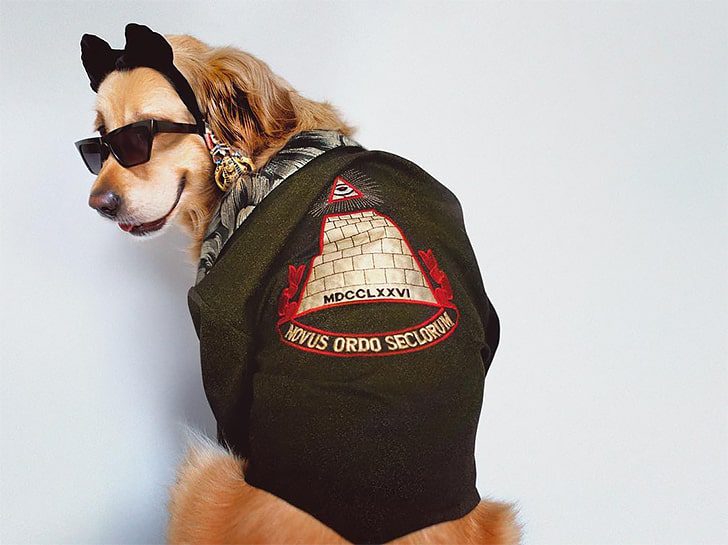 Vincent was brilliant in adding a cool touch with the sunglasses and black velvet headband. If not for the fur, one could have thought that the photo was taken from an actual movie set. Our dear doggo has certainly captured the essence of the Grammy winner's look.
The 14th Studio Album
At 60 years of age in 2019, Madonna released her 14th studio album, "Madame X," demonstrating her remarkable longevity in the music industry. The lead single, "Medellín," conveys a sense of nostalgia, indicative of the album's overall theme.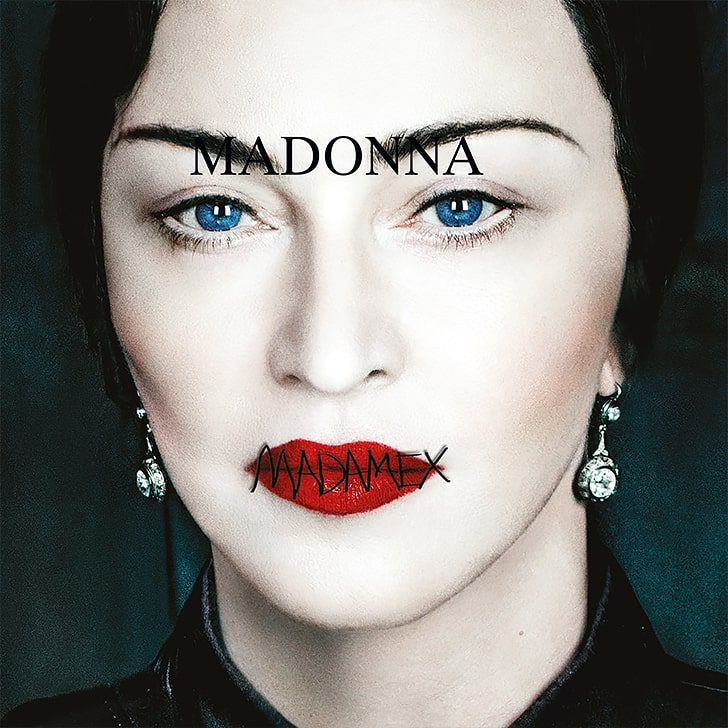 At 19, Madonna was given the nickname "Madame X" by her former American dance instructor Martha Graham, according to Vulture. This album is a product of her experience and skill built up over the years, proving that age is no barrier to creativity and success.
Introducing Madame Max
Max was only six years old when Vincent took these photos, prompting many to ponder the thoughts of the pup. And yes, a postdoctoral scholar in the Arizona Canine Cognition Center named Dr. Emily Bray confirmed that dogs have thoughts.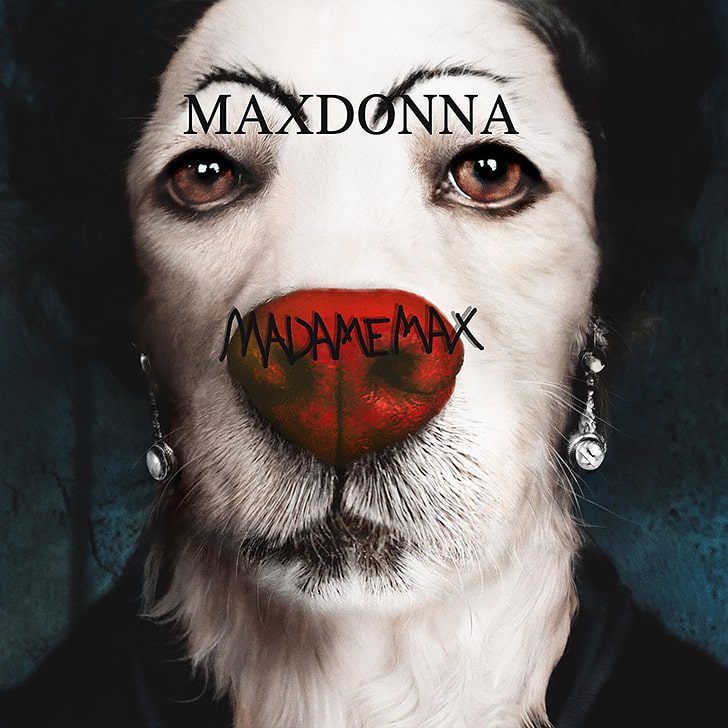 Vincent's talent was on full display with his ability to capture this stoic expression on his dog's face while adding a pleasant, yet unexpected, touch with the bright red lipstick on his nose. All of this combined created a timeless masterpiece.
A Sprinkle Of Latin Influences
The classic track "La Isla Bonita" is one of Madonna's most iconic songs, having featured on her third studio album released in 1986. It was originally intended for Michael Jackson, but he rejected the instrumental demo presented to him by Patrick Leonard.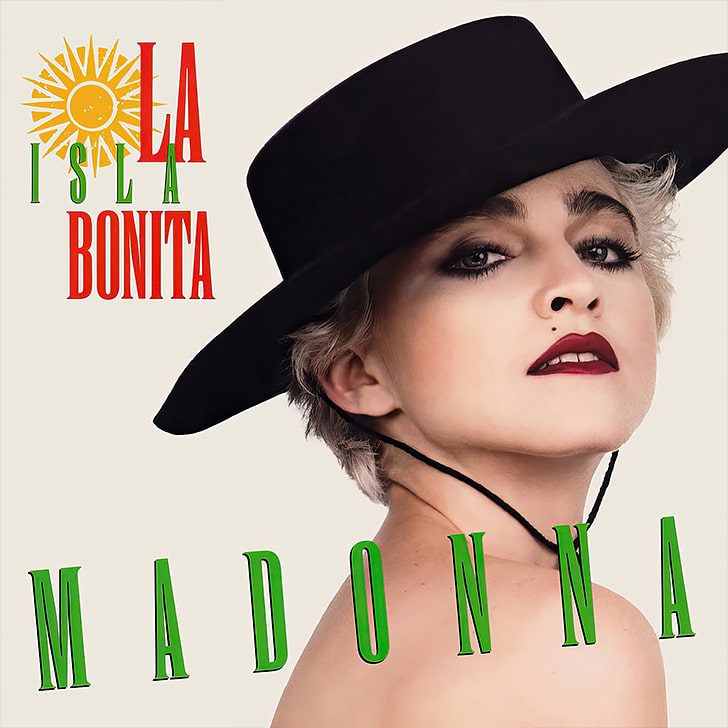 After what happened, the latter sought out Madonna, and with the help of Bruce Gaitsch, the two crafted the lyrics together. The pop diva has since revealed that the track was written to honor the beauty of Latin Americans.
Down To The Hat
Speculation surfaced that the island mentioned in Madonna's song "La Isla Bonita" is San Pedro on Ambergris Caye in Belize. The most-visited destination in the country is beloved for its quintessential island vibe, with whizzing golf carts and great snorkeling and diving spots.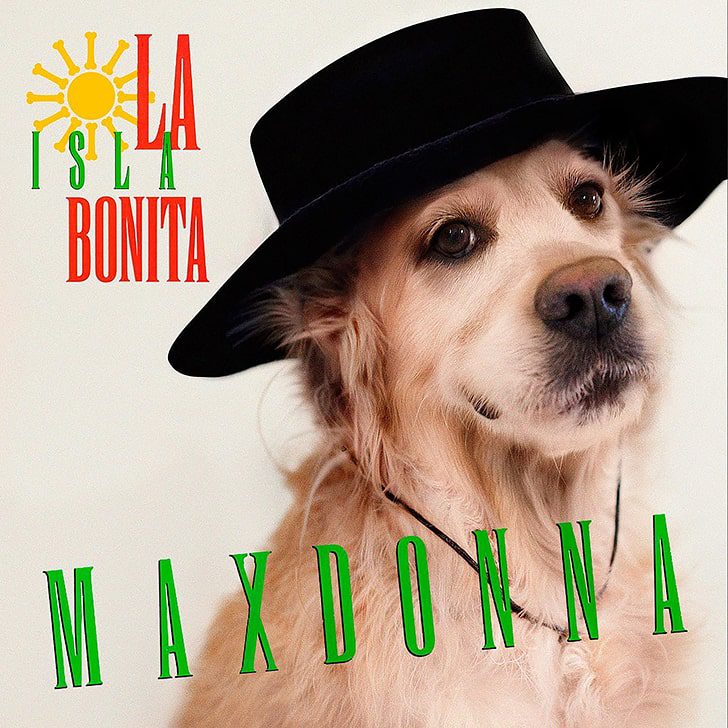 Max has never personally visited the Caribbean paradise. Despite this, he is incredibly confident in his knowledge of beach life, having been to many beaches in his lifetime. He certainly has the expertise to recognize a beautiful island when he hears one!
For Her Third Concert Tour
Madonna has consistently pushed the boundaries of what is acceptable in the music industry and often chooses to wear daring and provocative outfits during her performances. Her iconic cone bra was no exception. Unveiled during her "Blonde Ambition" world tour in 1990, her outfit set the stage for a night of unforgettable music.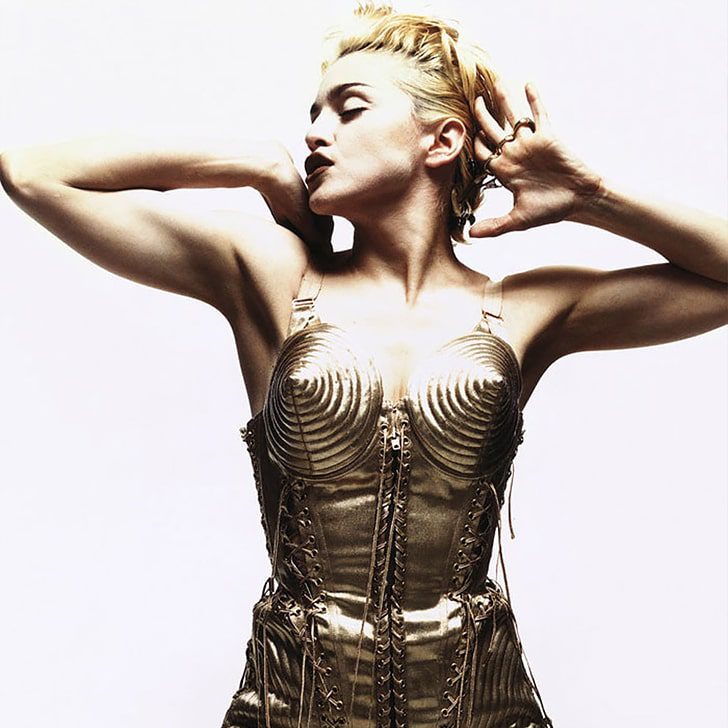 The designer Jean Paul Gaultier originally created the cone bra masterpiece for his teddy bear. And according to W Magazine, he loved her so much that he proposed thrice.
A Pro Poser Right Here
Vincent, impressed by this concept, made it his mission to create something that would honor the original. His efforts were successful in producing a corset for Max that had a brighter gold hue than Madonna's original but with many similar details, including the zipper on the front and the laces that hung loosely.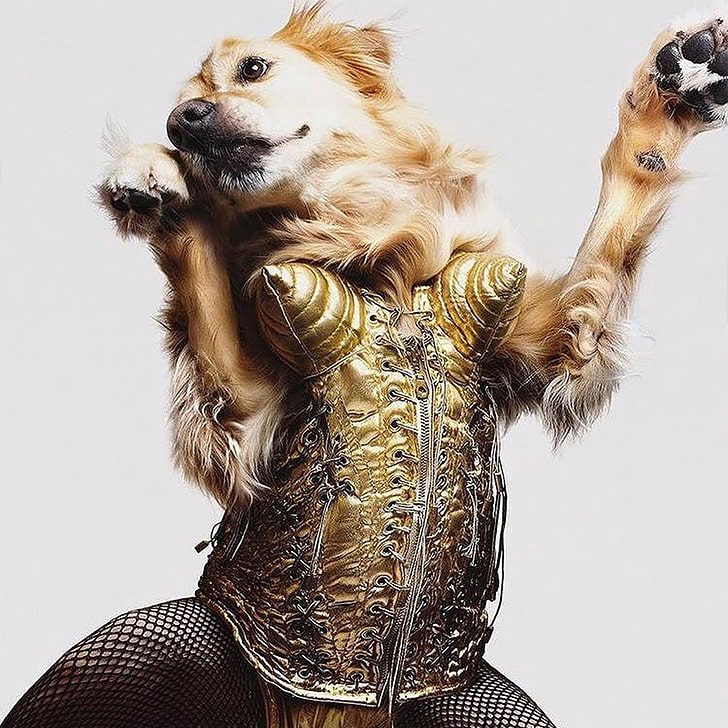 It would have been amazing to witness the whole posing process and how Vincent captured the essence of the original design. Nonetheless, the two should be highly praised for their work.
In The Genre Of Folktronica
Madonna included the song "Don't Tell Me" in her eighth studio album. The single has been deemed as her most underrated hit, according to a Variety article released in 2020. Many believe it's due to the minimalistic production and less captivating lyrics.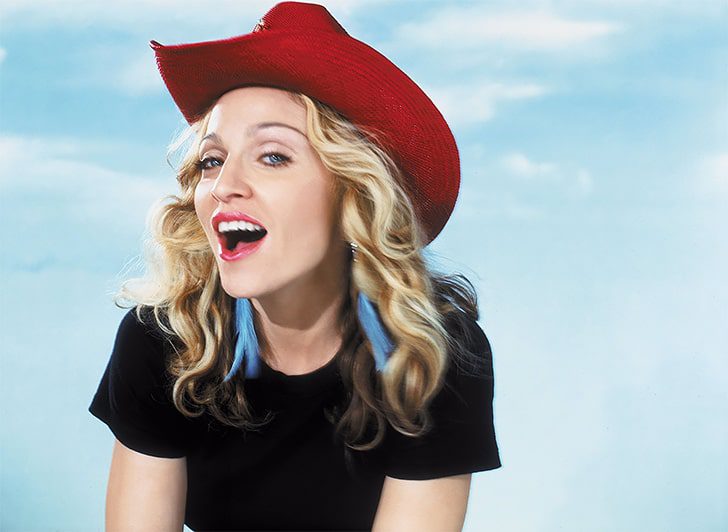 Mirwais Ahmadzai, one of the co-writers and producers of the track, explained that it is the result of Madonna and himself trying to create the cyber folk music genre, a combination of country/folk and electronic music. It was their attempt to create a unique sound that was both fresh and familiar.
Don't Tell Max To Stop
The music video for "Don't Tell Me" is truly a remarkable piece of work. Directed by Jean-Baptiste Mondino, it features Madonna in a cowboy-inspired setting. Mondino's vision of an 'Electronic Cowboy' has become a popular culture staple and is perfectly captured in the video.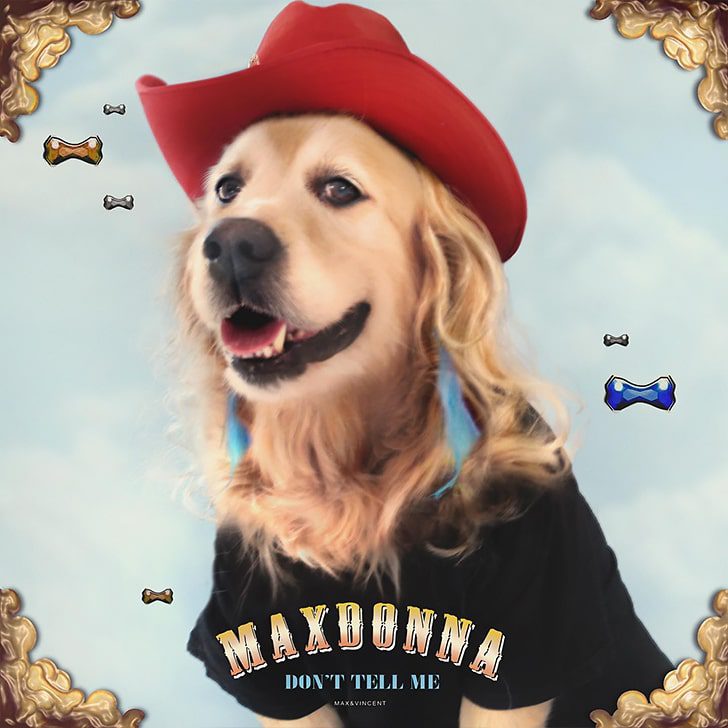 Madonna sings, "Don't tell me to stop. Tell the rain not to drop," in the second single from her triple-platinum, Grammy-nominated album, "Music." Together, the music and video make for an unforgettable experience. Also, Madonna smiling toward the camera, wearing a cowboy hat, is perfection.
An Ode To Marilyn Monroe
Saucy Santana's song about material girls blew up on TikTok in 2020. However, music fans were already familiar with the concept as Madonna released her second studio album in the '80s with the song "Material Girl," telling stories of a woman who desires the finer things in life.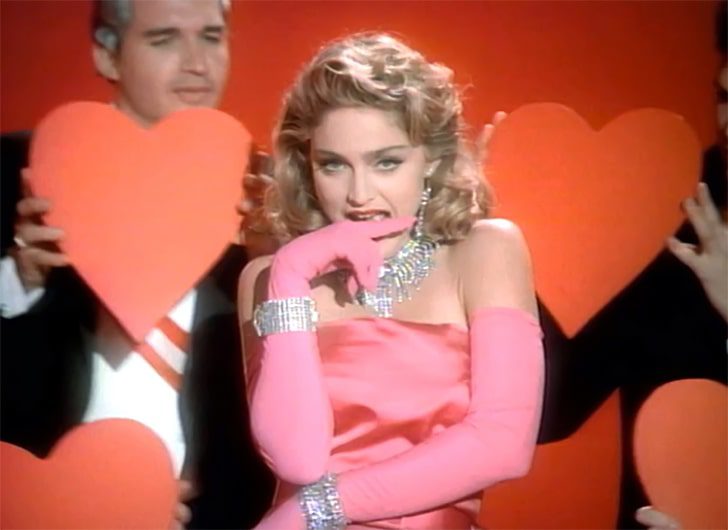 This snippet of Madonna shows that the music video emulated Marilyn Monroe's performance of the song "Diamonds Are a Girl's Best Friend" from the 1953 film "Gentlemen Prefer Blondes." What a way to pay homage!
Max Is A Material Dog
The universe bestowed us with a precious gift when the collaboration between Madonna and Saucy Santana, entitled "Material Gworrllllllll," was released in 2022. The song was a modern take on Madonna's 1984 classic with the same title but spelled differently, as fans would know.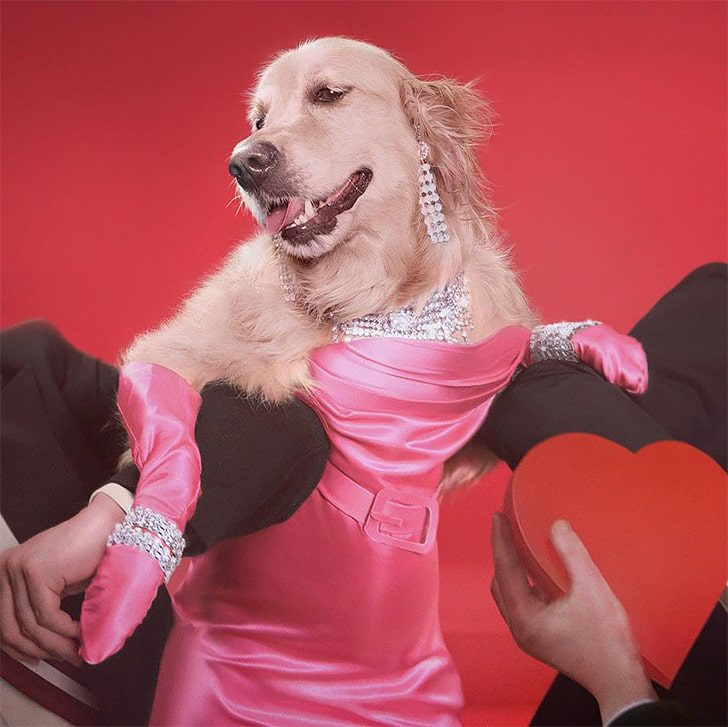 As we admire this photo of Max, clad in a pink dress and adorned with sparkling jewelry, we can almost hear the track playing in the background. This bougie doggo truly embodies the role of a material girl and looks the part perfectly.
Reimagining The Cowgirl
We've already mentioned this studio album that Madonna released in 2000: "Music." The eponymous title track of the album was an instant hit, with its combination of dance-pop, electro-funk, and disco sounds. Madonna's unique style, which refuses to be dictated by trends, is evident in the song.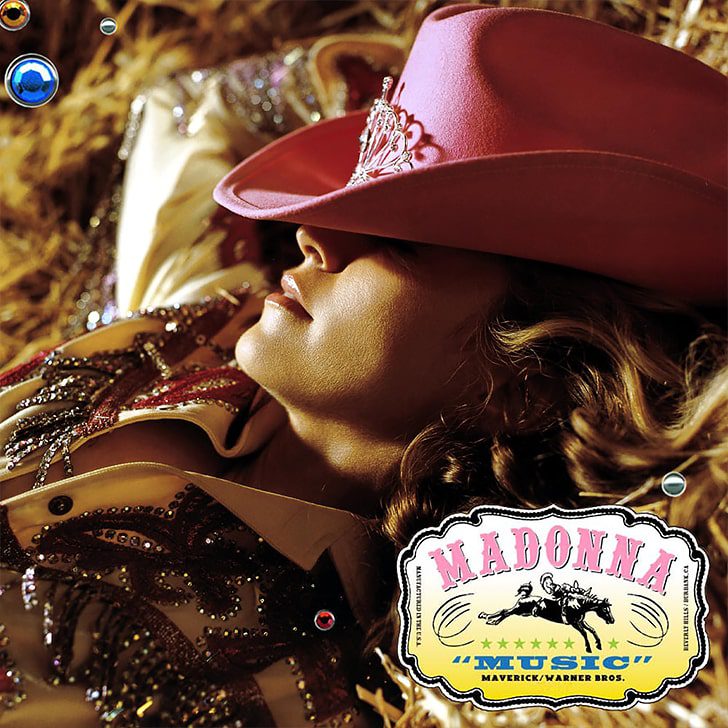 This Guinness World Records holder's creative approach to popular music allowed her to craft a song that made people move, and it ended up winning the Danish Music Award for International Hit of the Year.
This Pooch Has Star Factor
In the music video for "Music," we see Madonna with Sacha Baron Cohen, who plays his perhaps most famous character Ali G. The British comedian served as the Queen of Pop's limousine driver as they drove from club to club.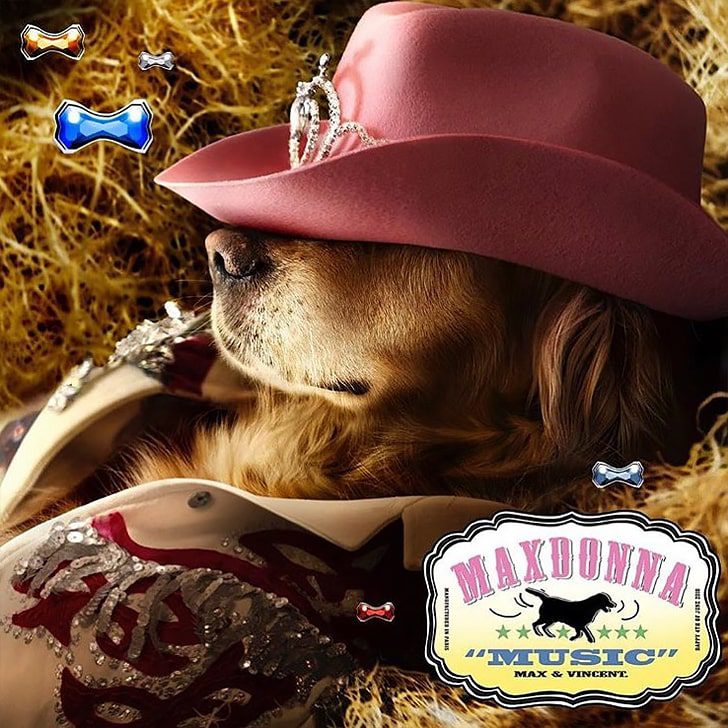 The video was shot in Los Angeles in April 2000 to adapt to Madonna's pregnancy and then-growing belly. Crew members were even asked to sign confidentiality documents for the shooting. And honestly, if Max had been around then, he would've made a great addition to the music video.
An Ode To The Gay Community
When Madonna's "Vogue" dropped in 1990, it made a major splash on the music charts. It held the number one spot for three weeks, even becoming her eighth Hot 100 No. 1 hit. Nobody expected it to be such a success, especially considering her vocals were recorded quickly in a basement studio.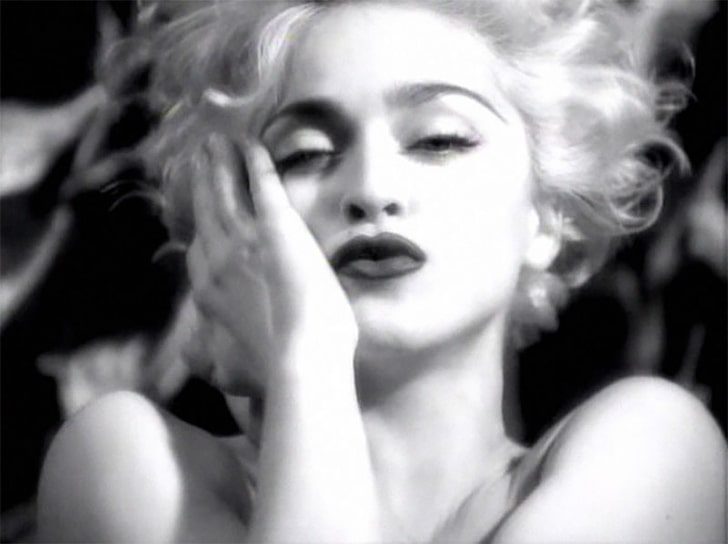 The music video complemented the song perfectly and depicted the dance craze "Vogueing," a dance style big in the gay community. Madonna pushed boundaries by marrying the world of fashion and music together.
Always Ready For The Camera
The song "Vogue" wouldn't have been as successful without the iconic music video. Directed by David Fincher of "Fight Club," it was an homage to Old Hollywood glamor. The video captured the essence of the era with soft black-and-white visuals inspired by vintage fashion magazines.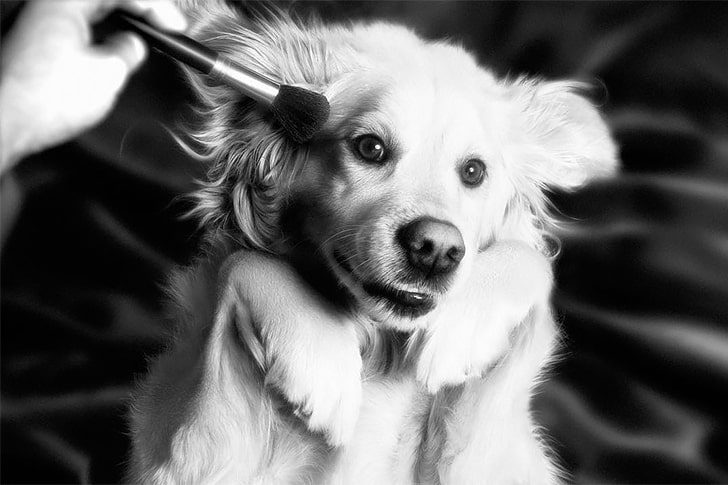 Max took the lyrics "Strike a pose" as a call to action and performed his part like a professional. The result was a stunning, memorable video that perfectly matched the song, taking the golden age of Hollywood to a whole new level.
Dedicated To Her Then-Husband
Madonna's third studio album, "True Blue," was released in 1986, featuring nine tracks she co-wrote and co-produced for the first time in her career. These tracks included "Papa Don't Reach," "Open Your Heart," and "Where's the Party?"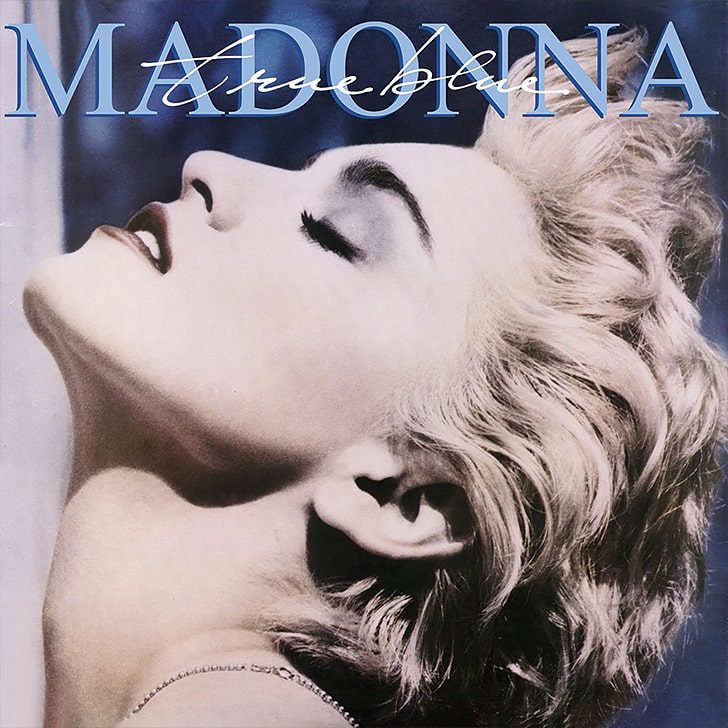 Music critics believe that the album, inspired by her then-husband Sean Penn, was Madonna's way of demonstrating her immense talent, and she certainly did. The album received immense praise from the public, reaching number one in a then-record-breaking 28 countries. It also gave Madonna her first Guinness Book of World Records appearance.
True To The Original
The album cover was shot by photographer Herb Ritts and is one of Madonna's most recognizable pictures. Vincent has done a fantastic job of recreating the same feel and atmosphere, as it is instantly recognizable. The pooch captured the glamor and allure for which the pop star is known!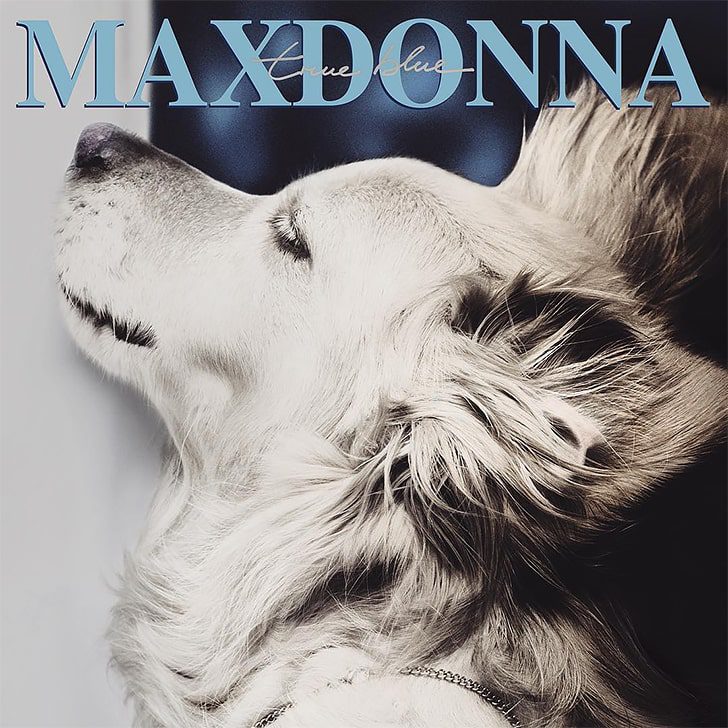 "True Blue" was an unexpected departure for Madonna, who adopted a softer, more pop-oriented sound. Music critic Stephen Thomas Erlewine even noted that the album is where she truly became 'Madonna the Superstar.'
A Tribute To Dancing
Released in 2005, "Hung Up" was a single from Madonna's tenth studio album, "Confessions on a Dance Floor." This song featured a sample from ABBA's "Gimme! Gimme! Gimme! (A Man After Midnight)," making it the second time the group allowed an artist to use one of their songs. The track itself was heavily influenced by '80s pop music.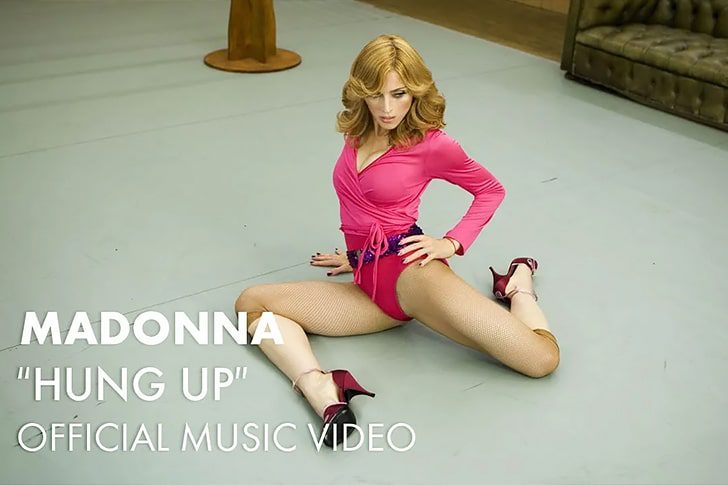 The music video, directed by Johan Renck was filmed partly at the Pineapple Dance Studios in London. It was a tribute to actor John Travolta's movies and to dancing in general.
The Ballerina In Max
More on the music video for "Hung Up," the visuals feature Madonna dancing in a vibrant pink leotard. Our star gave her all for this mesmerizing performance that started in a ballet studio and concluded at a gaming parlor.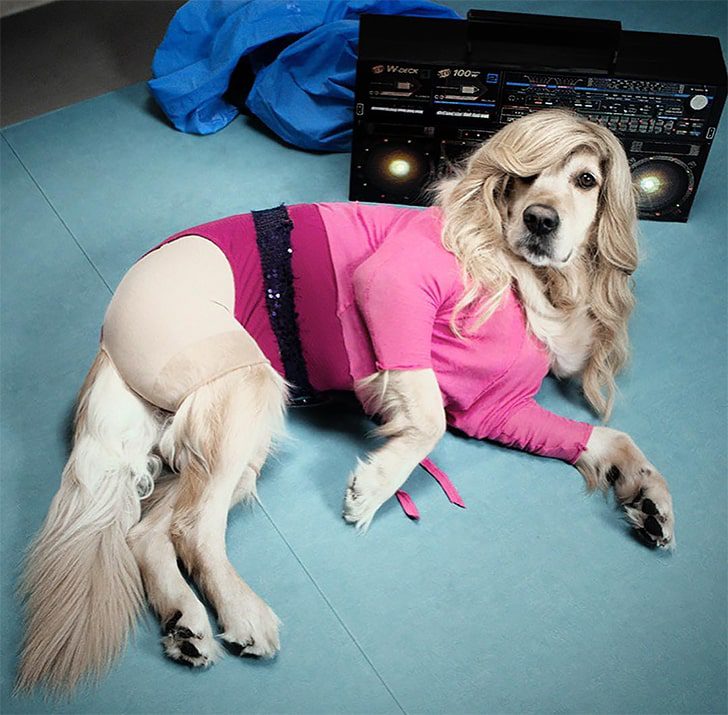 Max, as Vincent told Artfido, embodied his inner ballerina in this shot. The pet owner added that everything is like a game for his pooch. And so, if he needs a hat for a photo shoot, he buys it weeks before, and they play with it like its his toy.
Confessions Of A Dog On A Dance Floor
In 2005, music critics speculated that Madonna's relevance had faded. Then, she released an album titled "Confessions On A Dance Floor" with the song "Hung Up," which immediately caught the attention of the masses.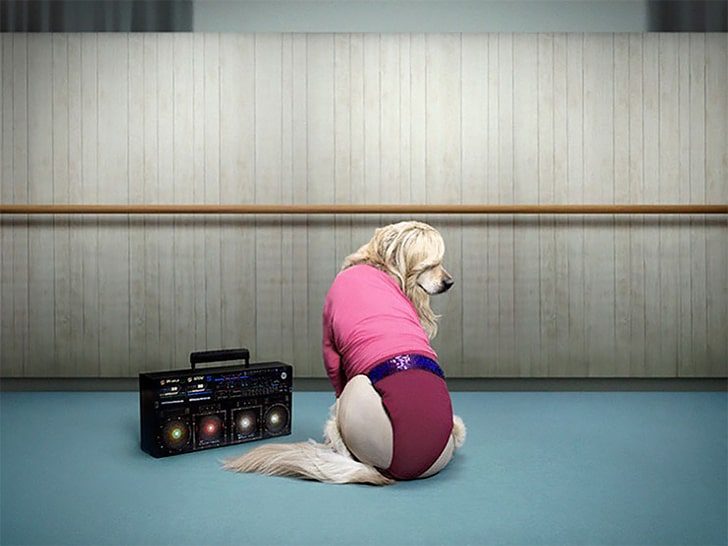 In 2016, the lead single was anointed in an online poll by Digital Spy as "The Biggest Pop Song of the 21st Century". It was one of the greatest comebacks of the decade, and so Vincent just had to put Max in tights to recreate Madonna's look in the music video.
How To Get Un-Canceled
To celebrate the re-release of Madonna's 1992 single "Er*tica," Max and Vincent posted an incredible photo to their Instagram, @max_et_vincent. The song and artwork caused controversy from the start, but it was ultimately redeemed in 2022 when the single's vinyl was re-released.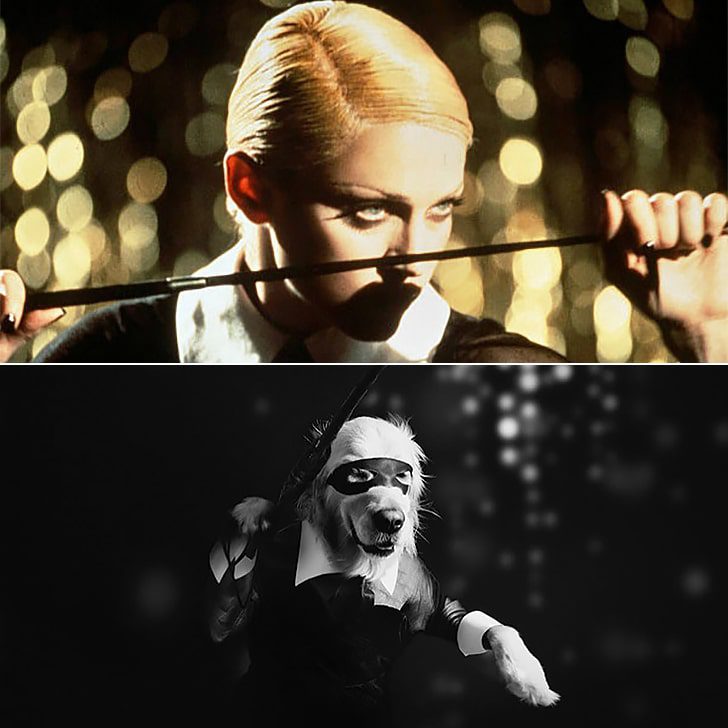 It shows Madonna seductively licking Naomi Campbell's foot, a provocative image once deemed unacceptable but has been widely accepted since it was reintroduced during its 30th Anniversary. As per the Moby Picture website, the supermodel was paid $150K for this project.
Get In Bed With…
In 1994, Madonna released the album "Bedtime Stories." This project was likely her most R&B-focused work up until that point, and it was created with the help of Babyface and Dallas Austin. It included the popular songs "Survival" and "Human Nature."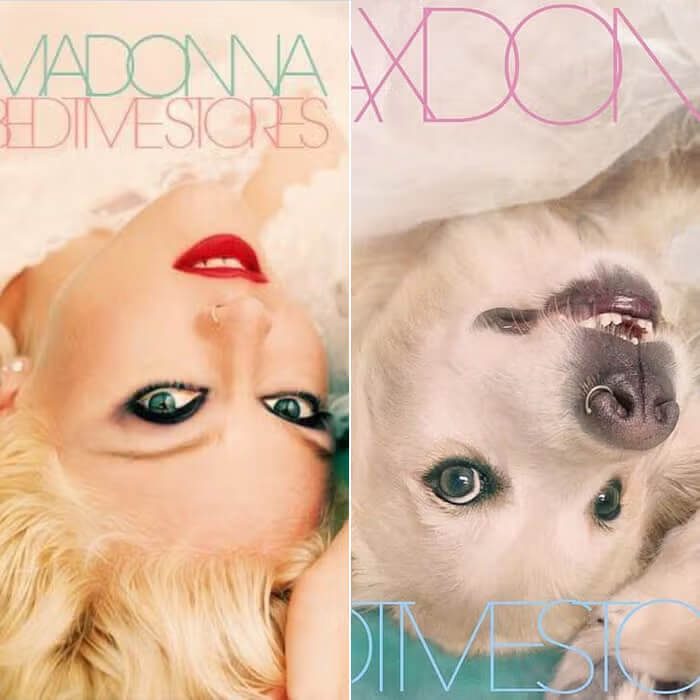 Max and Vincent were excited to recreate their version of the cover art for the album, from the nose piercing to the delicate white lace shirt. They really managed to bring the entire image to life and gave a new perspective on the Grammy-nominated body of work.
Oozing Seductive Seashore Vibes
In the late '80s, music videos featuring artists enjoying a day at the beach were everywhere. Chris Isaak's "Wicked Game" may be the most iconic of these songs, but Madonna's "Cherish" should not be forgotten.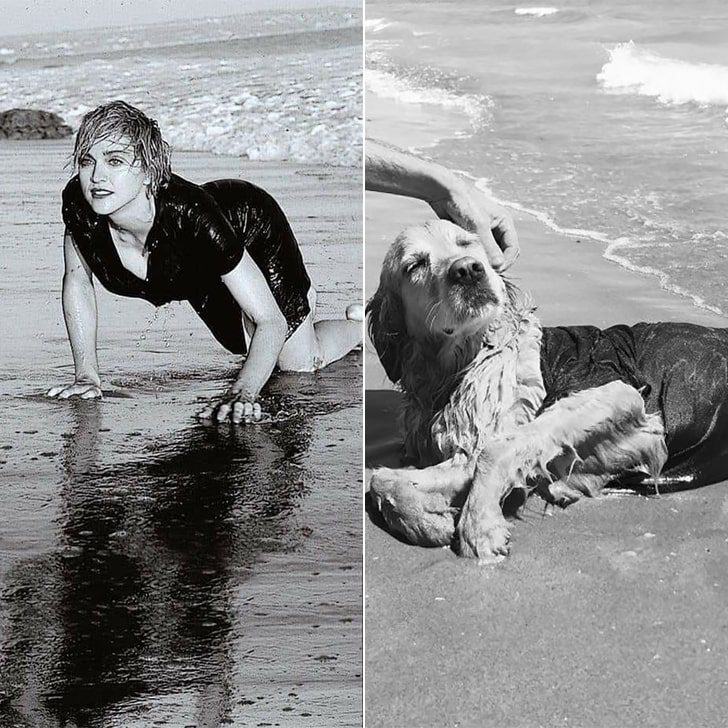 Accompanying the single from the classic 1989 album "Like a Prayer," the black-and-white music video for "Cherish" featured the unforgettable image of Madonna in Malibu's Paradise Cove Beach. Even though it's hard to outdo the pop star, we can all agree that Max has her beat when it comes to cuteness.
Madame X Is Madame Max
"Madame X" was recorded in four different cities and was inspired by Madonna's time living in Lisbon. On the cover of the album, she was wearing a pair of traditional Portuguese earrings. To pay tribute to "Madame X", Max and Vincent decided to reconstruct one of the album's advertisement banners.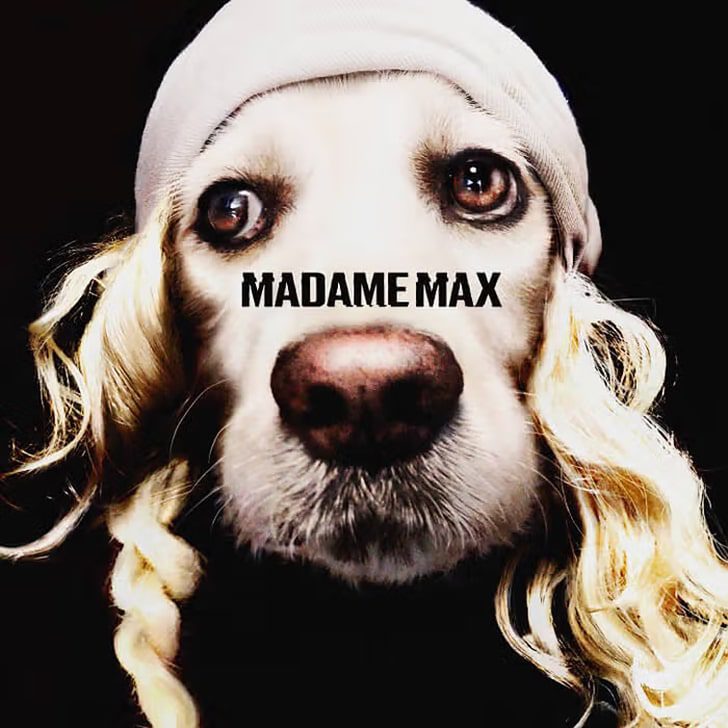 It is evident that Max has a strong connection to Madonna and is able to capture her essence through this project. It is an impressive feat, and one that pays homage to the 2019 studio album.
Remaking Madonna's Bling
Vincent was determined to make an exact replica of Madonna's iconic "Madame X" earrings. After countless hours of perfecting the design, the finished product was met with great admiration from Instagram followers, who praised the attention to detail.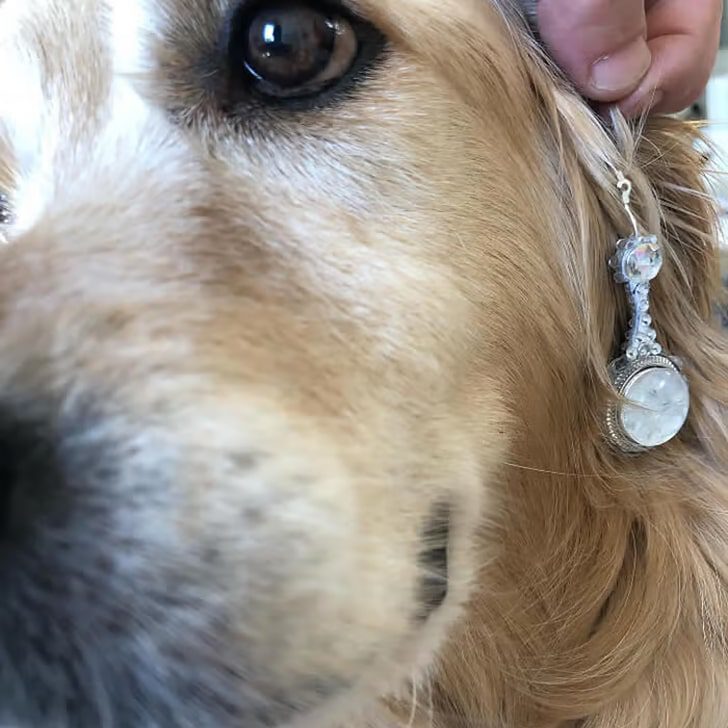 Vincent's expertise as a craftsman was further solidified as every aspect of the bling was faithfully recreated, from the color to the shape. Of course, Max did an incredible job in emoting with the imitation of the platinum and diamond art deco Pennisi Jewelry earrings. Just look at his eyes!
Happy With His Hair
Max and Vincent are a human and dog duo that takes their job seriously. This was demonstrated in the detailed preparation for their upcoming "Madame X" photoshoot shared on their Instagram profile.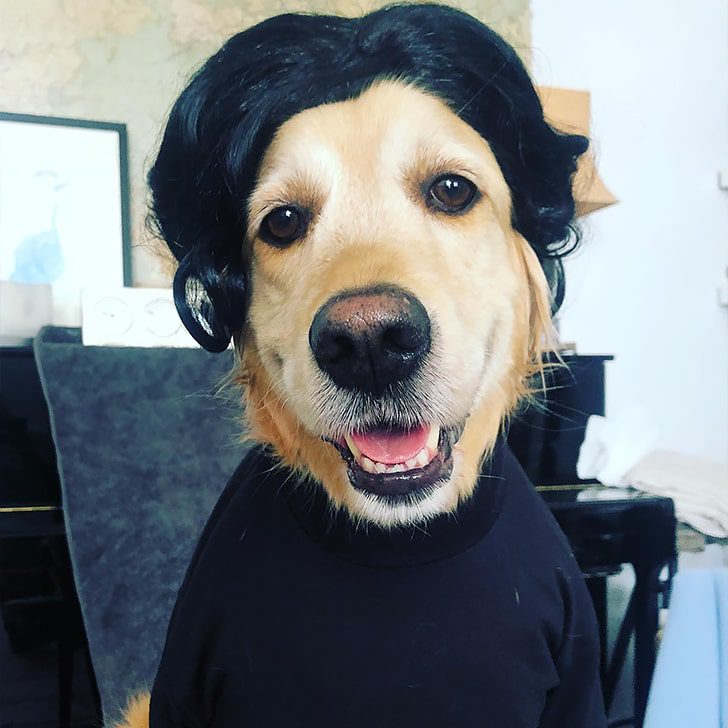 Max was overjoyed by the black wig he got to wear, showing his appreciation with a big smile on his face. He was ready to take on the persona of "Madame X." One of the commenters expressed their admiration for the duo, commenting, "Deeply in love with you both."
Who's Madame X Anyway?
Here's more about "Madame X" and Madame Max, showing him getting ready to pose just like Madonna did in the advertising banner. By the way, in this album, the pop diva sings in Portuguese, Spanish, and English, highlighting multicultural influences.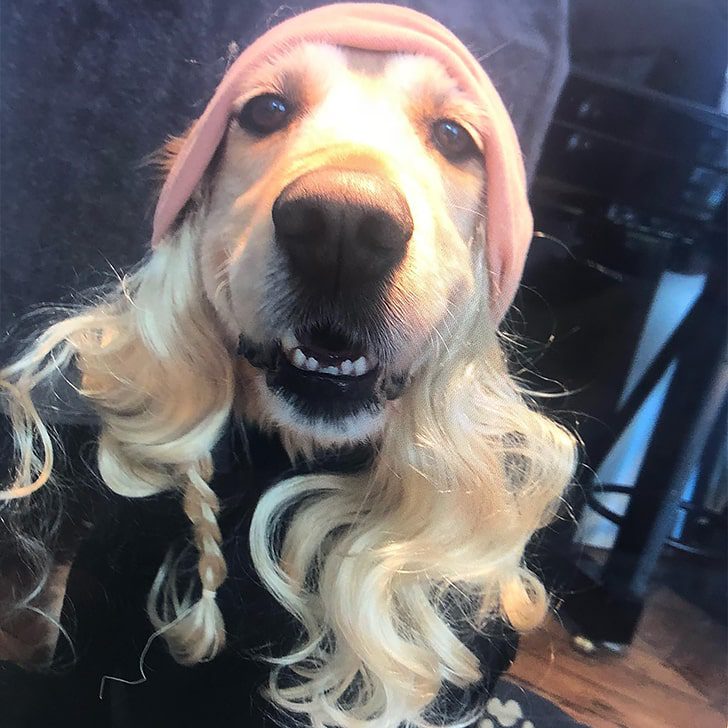 The title's origin can be traced back to a 1908 play written by Alexandre Bisson, featuring a character named 'Madame X.' Additionally, the name is derived from the controversial portrait of a young socialite painted by John Singer Sargent in the late 19th century.
Flower Child
Max and Vincent's adventure began with "Petite Fleur," a photo shoot highlighting how adorable Max looks in his flowery headpiece. The headpiece is so eye-catching that it would make Madonna herself jealous.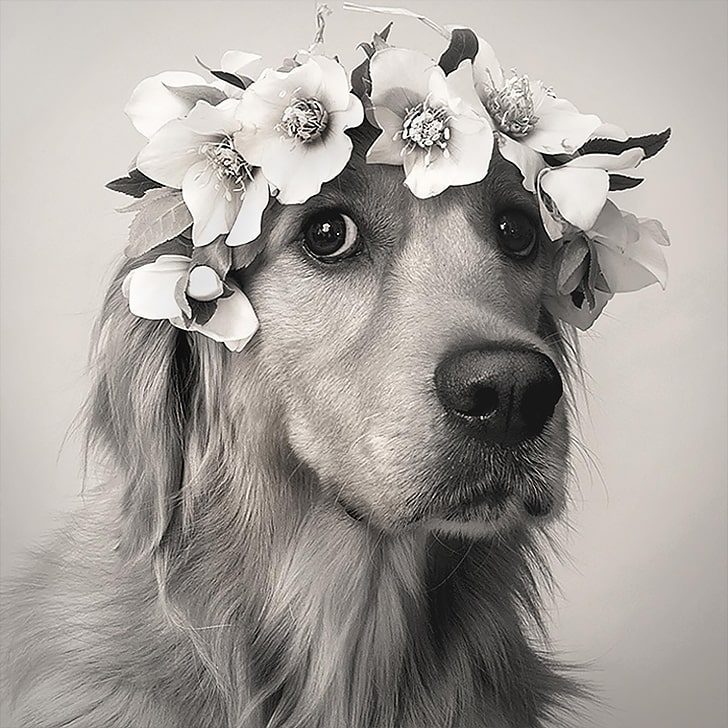 According to Floranext.com, ancient Egyptians were the first to take on actual floral arrangements as far back as 2,500 BCE, cutting and placing them in vases. When looking at this photo of Max and Vincent's adventure, it is easy to see how flowers have had a lasting effect on our world.
The Cool King Of Sunglasses
Over the years, Madonna has become synonymous with wearing certain iconic sunglasses. In particular, she has long been associated with the Salvatore Ferragamo SF830S frames. She also wore a notable pair of shades in the 1985 film Desperately Seeking Susan.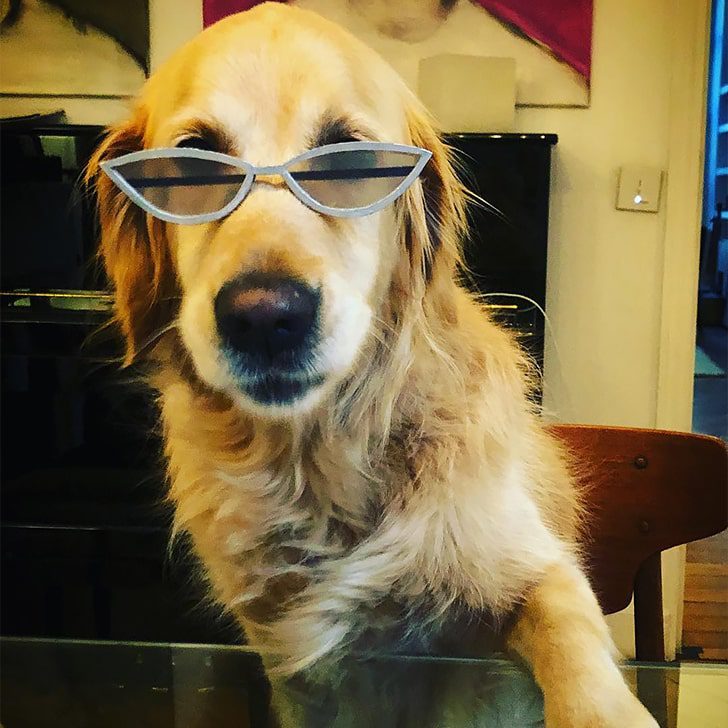 Consequently, it could be argued that the "Crazy For You" songstress is a sunglasses queen in her own right. However, someone is giving the fashionable celebrity a run for her money—Max! He looks great in this pair, and we want to see him trying on more designs.
One Synthetic Stunner
Max and Madonna are known to be huge fans of synthetic fabric, and this has been made clear in this photo on Max and Vincent's Instagram. The adorable pet was seen wearing a black vest with a fashionable red collar.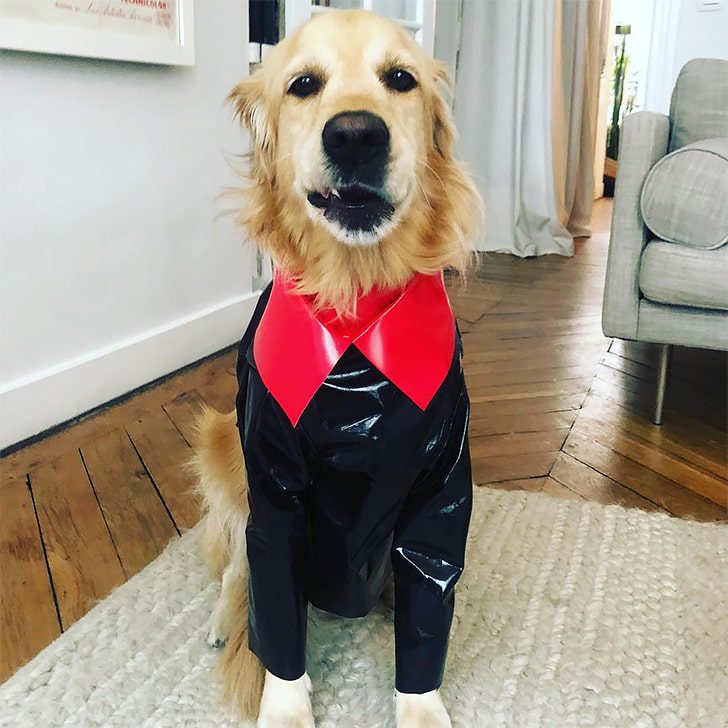 Synthetic fabrics have been around for quite some time, with the first being 'nylon' developed by more than 200 DuPont scientists. This revolutionary textile was launched in 1935 and was mainly utilized for stockings. But since then, it has been used for various clothing items and accessories.
Going Pink
In 2022, Madonna created a stir with her radical new look. She dyed her hair and eyebrows a vibrant pink, and the transformation was met with mixed reactions. Regardless of the opinions, it was clear that the "Frozen On Fire" songstress was determined to challenge conventional notions of beauty.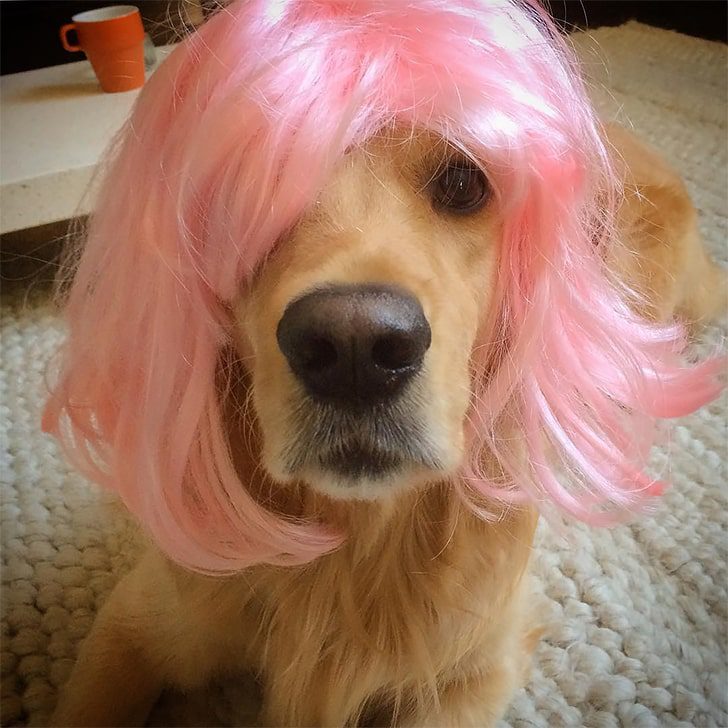 Max, also joined in on the fun with a dashing pink hairdo. The image was met with an outpouring of love from social media, with one user gushing, "Max is so so so cute!"
We've Got A Legend Here!
Max may be the star of the show, but Vincent is no less impressive. His most daring venture to date is a tribute to Madonna's Annie Leibovitz photoshoot featuring his beloved pet. She is widely recognized as one of the world's greatest living photographers.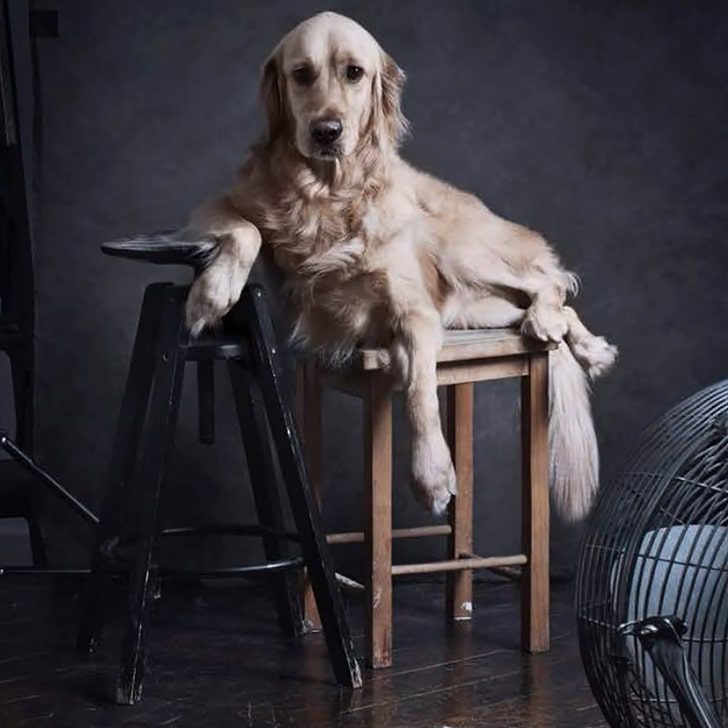 Leibovitz, born in Connecticut, is a highly respected photographer and one of only a few to be awarded the title 'Living Legend' by the Library of Congress. She is renowned for her portraits of celebrities and influential figures in pop culture.
A Typical Pooch Too
Max is an internet celebrity, so it's easy to forget that underneath all the glitz and glamor, he's just like any other pet. This is why Max and Vincent decided to share a rare, candid photo of Max after he had just taken a bath.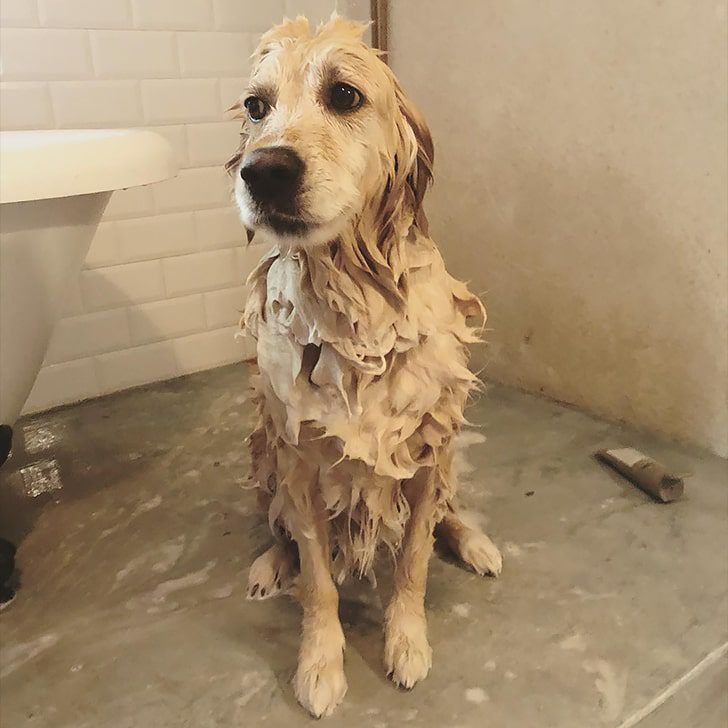 Seeing Max in his natural state was a refreshing change from the usual pictures of him dressed up and posing for the camera. Here's a fact that Happy Mag shared: It took Vincent eight months to do all the pictures, from training Max to making the homemade costumes.
Looking At Max Saint Laurent
This striking black-and-white photograph pays tribute to an iconic photoshoot featuring the late French fashion designer Yves Saint Laurent. The artist, Vincent, captured all the details of the original shoot, from the leather pillows that his companion Max was seated on to the glasses.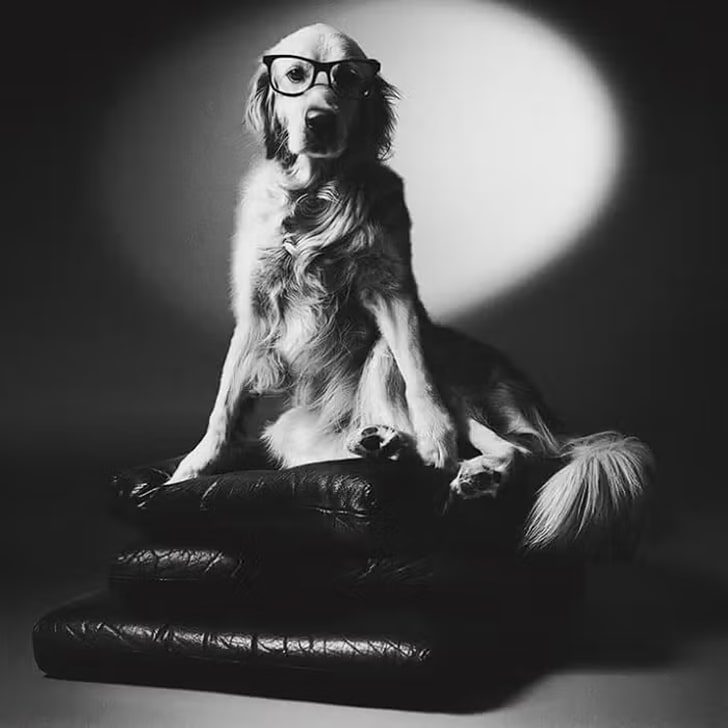 Frenchman Jeanloup Sieff was a student of German lensman Gertrude Fehr, one of the earliest professional female photographers. His snaps of Yves Saint Laurent stripping down to pose for Sieff's camera represented a pivotal moment in fashion history.
Bringing A Modern Twist
Max and Vincent greatly appreciate the photography masters of the 20th century, but they also draw inspiration from modern-day creators. This photo of Max is an homage to Instagram-famous artist Nick Knight, renowned for his surreal and otherworldly images.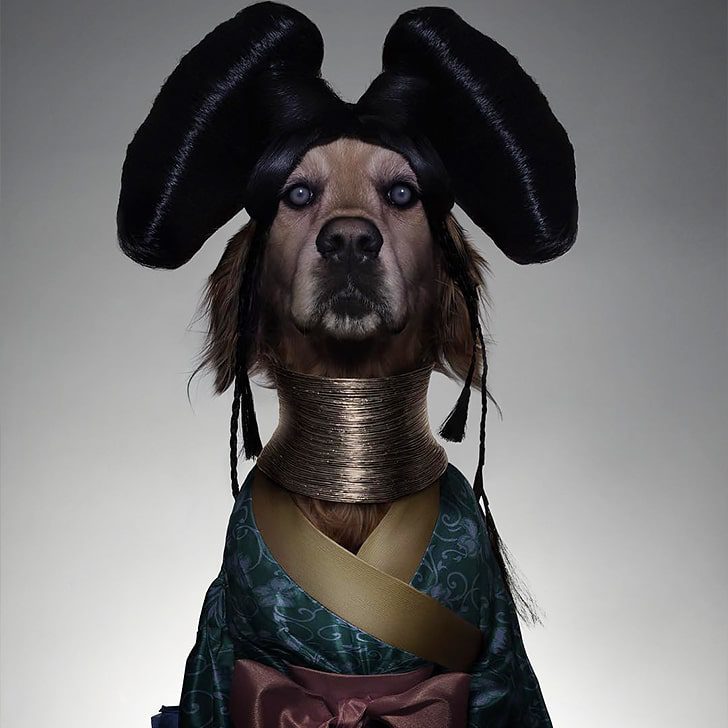 Knight is still growing his portfolio and making a name for himself, but he already has a huge following of almost a million people on Instagram. His unique 3D artworks are gaining attention, and he is quickly establishing himself as an influential voice in the world of photography.
Labor Of Love
Our adorable duo has been enlightening their Instagram audience on art for quite a few years. With this remarkable photograph, they introduced numerous people to the work of Pierre et Gilles, a unique pair of talented artists from France.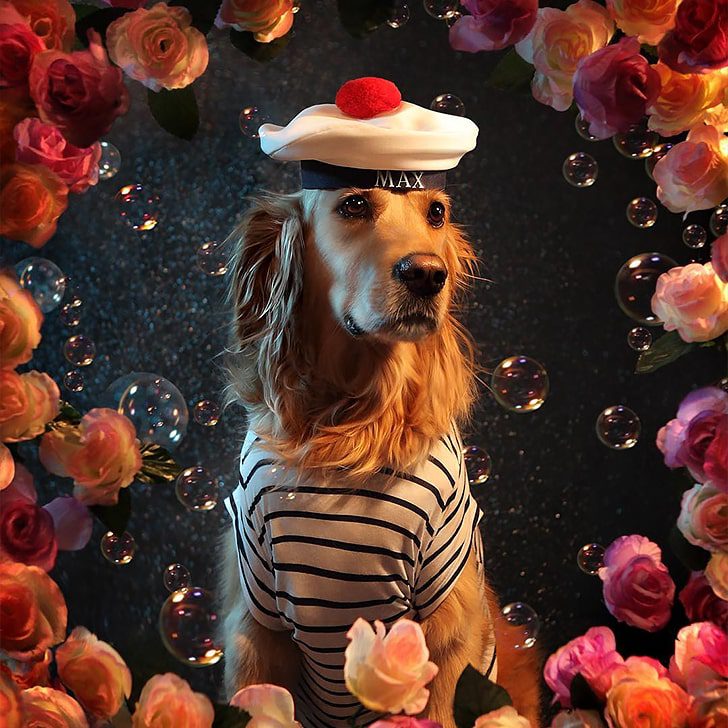 Pierre Commoy and Gilles Blanchard, artistic and romantic partners, are renowned for their enthralling art exhibitions and for combining photography with painting. Their art has been showcased in Paris, New York, and Austria, and they have even worked with brands such as Absolut Vodka.
Giving Off Summer Vibes
This stunning photo was captured when Max and Vincent had an amazing summer road trip. They surely had a fun-filled summer, and this picture is a reminder of those wonderful memories. We hope the beings behind the 'Max & Vincent' Instagram account had the most amazing time together and continue to make beautiful memories!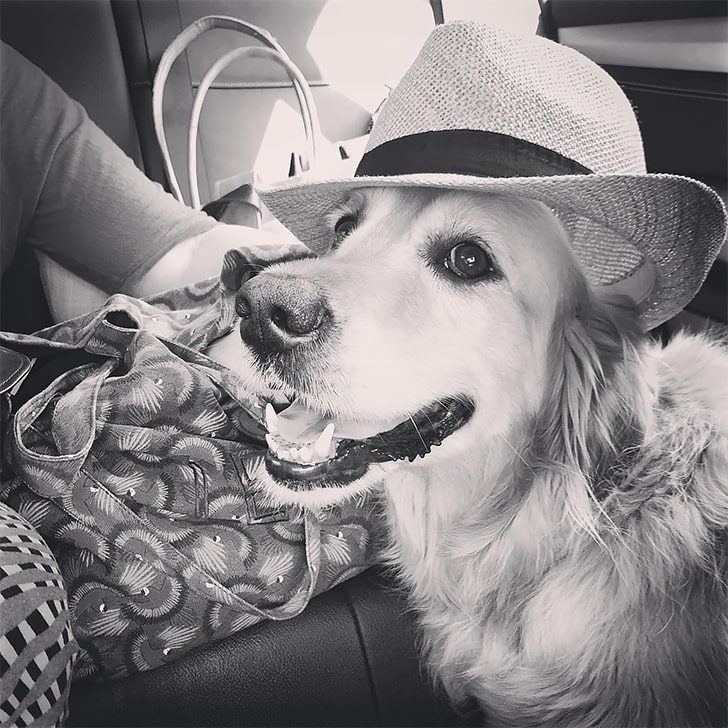 Max, being the fashionista he is, is wearing a classic straw hat, perfect for summer. They have been around for centuries, having been used in Europe and Asia since the 15th century.
Max As Moss
Max's tribute to two of the most renowned icons of the late 20th century was a hit. He was transformed into the '90s supermodel Kate Moss, based on her iconic Mario Testino photoshoot published in the book "Kate Moss by Mario Testino."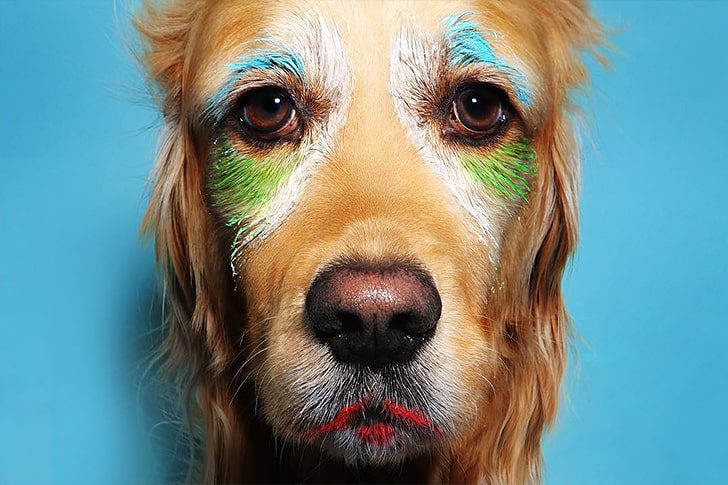 To be extra cautious, Vincent used food coloring and sour cream for Max's Moss-inspired look, as cosmetics can harm animals. This post on Instagram was a crowd favorite, with one user commenting, "It's amazing your dog let you do all this!"
Too Precious To Ignore
One of the most popular pictures of baby Max is this seemingly casual snap of the golden retriever puppy. It is humorous that this unedited shot became so popular amongst the many other carefully crafted images.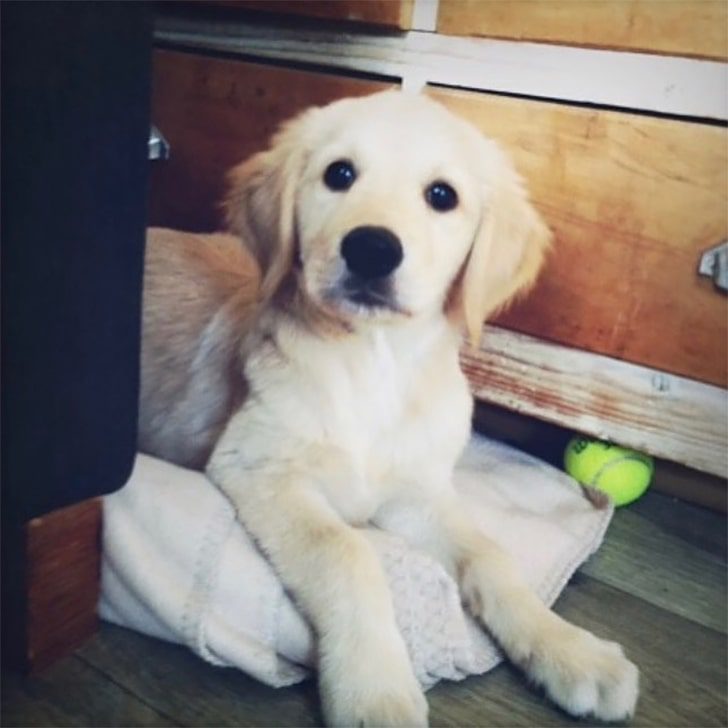 The Golden Retriever Club of WA states that these dogs take up to three years to become fully grown adults. However, their height is typically at its peak when they get between 9 and 12 months old. This image is part of the Max & Vincent Throwback Thursday series.
A Birthday Tribute For Jean
Every pet owner knows the frustration of attempting to take a picture of their beloved pup while they wiggle and move around. Max and Vincent, however, have a special bond that transcends this difficulty. They are able to collaborate and create a work of art, such as the Jean Paul Gaultier tribute seen on Instagram to celebrate the fashion designer's birthday.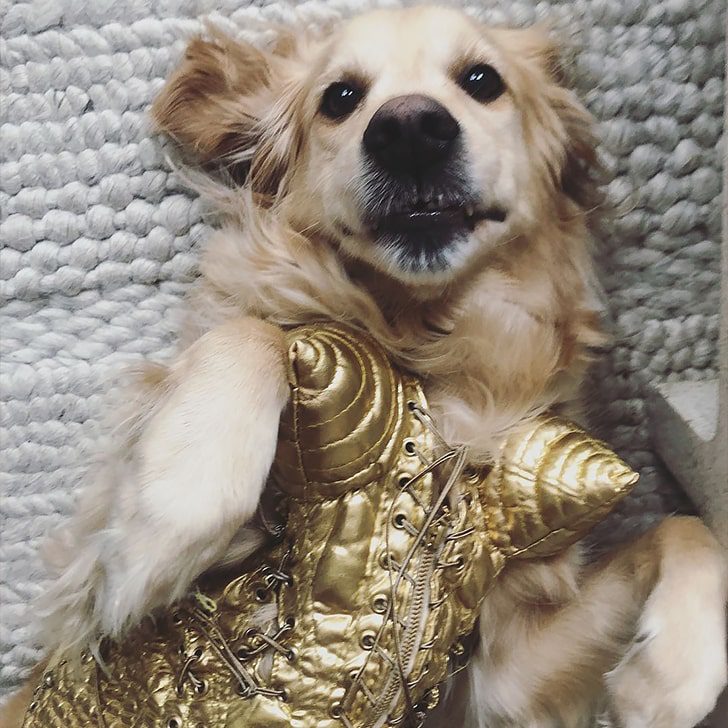 Gaultier's journey in fashion began with the influence of his maternal grandmother, Marie Garrabe. The photo of Max and Vincent is a beautiful tribute to the creative genius that Gaultier has become.
The Cutest Cowdog
Madonna and the renowned French designer and director Jean-Baptiste Mondino have a long and successful collaboration. Mondino directed the music videos for some of the pop sensation's songs, such as "Human Nature" and "Open Your Heart."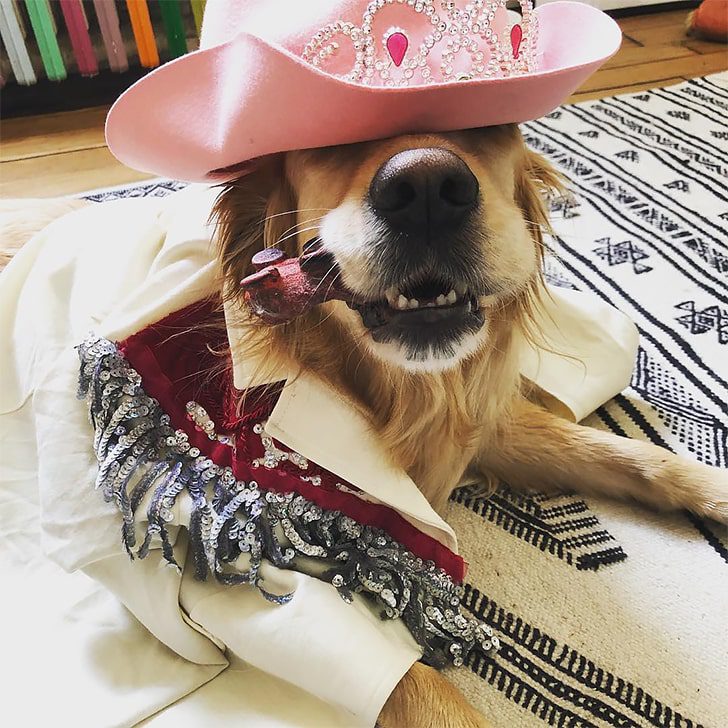 Both Madonna and Mondino have produced great pieces of art that will remain in pop culture history. Particularly in the video for "Don't Tell Me," Madonna looks stunning as a cowgirl. Max and Vincent have created a perfect rendition of this classic moment with outstanding lettering and visual effects.
Dog of the Year
In March 2022, the world sadly said goodbye to the celebrated French photographer Patrick Demarchelier, who passed away at the age of 78. Max and Vincent uploaded a beautiful tribute to Instagram to commemorate his life and work.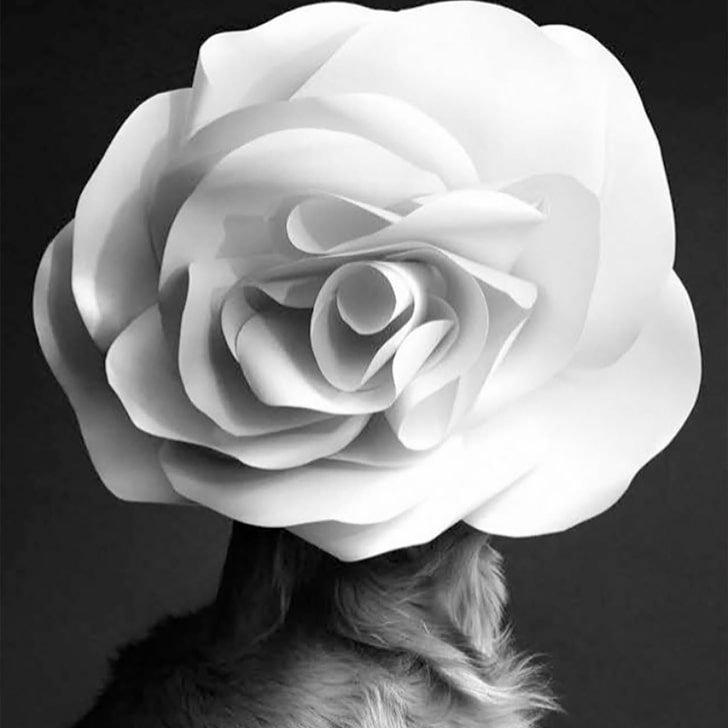 Although this particular photo wasn't inspired by any of his work, Demarchelier did have the opportunity to work with Madonna before his death. He captured her black-and-white portrait for the cover of Glamour's 10 Women of the Year special edition in 1990.
Celebrating A Latin Birthday
Max and Vincent had a special idea to celebrate the birthday of their idol Madonna. Vincent wanted to create a perfect version of the cover of her single "La Isla Bonita," released in 1987.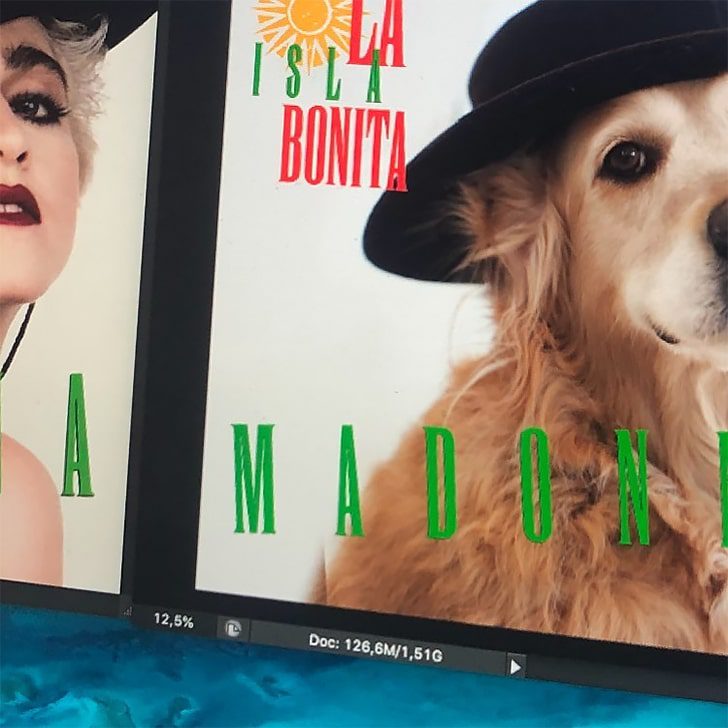 Our beloved duo wanted to show their admiration for Madonna with this tribute, so they decided to make the "Maxdonna" version of the single. It was a way for them to express their love and appreciation for their favorite artist, who happened to have a dog of her own, a French Bulldog named Gypsy.
Homage to THE Record
Since releasing her self-titled debut album, Madonna has been a massive success, but it was her second record "Like A Virgin" that solidified her as an international superstar. Produced by the iconic "Chic" guitarist Nile Rodgers, the album featured some of the superstar's most popular singles like "Material Girl" and "Angel."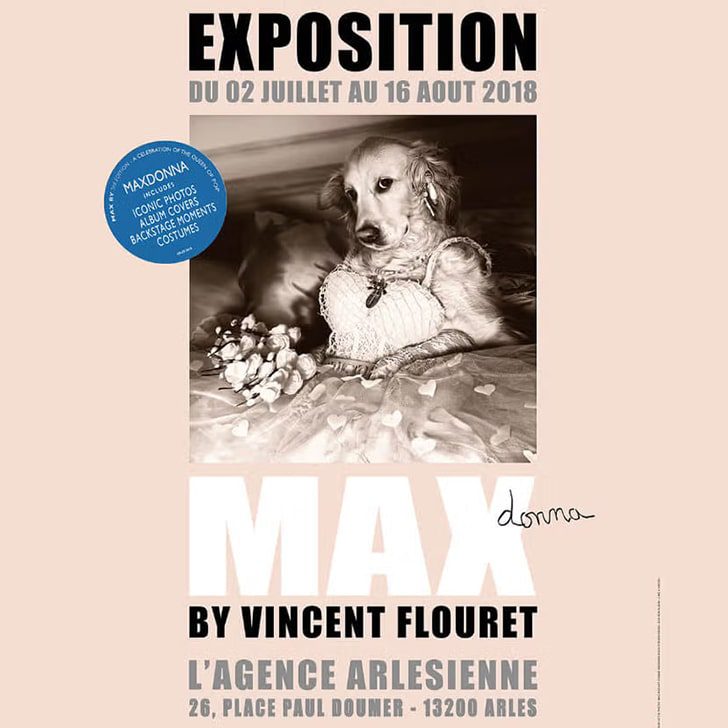 In commemoration of Madonna's second album, a four-paws version of the cover was shared in a post of all of Maxdonna's cover tributes. The post was shared to honor the impact she's made since the late '70s.
Aging But Still Helping
Vincent has recently shared with his fans how Max is aging and can no longer cope with the long photoshoot sessions of the past. Despite his advancing years, Max is still able to produce stunning images. Vincent is selling prints of their Madonna series, with all proceeds going to the pop star's charity Raising Malawi.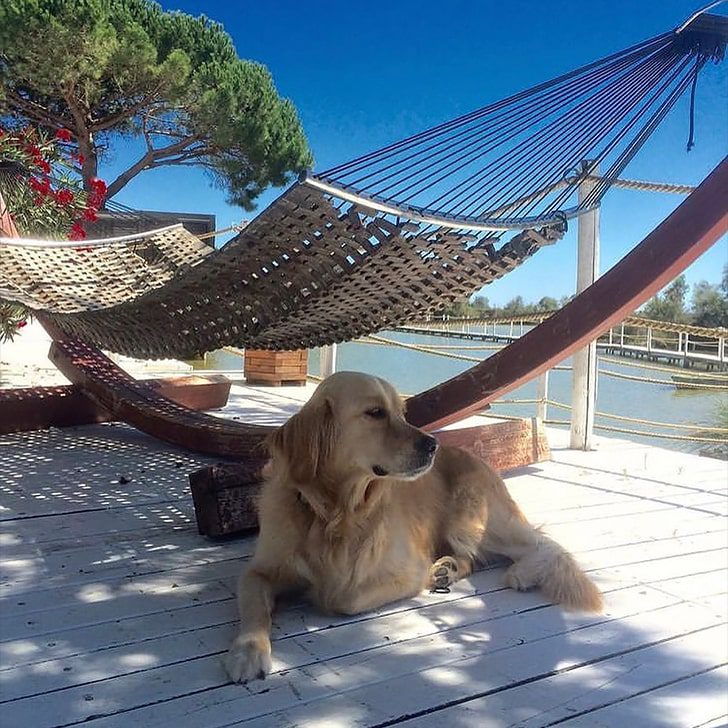 From lake-side hangouts to shoots, Max is living his best life and enjoying every minute of it. We can only hope he continues to have many more remarkable pictures to share with the world.
Nothing But Unconditional Love
The relationship between humans and dogs has been strong and enduring throughout the centuries. But the friendship between Max and Vincent is something even more extraordinary. Going back a decade or so, Max and Vincent have been the best of pals and creative collaborators.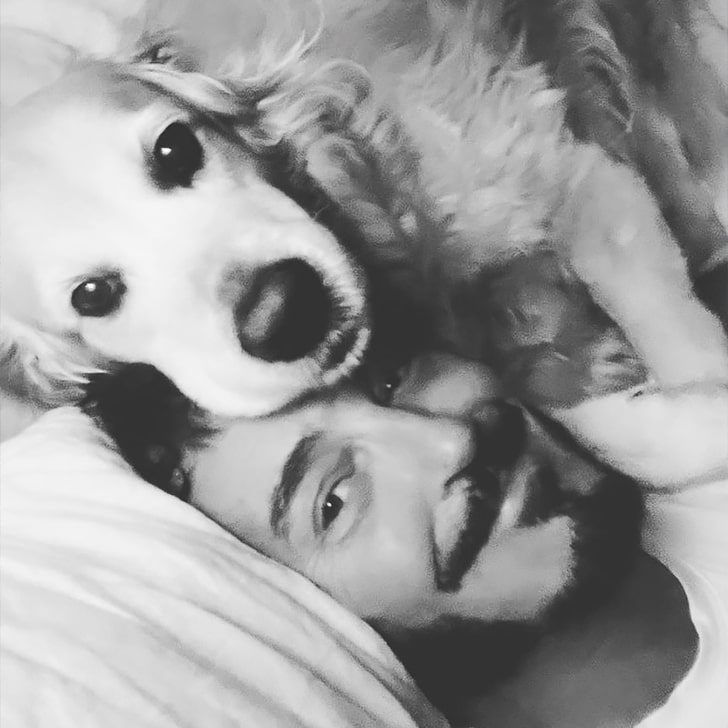 Without a caption, this picture of them from their Instagram account is a testament to their bond—so powerful it cannot be put into words. And as we've gathered from the platform, the two seem to be living a peaceful life in London as of 2023.