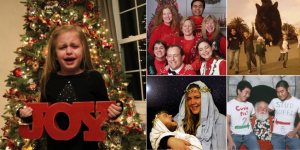 Awkward Family Christmas Photos For the Ultimate Holiday Cheer
By Taylor M
---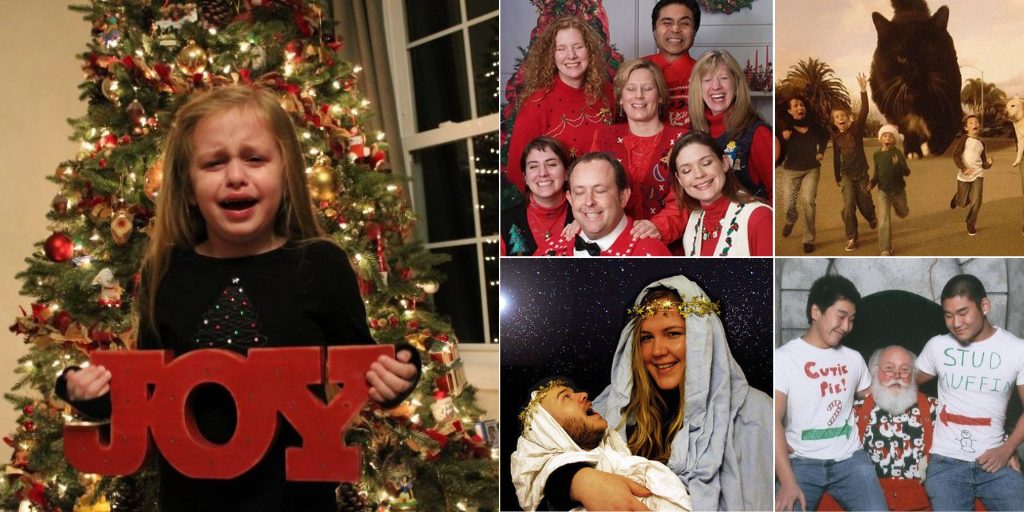 The fat ham is roasting in the oven and the tree is twinkling. Classic tunes warn us what's up. Fa la la, it's family time once again. And of course, we're uncomfortable already! You know what we're talking about: For many of us, Christmas is the holiday when we're forced to reconnect with relatives. Close or far, they gather. Countless portraits happen in holiday sweaters. Dinners have memorable moments. But we are often not quite relaxed for one reason or another. It's a pretty universal experience. Why not laugh together? We've collected some of the silliest photos from around the net capturing that familiar phenomenon. Generational trauma can be funny, at least sometimes. Get ready for some serious Christmas cringe, up next!
Ho, Ho, Oh No
The Yoshida family of Florida went viral with this Christmas concept. It's easy to see why, right away. Dad is wearing a shirt that says, "Chillin' with my ho's." Beside him are his wife and daughters! Online, a mob condemned the very idea. Who even thought of this?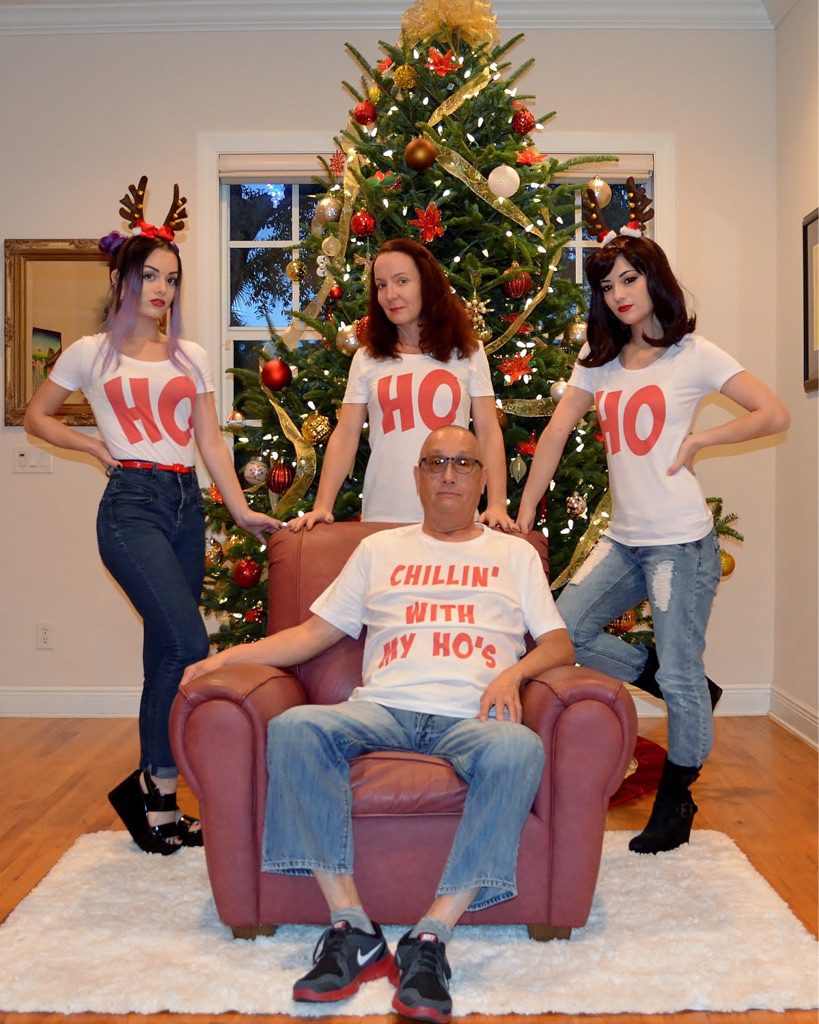 It was actually 19-year-old Rachel Yoshida. She explained: "All of our immediate friends understand our humor so they think it's hilarious…Not one person who knows us in real life has 'hated'. Everyone who is 'hating' is seeking offense in an obvious joke."
Naughty List Vibes
When you sit down on Santa's lap, there is a certain degree of trust. You think you are there to find out if you've been naughty or nice. You believe you're going to get a memorable portrait. But here, we see another story.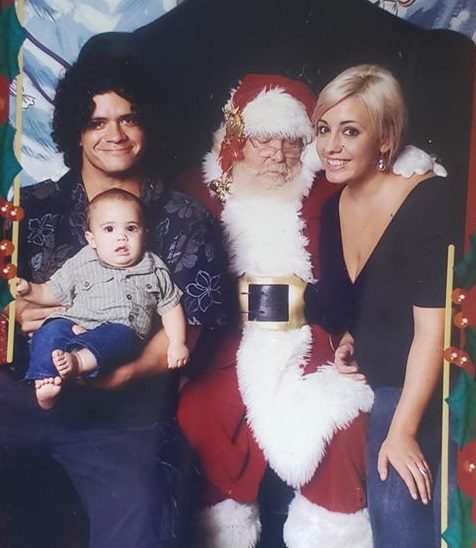 Santa offered his lap to a family. For whatever reason, he seems most interested in the wife. He put a very friendly hand on her neck and gazes downwards. This year, the man in red himself is going on the naughty list.
Joy to the World
It's not easy to catch a smile in real time. Case in point: Here, mom asked her little one to pose for the camera with a prop. The girl is holding a happy item. But does she look happy to be there?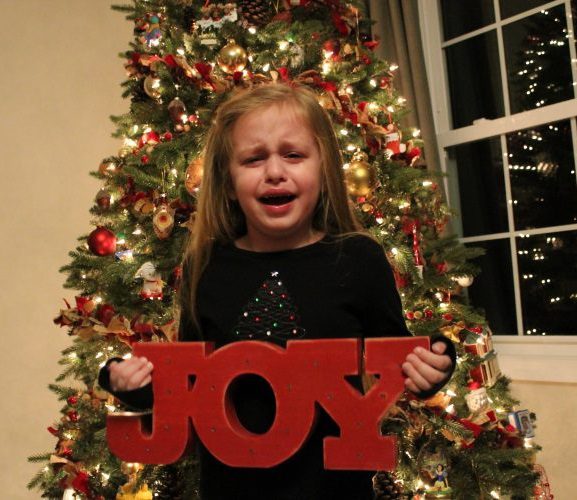 In all honesty, she looks pretty distressed. Mom wants her to be part of the family photo album. That's understandable. But it seems this little cutie is just not in the mood. We all have our bad days, Christmas or not.
Santa Puss, a Portrait
Some people like simple Christmas snaps. This fellow is not one of those people. He took the opposite approach with this incredibly intimate and emotional photo. The vibe here is almost poetic. We just wish we knew the meaning right meow.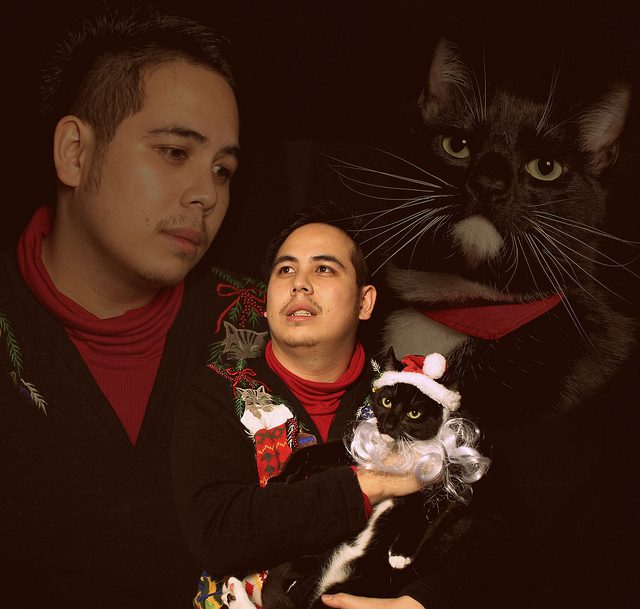 Let's analyze. Both man and cat are wearing red turtlenecks. They gaze into the dark, deep in thought. Their outfits are also interesting. They wear a Santa outfit and an embroidered vest. It's still a mysterious situation. But what a pair!
A Merry Little Monkey
Decades ago, regulations differed on exotic pets. Folks tried to own all sorts of animals. Usually, that ended in bites and boo-boos. Here, we witness a moment in time before this monkey realized it was trapped. Merry Christmas, little guy!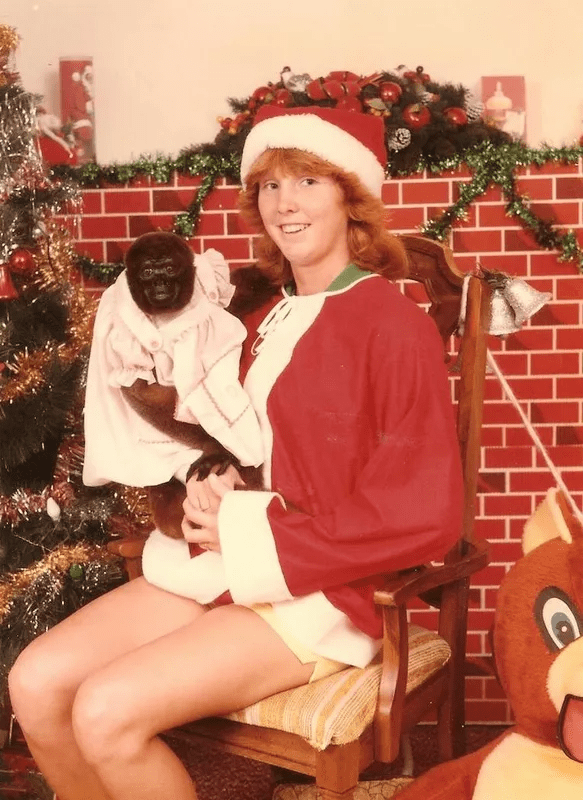 The woman here is wearing a Santa outfit. The monkey is wearing a frilly pink frock. Both look traditional, each in their own way. Since the ban on ownership, monkeys rarely get dressed up at all. Don't you miss the old days?
Blink Once for Figgy Pudding
We all know how it goes. When the photographer tells us to say cheese, we put on our best fake grins. Here, we are not sure what was said to this family. For some reason, they all decided to blink at once.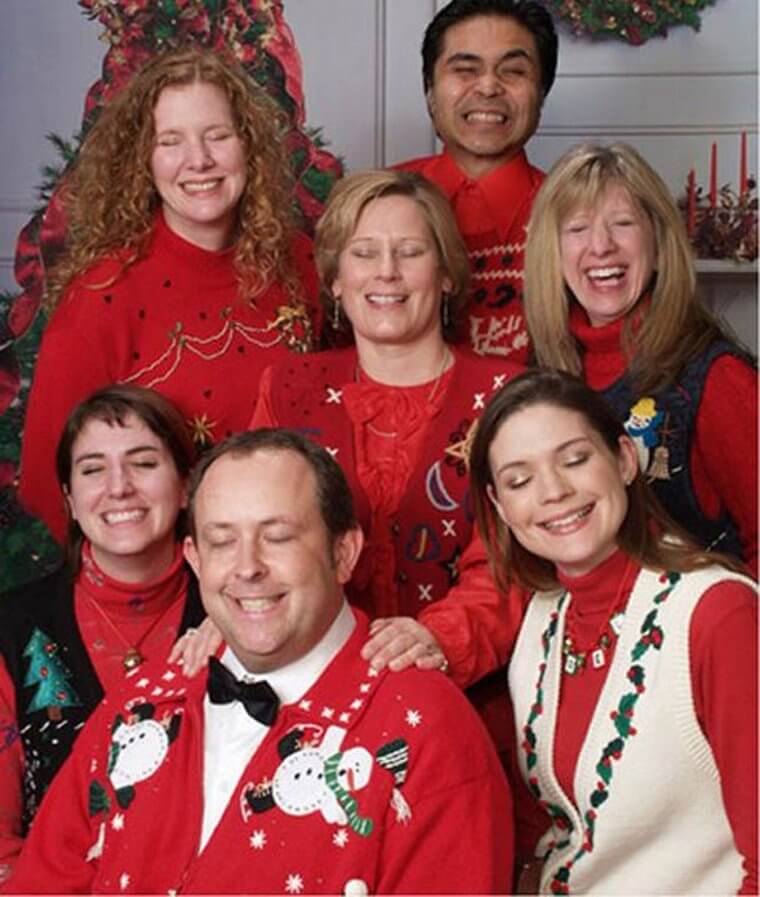 The circumstances are not clear. Was this the photographer's request? Perhaps this is an outtake. We can't confirm the theory, but we're giggling. Seven blinks make a funny photo. Paired with those red sweaters, it's a mood all its own.
You Better Not Pout
If you're sick of the same, we've got a portrait for you. This fellow's got it all. We see an embroidered sweater vest. We also see a snowflake shirt underneath for contrast. That's seasonal style, right there. But is that all?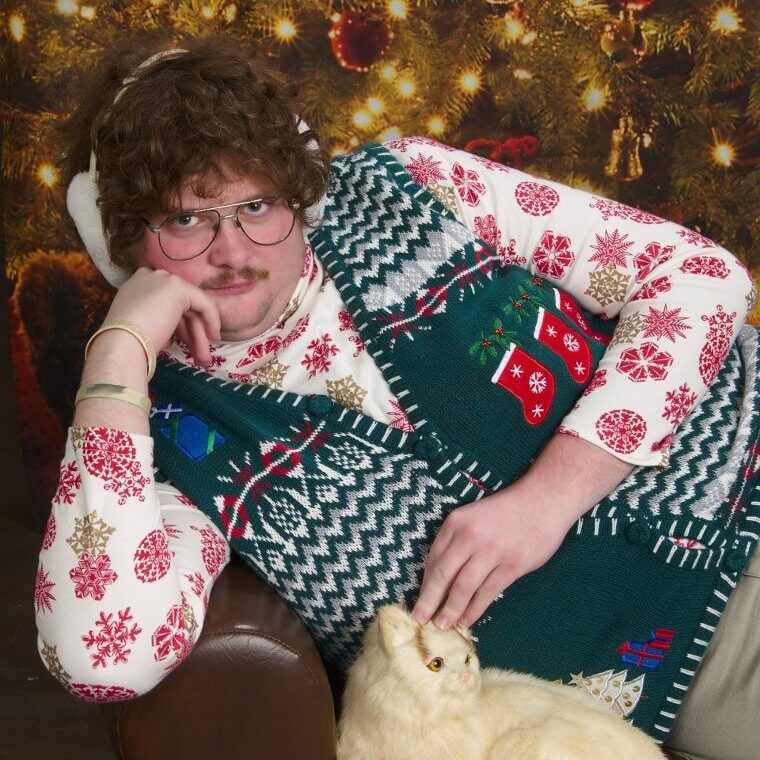 Look closer and you will notice a taxidermy specimen. There is a stuffed cat here under the soft glow of the lights. Its dead eyes stare ahead. We think they are marbles. But we still think they are less terrifying than this gentleman. That stare is a scare!
There's No Place Like Home
Ideally, our families provide comfort in a wild world. But the truth is, many of us have difficult times at the holiday table. This Christmas photo illustrates that perfectly. On the right, three family members pose and smile. On the left, there is the truth.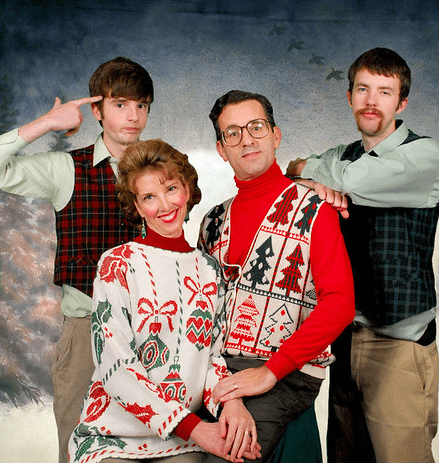 This teen isn't hiding his feelings. He doesn't like these people. He's been cursed with a blood relation, and he wants out. It doesn't seem like he cares if the family finds out. Sooner or later, they're going to develop this roll of film.
Have Yourself a Scary Little Christmas
Old photos can be a delight. They can also be a fright! Case in point: This child, decades ago. It is probably too late to figure out the context. But is there really any explanation? Make this make sense, please.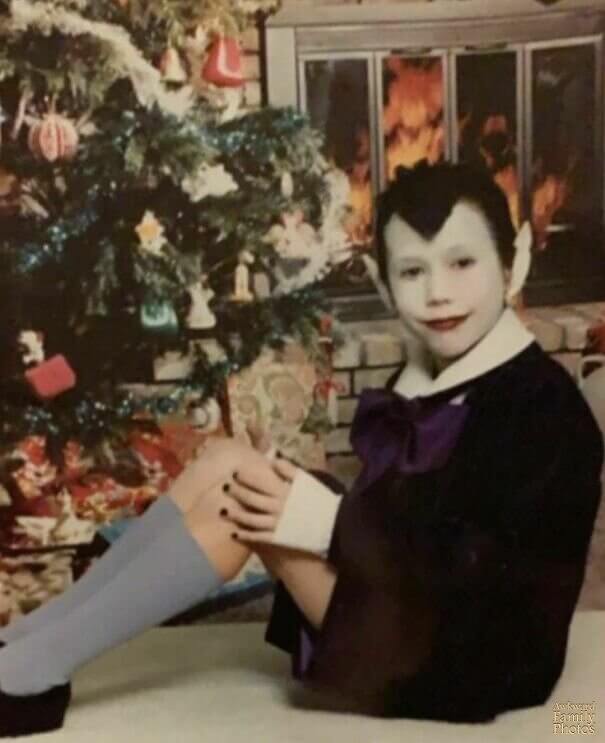 We have a few concerns. First, there's the pale complexion. The girl looks undead, even haunted. Then, there's the haircut. It is positively bewitched. The widow's peak here is beyond the human norm. This dark 'do is the work of dark forces.
Pukin' Around the Christmas Tree
Babies are a joy, claim parents. They bring new energy into the home, and despite the diapers, they're worth the birth. Plus, they make great additions to any holiday photo. Here, mom and dad proudly pose with their little one.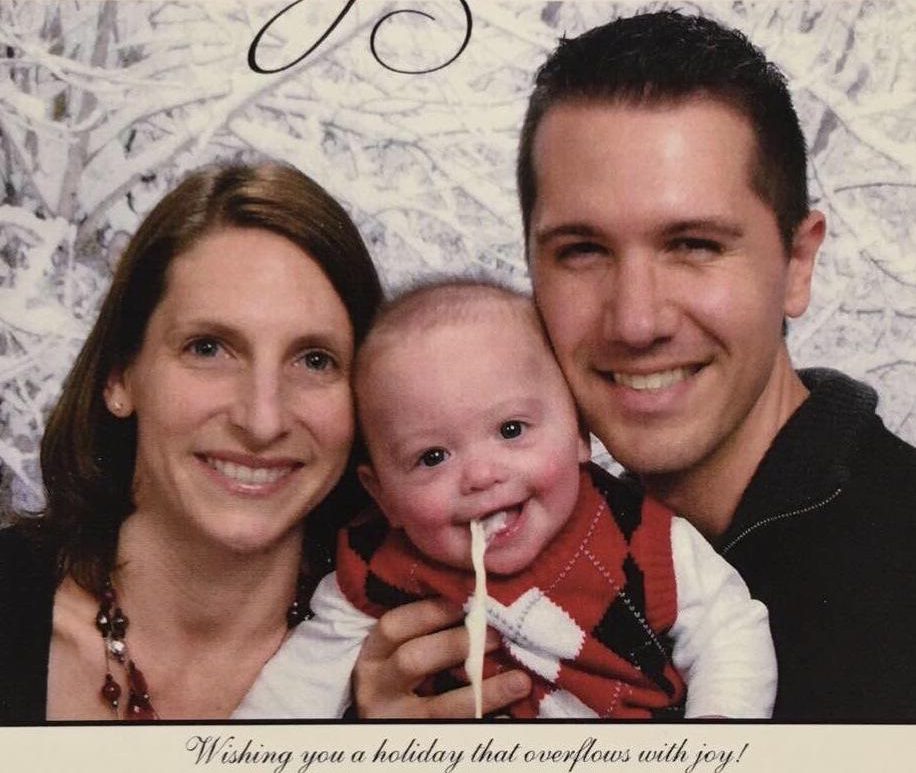 The message below gives us a chuckle. It wishes us a happy holiday overflowing with joy. It fits the picture well. As you can see, this baby spit up at the exact moment of the flash. Old milk is overflowing. We are happy we weren't there, mostly.
Naughty Boys Get Coal
Santa works hard year-round to deliver us custom gifts. How does he know what we want? Well, he interviews us at the mall. We can see one meeting here between the man in red and two boys. Have they been naughty or nice?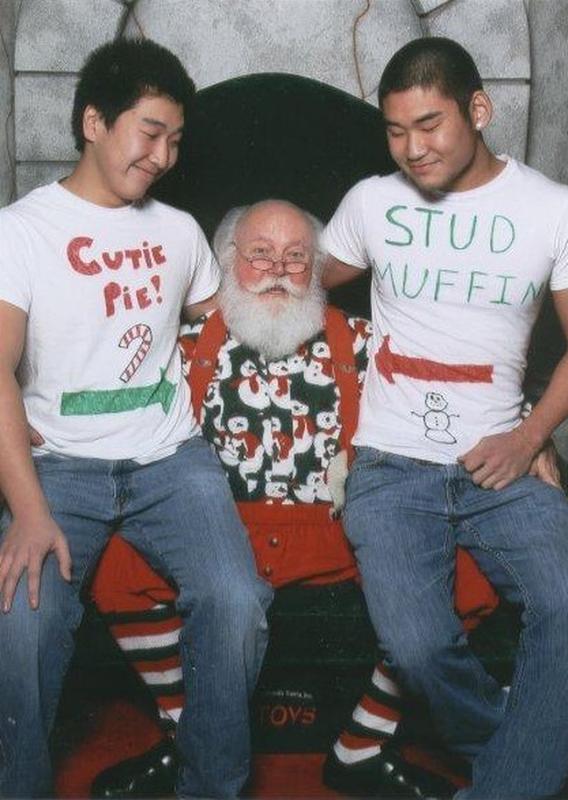 By the looks of their tees, it seems they have been naughty for some time. They are wearing tees accusing Santa Claus of not only being a cutie pie, but a stud muffin. Santa rarely gets this kind of attention. Has he been overlooked?
Meanwhile, in Puerto Rico
This holiday photo was released by Jorge Santini, a mayor in Puerto Rico. According to one of his constituents, the Santini clan scares them every year. They always have a new concept with dangerous wild animals. Don't worry, they're dead!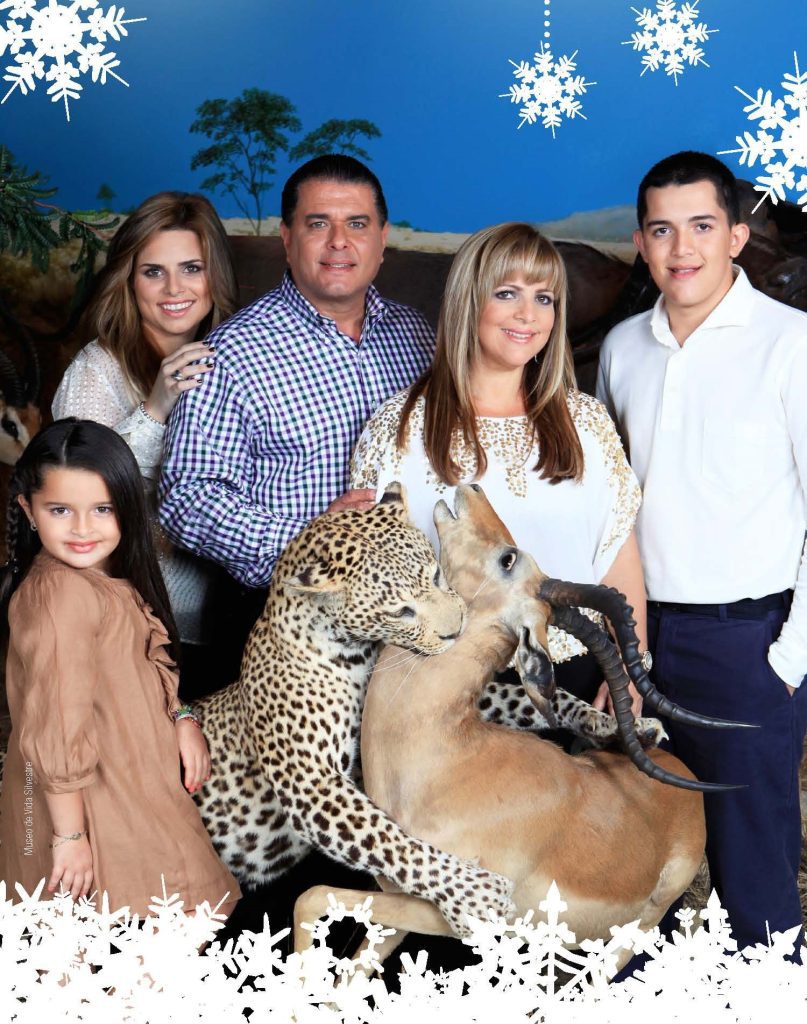 Like it or not, the circle of life looks a lot more like this than we see. Leopards eat antelopes. They bite them on the neck. Then, they chow down. Perhaps Christmas is a cycle in life, too. Could that be the metaphor here?
This Giant Cat is Coming to Town
When cats invade, we're all doomed. For now, they are too small to do serious damage. But if they mutate in size, expect the worst. On Christmas, the Gilliam family was confronted by a giant feline. They ran for their lives, naturally.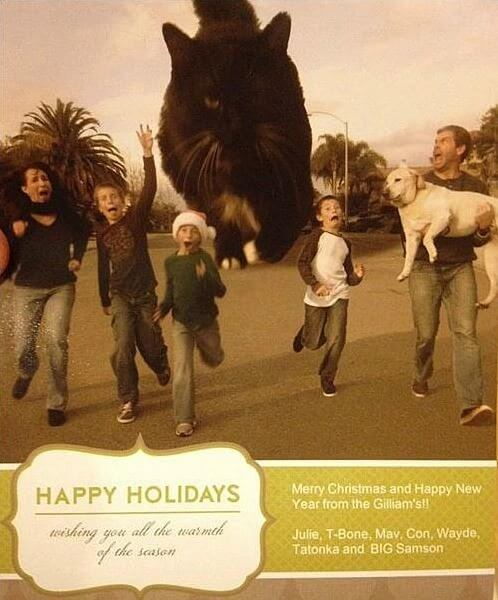 Five human members and one beloved dog escape, but just barely. The feline is on the prowl and ready to bite. The small version just nips at our heels. But this is no housecat. This is a beast seeking a Christmas feast.
Festive Face Swap
There's an app for everything, these days. Some are getting pretty silly. Ever heard of Face Swap? Millions of users are enjoying the power to trade faces in photos. Here, that powerful technology was applied to a family Christmas card.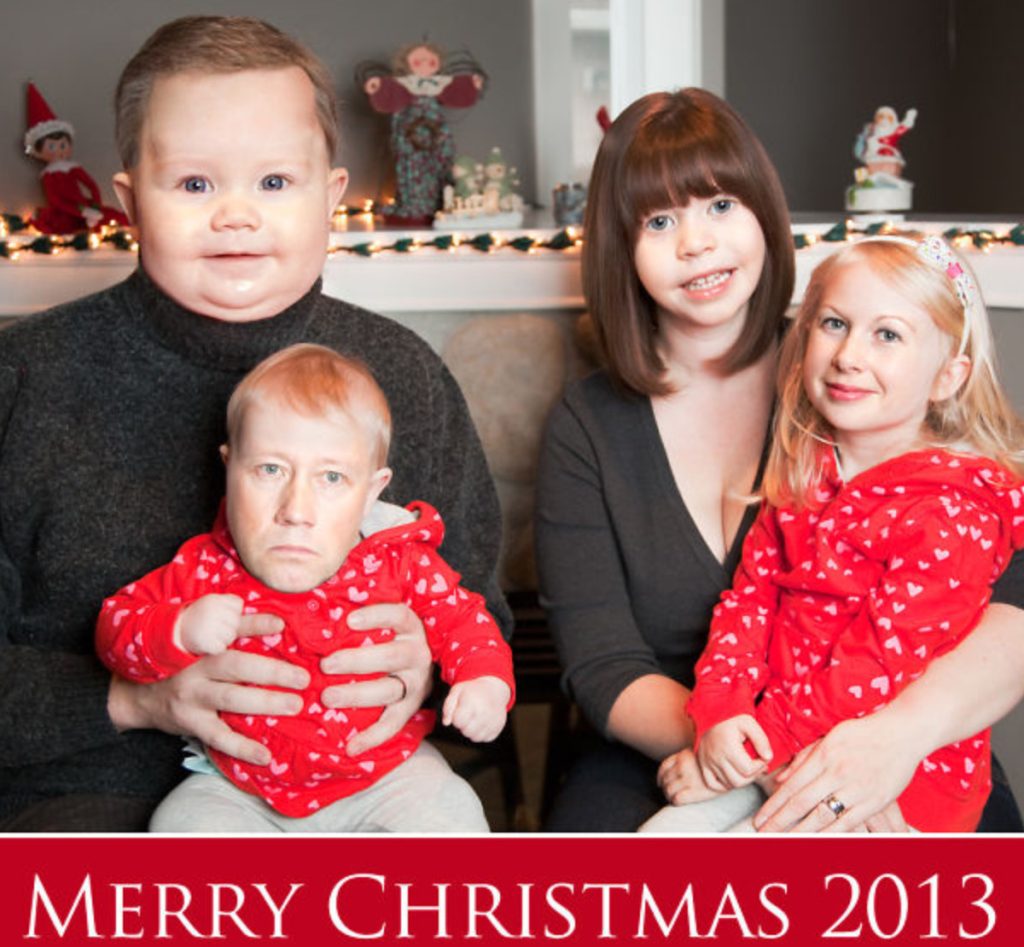 XXX
Silent Night, Holy Puss
We all know how it started: A surprise baby was born in a Bethlehem barn under a special star. Three wise men came by and announced his destiny. The world changed forever. Here, that special moment was captured on film.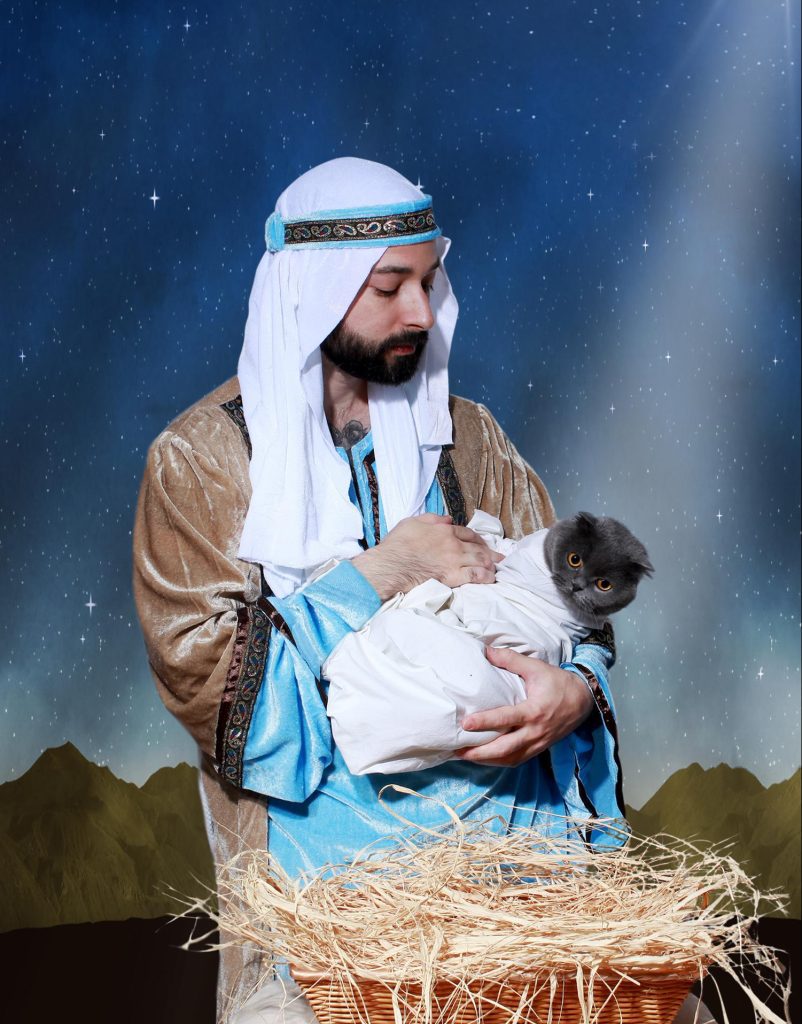 The future savior is bundled up and seemingly unaware of his mission. Soon, he will start saying a lot of inspiring things. But for now, dad here still thinks he has a gurgler on his hands. If he only knew!
Two Absolute Scrooges
Mom and dad took the kiddos to sit on Santa's lap. Let's just say it didn't go well. Gramps posted the mall portrait online: "My son, Miller and his wife, Annie, took their children, Vera and Duke, to see Santa around in Tampa, Florida. I think Santa feels the same way as Vera and Duke!"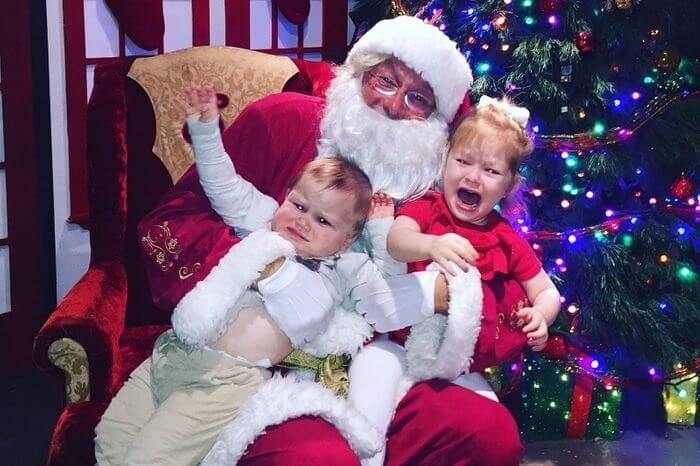 Perhaps they are not aware this is an opportunity. When you sit on the big man's lap, you also have his ear. This is the time to tell him all the toys you desire. He's not a mind reader, kiddos!
Christmas in Europe Be Like
It's all a matter of perspective, but some photos suggest the 1980s were a dark time. Don't believe us? One immigrant from Europe posted their evidence online. It's a confusing scene to basically the entire internet. They explained: "Christmas was scary in Yugoslavia."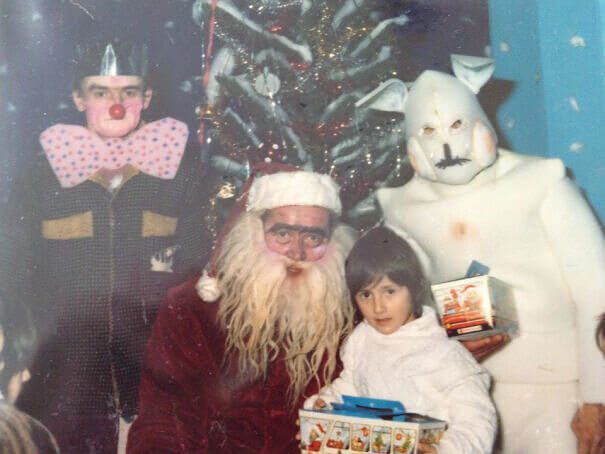 Looking at this evidence, we'd have to agree. The Santa costume over there is scraggly and we don't like his eyebrows. Or should we say, eyebrow? We only see one, and that's just not right. Plus, who are the creeps in the back?
That Carrot Though
As the song goes, Frosty the Snowman was a jolly and happy soul. We know him with a corn cob pipe, a button nose, and two eyes made out of coal. Today, though, he looks totally different. What stands out to you?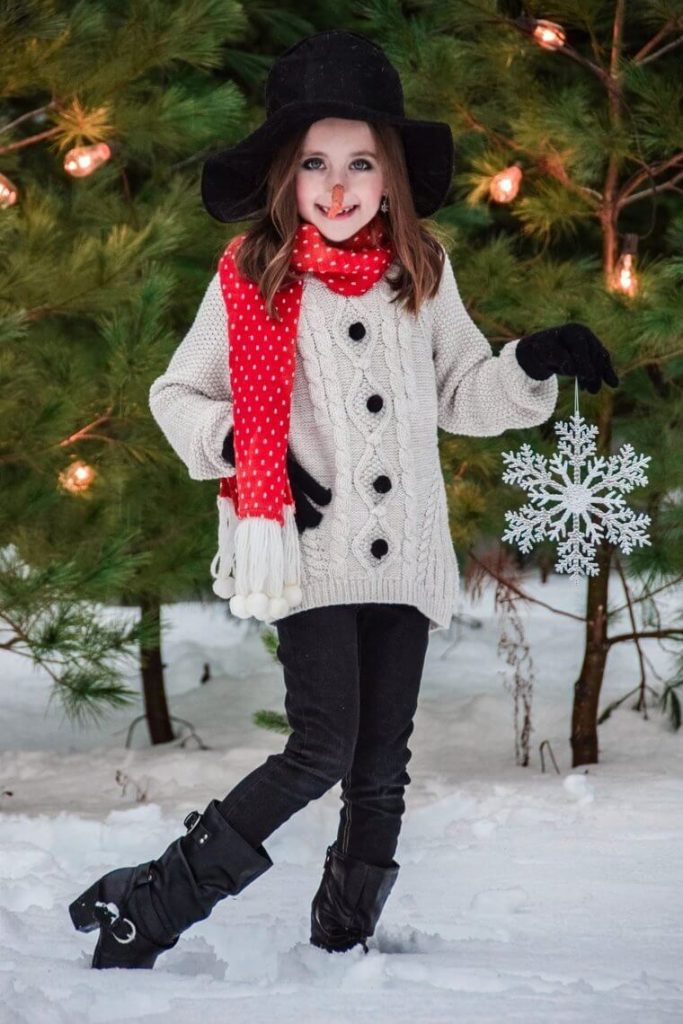 Answers will probably vary. It's open to interpretation. But to us, he looks like a little girl. To be specific, it looks like a girl wearing a snowman sweater. There's a little carrot glued to her nose. That's odd, more than anything.
Watch Your Mistletoes
This holiday moment seems bland, but it's anything but boring. At first glance, you might see a mother, father, and baby boy. But look down, and you will see more. There's a dog in the photo. And he's very jolly!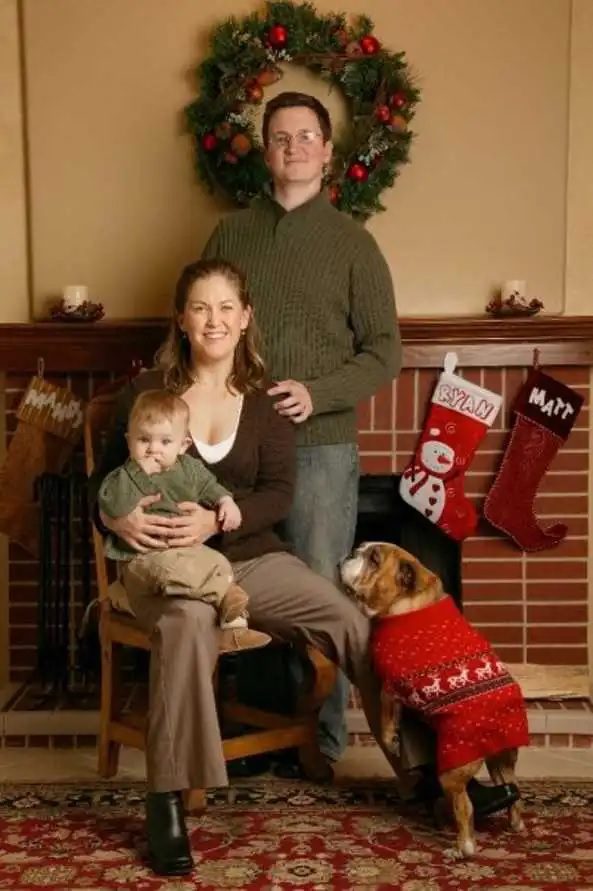 At this stage, it doesn't seem like anyone has noticed. We assume this was left out of the final album. Pets can do the darndest things, sometimes. They don't even know it's Xmas. We can't blame them, but can do retake a photo.
Through Him All is Possible
The story of Christmas began in a simple barn. That might seem strange, but it changed the world. As the prophecy promised: "And this is a sign for you: You will find The Baby wrapped in swaddling bands and lying in a manger."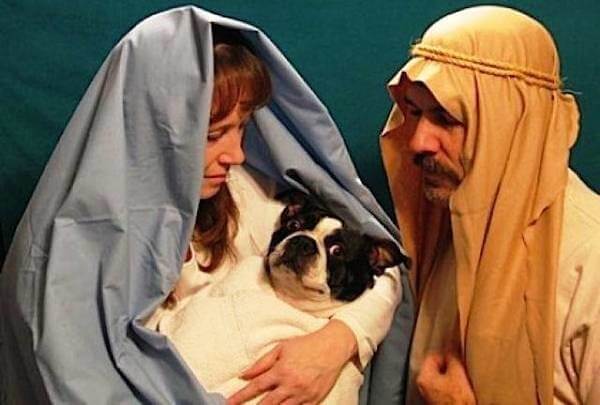 Here, we see the moment that Mary and Joe cradle their bundle of joy. They have no idea just how much wisdom he will bring to the world one day. But already, they know something is up. The wise men insisted!
Silent All Night Long
Family life is chaotic, but most folks say it's worthwhile. Raising kiddos can be the most rewarding project of your life. Still, this dad demanded a break. This Christmas, there will be peace and quiet. That's because tape works miracles.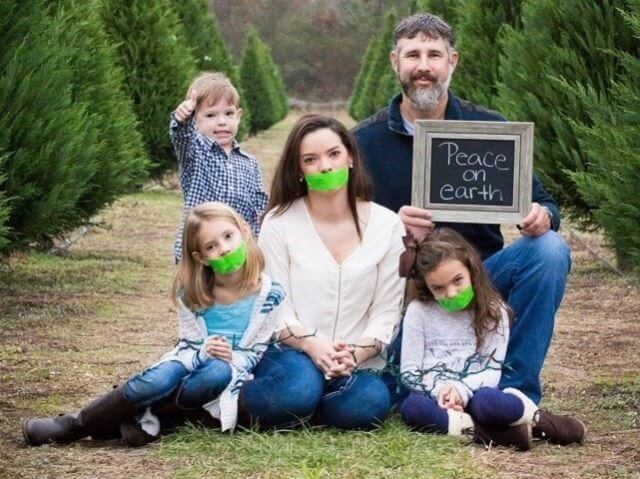 This father decided to publicize his idea. He wrote a familiar message on a little chalkboard. Then, he asked his family to pose with him. The internet has seen it and made its judgments. The law says it's probably not legal.
Kitty, It's Cold Outside
There's a war out there between cats and Christmas trees. Every year, it seems the two get tangled. This fellow decided to intervene with love. He climbed in himself and took control of the claws. Tenderly, he holds the feline.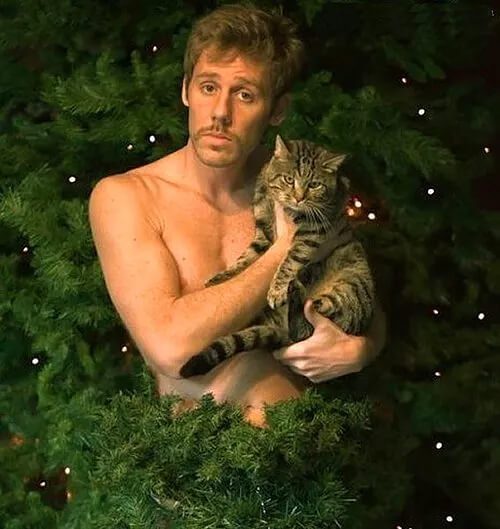 Surprisingly, the cat is cooperating. It's hard to get a good photo of this animal. It has a notoriously independent nature. But maybe the Christmas atmosphere has pacified its spirit. Every other day of the year, expect claws and jaws.
The More the Merrier
At first glance, this vintage photo looks like a happy moment. All seems well if you look at the siblings. But look closer, and you will also see two vicious dogs. It's terrifying stuff. How did it all turn out?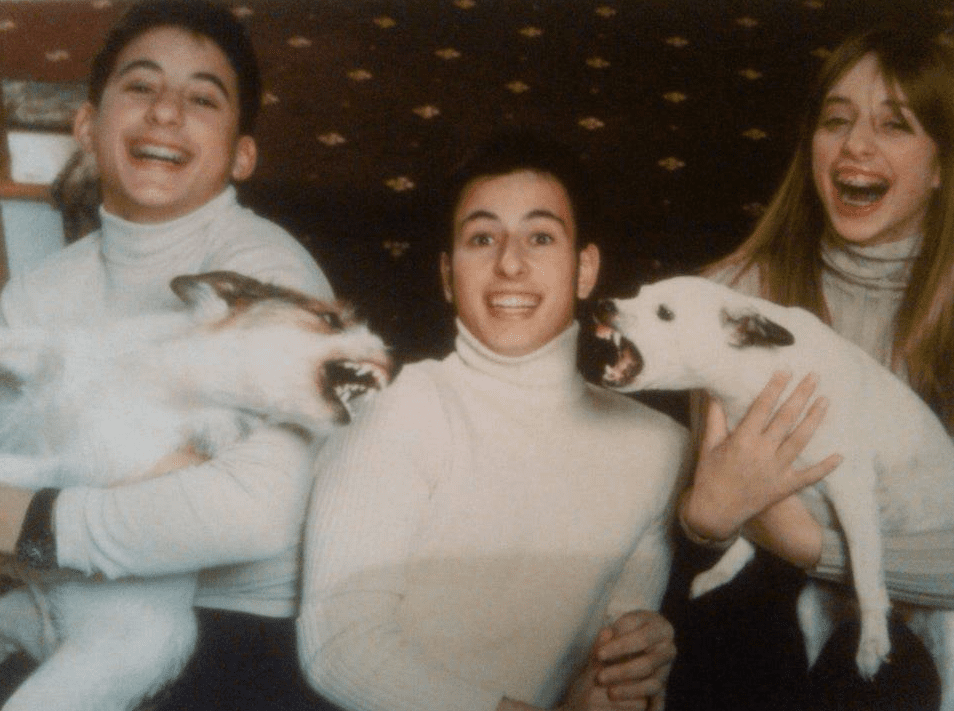 They survived, according to the caption: "We were taking our family Christmas photo, and let's just say the dogs weren't in a Holly Jolly mood. This photo was the worst of the batch, but now it's a conversation starter. We keep it right by the entrance of our home here in St. Louis."
Bah Humbug, Baby
After a fresh divorce, this Christmas lover is feeling lonely. The marriage is over. He wants to continue his traditions. But something's not the same. Look at this card. When your world has fallen apart, how merry can you be?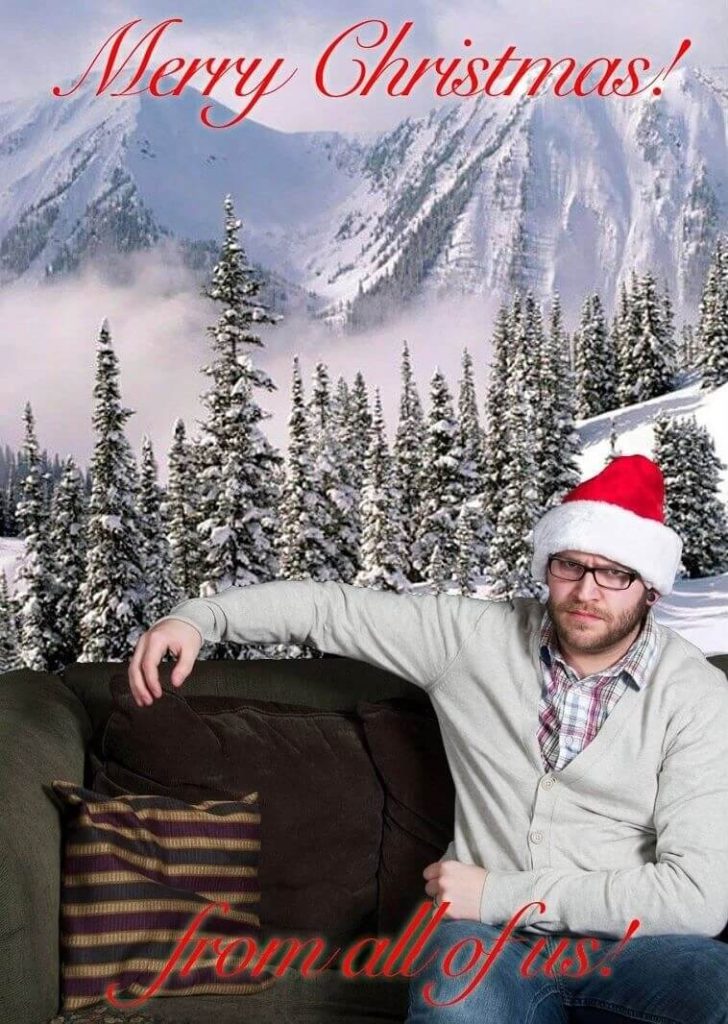 By the look on this fellow's face, he is struggling. There is no indication when the relationship ended, but the pain looks fresh. The card still says it was sent from the couple. But it wasn't, sadly: This Santa is solo.
'Tis the Season to Be Matchy
Growing up, most people experienced a matching outfit or two. Parents loved seeing all their kids in the same color, for whatever reason. Siblings survived, for the most part. Old photos now provide a chuckle. Look at this Christmas from yesteryear. Isn't it charming?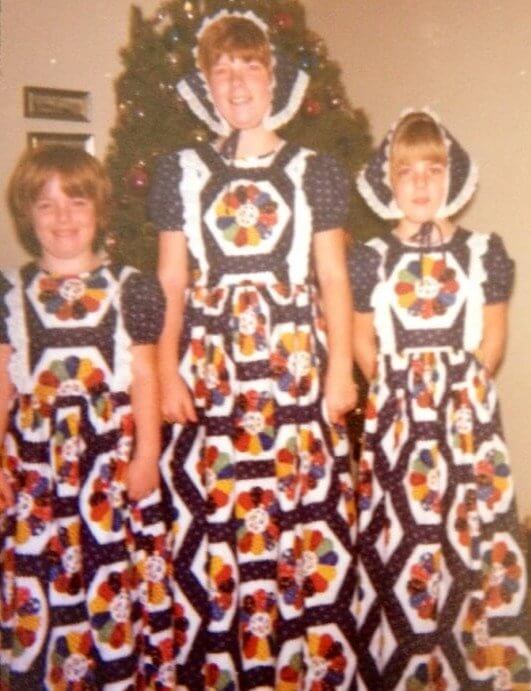 You may say yes. Would these girls say the same? Hopefully, they have come to terms with their horrid outfits by now. But at the time, we can imagine it was embarrassing. All Xmas long, this was their gift. Or maybe, their punishment.
O Come Let Us Adore Him
Mary was a mom before she expected to be expecting. It seemed unbelievable, but it was all a divine plan. The Bible explained: "The Lord Himself will give you a sign: Behold, a virgin will be with child and bear a son, and she will call His name Immanuel."
Here, we see Mary as a proud new mom. Without the traditional method, she found herself pregnant. She doesn't understand where or how it happened. Neither did Joseph. It confused them both, as you may imagine. But hey, why question a miracle?
The Christmas Boop
Couples love to photograph their love. This is even more important during the holidays. We can't blame them. Here is a vintage Christmas picture that makes us giggle. Guy and gal have hiked up their ugly sweaters for a belly bump. Boop, baby!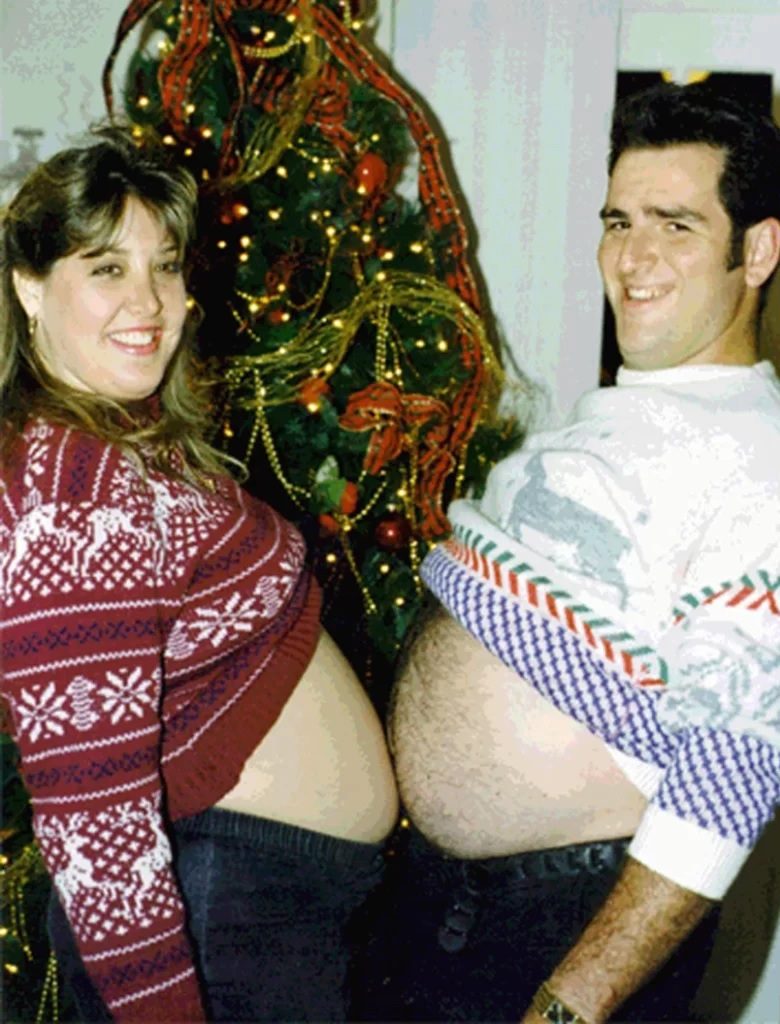 We can understand why these two got together. Besides their sense of fashion, they both share a sense of mischief. They say the couple that plays together stays together. That's true, most of the time. What will they say about this?
Seasons Beatings, Kiddos
The holidays are a time for relaxation. But here in Ohio, toddlers are on the loose screaming and crying. Luckily, the cops are ready for action. The Columbus police department intervened before a temper tantrum even began. Seasons beatings, everybody.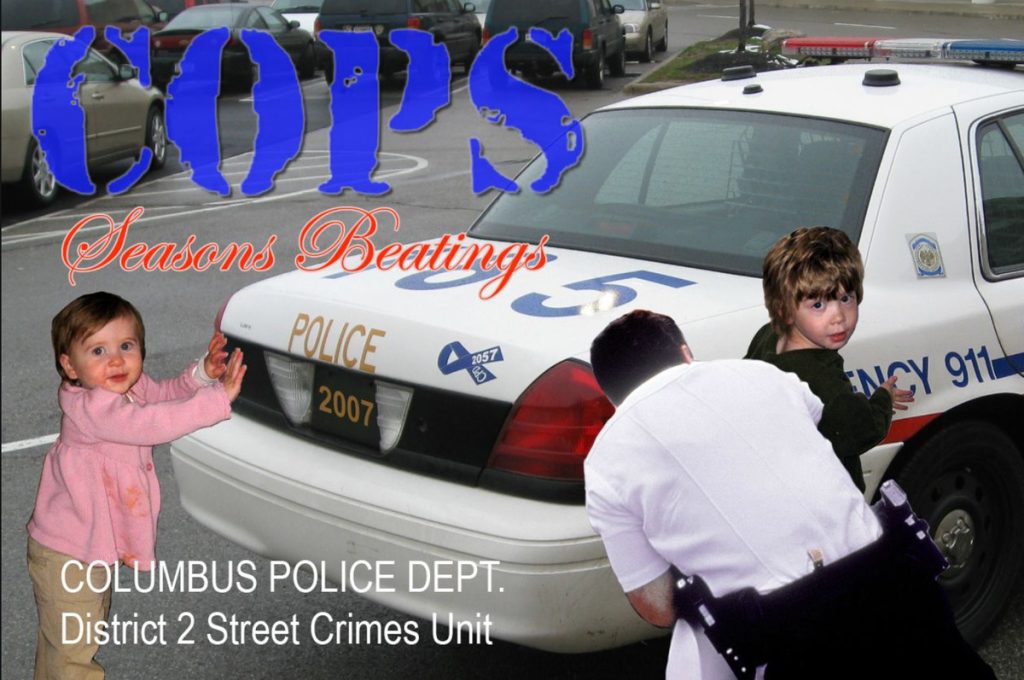 You might say this is a little early for handcuffs. You may cite juvenile laws. But on this holiday, all bets are off. Families have chestnuts to roast and carols to sing. There's not going to be whining in this town. Sherrif's promise!
Single All the Way
Not all families look the same. This single dad is doing it alone, like millions out there. But from his smile, we see he isn't complaining. It is Christmas and he gathers with his child and dog. This snapshot is heartwarming. We admit it!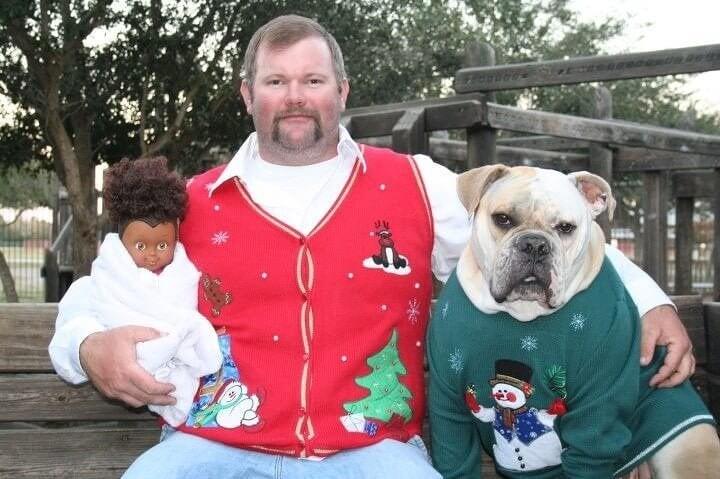 On this holiday, memories are made for a lifetime. Tonight, this trio will enjoy glazed ham and a glowing tree set the mood. And then, there's magic at midnight. Santa comes at midnight for all families, big or small, one and all.
Dashing Through the Snow
He gets the job done, every time. Santa has a slick operation. The annual sleigh ride is rarely observed by the public. But we assume it is a well-organized operation. Here, a rare photo has captured that plan in action.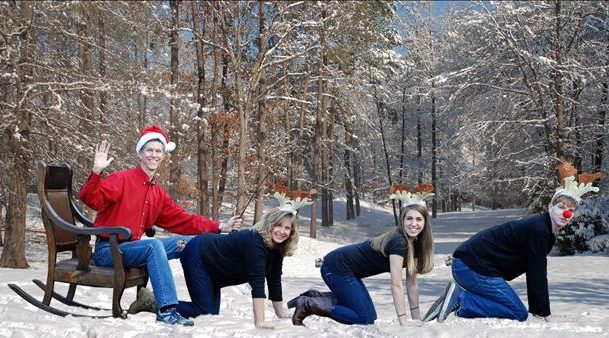 Santa holds the reigns and directs his reindeer forward. The magic is exactly like we imagined. It happens every year without fail. Thank you, Dasher, Dancer, Prancer, Vixen, Comet, Cupid, Donner, and Blitzen. Without you, all we'd have is a lump of coal.