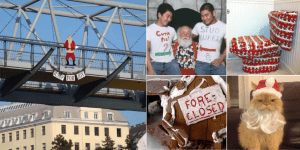 Naughty Christmas Giggles Are the Reason for the Season
By Taylor M
---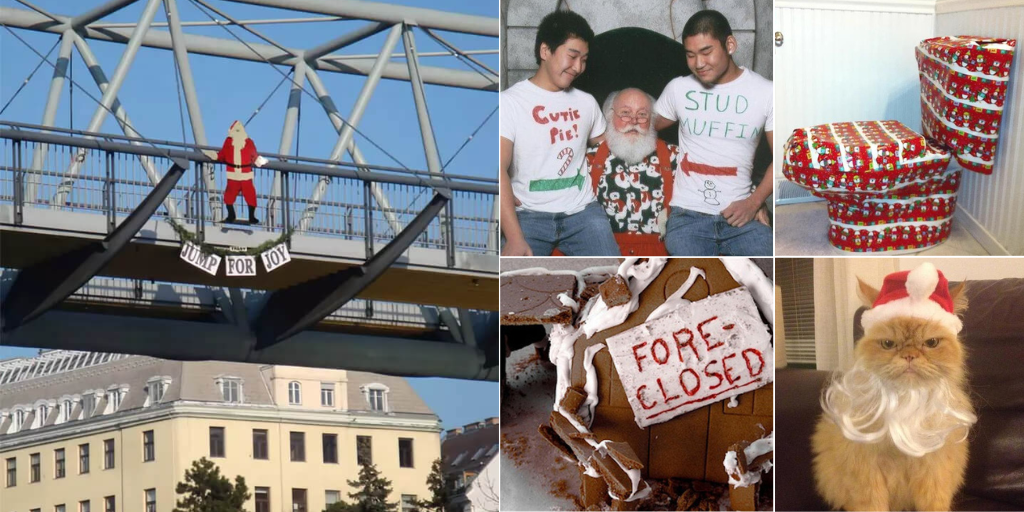 For a thousand years, Christmas time has been a holy celebration. We know the wise men and manger theme. We've enjoyed images of Santa and his elves, and Mrs. Claus has been an inspiration. That's all well and good. But isn't it time to change all that? If you've got a mischievous streak like us, that seems like a reasonable project. Today, we are making festivities a little freakier, and it's worth a scroll. From bad signs to decorating accidents and everything in between, we're exposing some of the best Xmas funnies the web has ever cataloged. December is a great time to laugh, and we're starting the holiday party. Ho, ho ho: Let's get snow deep in some sillies, now!
Elf, the Other White Meat
Every year, Santa Claus personally shuffles down our chimneys and delivers our gifts. This happens on a scale of millions, if not billions. We understand that's a major operation. Thankfully, he has an army of elves to help back home.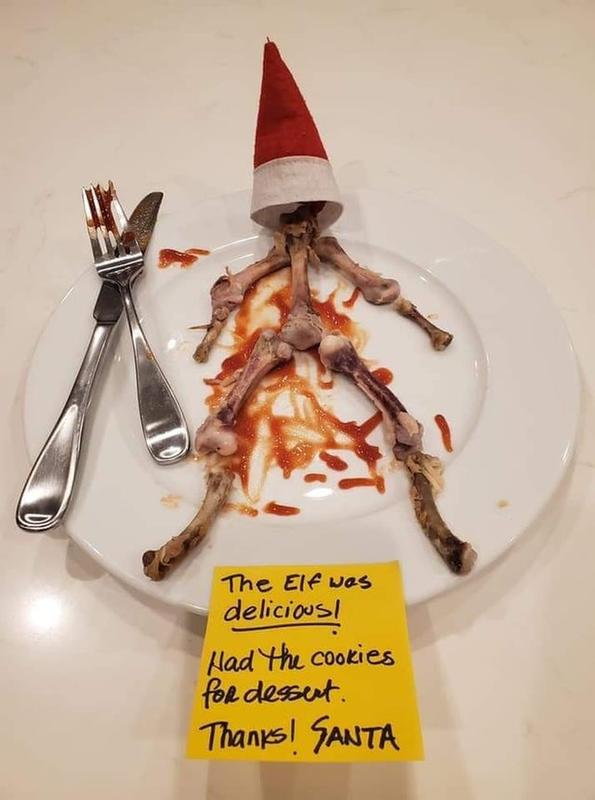 Today, we're a little confused. It seems that the man in red decided to eat one of his own. The sign says it clearly: These bones are all that's left of one unlucky elf. According to Santa, it was delicious.
Finally, a Child-proof Tree
This tree is decorated beautifully, but it sure feels different. We can't quite put our finger on it. It could be the size of the tree. It could be an evergreen instead of a fir. Or maybe, it's upside down!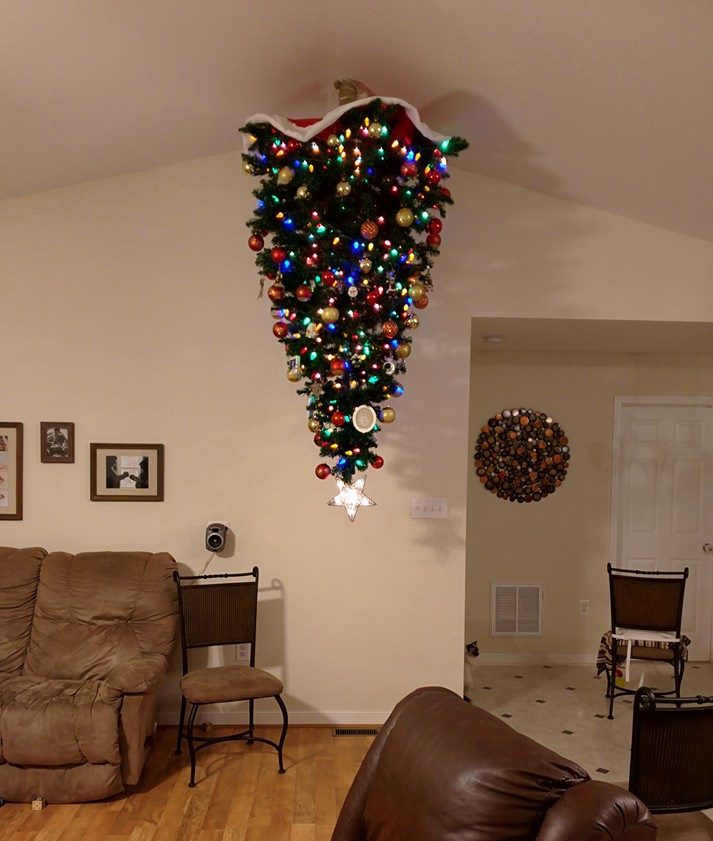 Now that we notice the angle, we are sure that is the case. Online, someone claimed a friend tried to child-proof the tree in their home. If it's this high up, you have some hope. And isn't this the season for hope?
O' Little Town of Bacon and Ham
It's been a while. Why did Mary give birth in a barn? The Bible can refresh our memory. It explains: "And she gave birth to her firstborn son and wrapped him in swaddling cloths and laid him in a manger, because there was no place for them in the inn."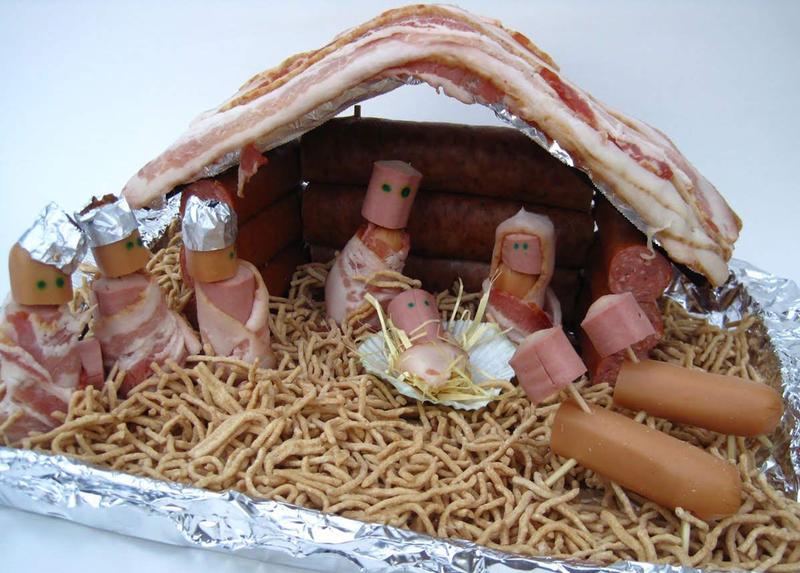 Here, we see the scene recreated in meat. Observe the wise men made of bacon. See the hot dog horses on the left. Mary, Joseph, and their holy son look just as tasty. We weren't sure before, but our stomachs are intrigued. Call us converted!
That Beard Though
Holiday fashion is an exciting change. Ugly Christmas sweaters are popular at parties. But for everyday cheer, this fellow went further. Using green dye and tiny ornaments, he didn't let his beard go to waste. It's a tree on his face!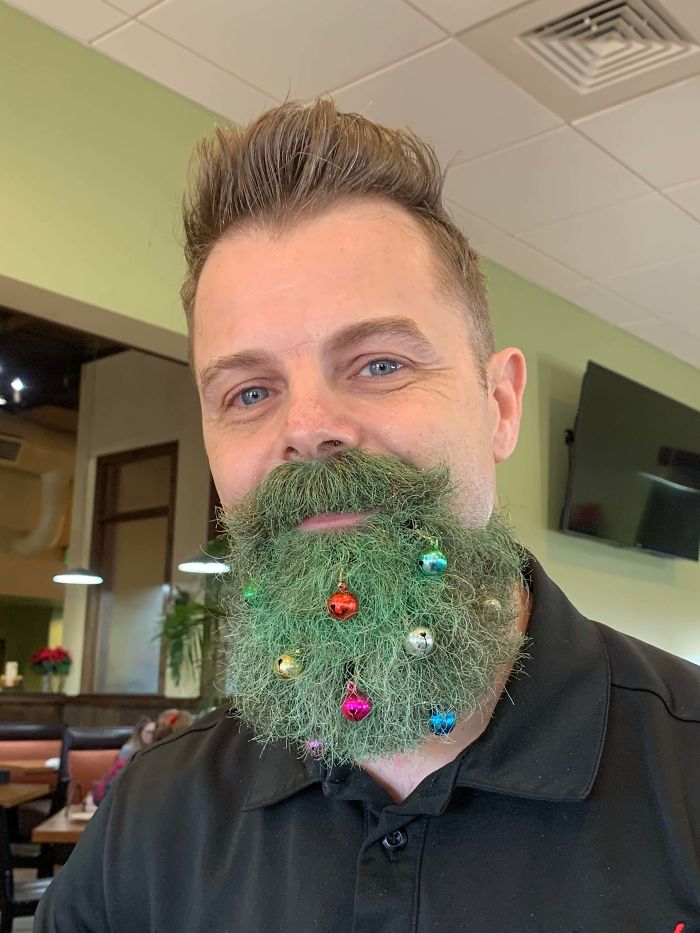 We like the look, sir. It's festive and it's funny, though not yet mainstream. But that's a real shame. A beard like this is a conversation starter. Plenty of men grew long beards in recent years. We hope this trends!
Jump For Joy
The holidays can be a joyous time. But let's be honest: It can be a very lonely one, too. Your mood on Christmas might be impacted by your relationships. Or maybe, your job is on your mind. Whoever made this display is tone-deaf, to say the least.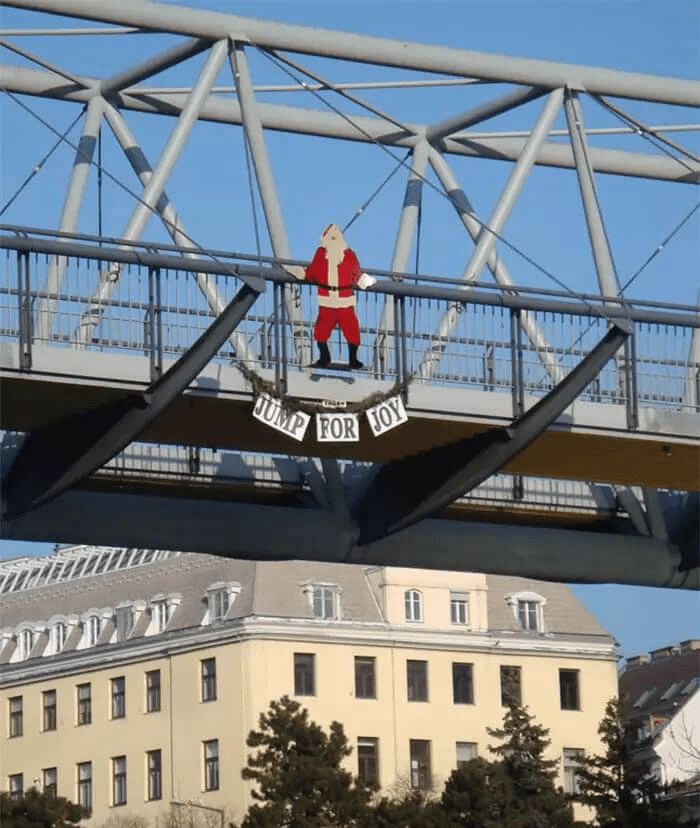 We see a Santa figure standing over traffic o the bridge. Then, we see a sign encouraging people to jump for joy. Given the location, it's likely to be misunderstood. This is not a place to jump for any reason!
We Wish You a Scary Christmas
The holidays can be overwhelming. If you work in retail, you feel that firsthand. Stores and food court experience the busiest time of the year. We can see the stress on the faces of these bears. They look war-torn, almost.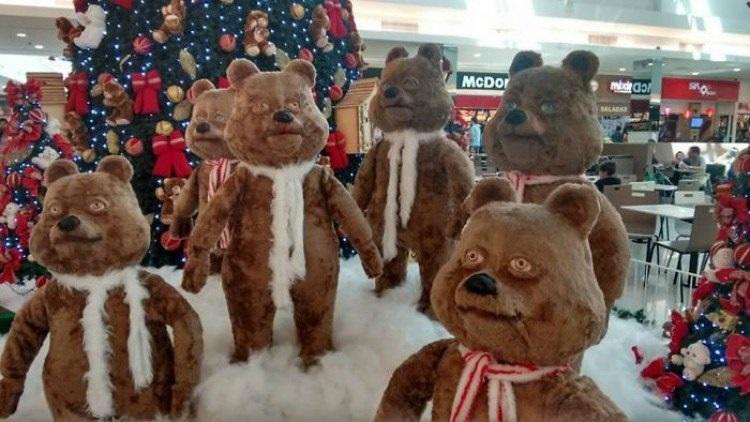 Looking into the eyes is key. It is there that you will see they have seen too much, too many times. Their lifeless expression is disturbing. But we only have ourselves to blame. Who among us hasn't raged on a Black Friday?
The Man in Red Goes Shopping
Every Christmas, Santa delivers our gifts. That takes a real weight off our shoulders, and for that, we are thankful. But when can Santa do his own shopping? Here, we see our fat benefactor made a trip to buy some paper towels.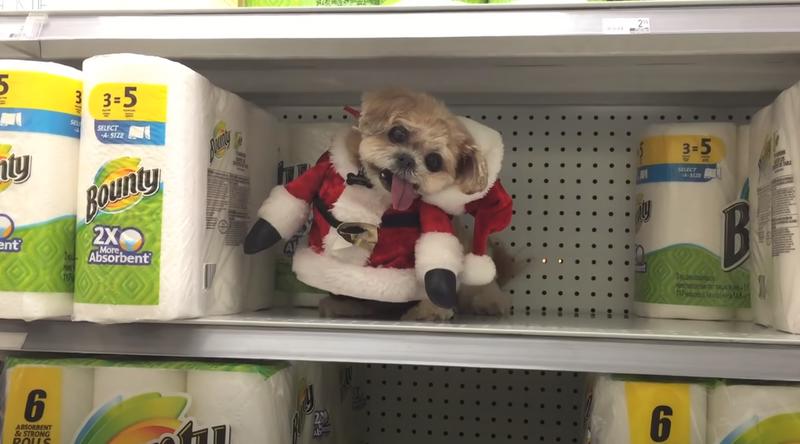 Honestly, he looks frazzled. Millions of deliveries seem to have worn him down. We can't blame him. But has he ever heard of elf on a shelf? We suggest he send a helper next time. They know what they're doing. And plus, it's their job!
Joy to the Bathroom
December is the time when our ordinary surroundings transform. Decorating the home is a project. The outside and the inside of your dwelling are equally important. You don't want to miss an opportunity for cheer. It's only once a year!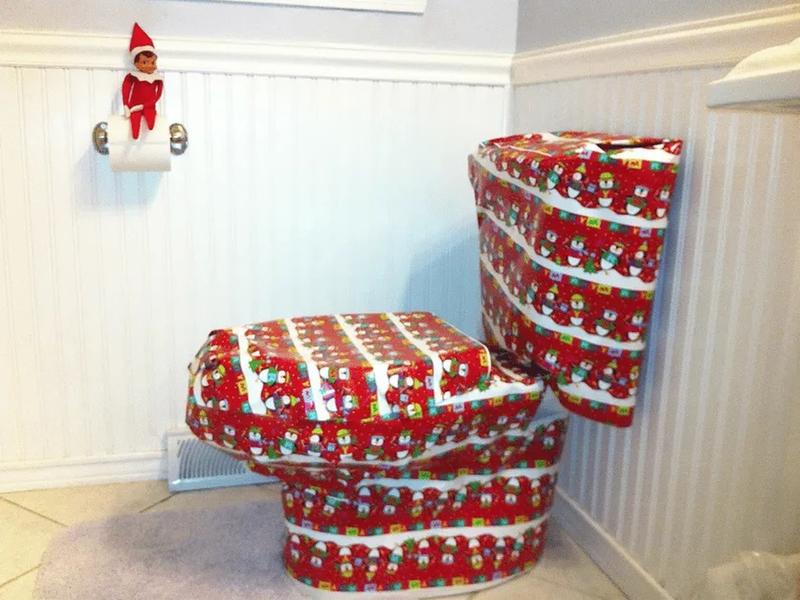 Never neglect the bathroom. If guests sit down on this toilet, they will feel the reason for the reason. Make the effort, and wrap the seat, lid, and base. For all you know, Santa Claus himself might need your facilities.
Not Today, Satan
Santa Claus delivers toys for all the girls and boys. Traditionally, we thank him with a plate of cookies. Here, your local Target tried to make Christmas easy. But through the error of language, they just made it more confusing.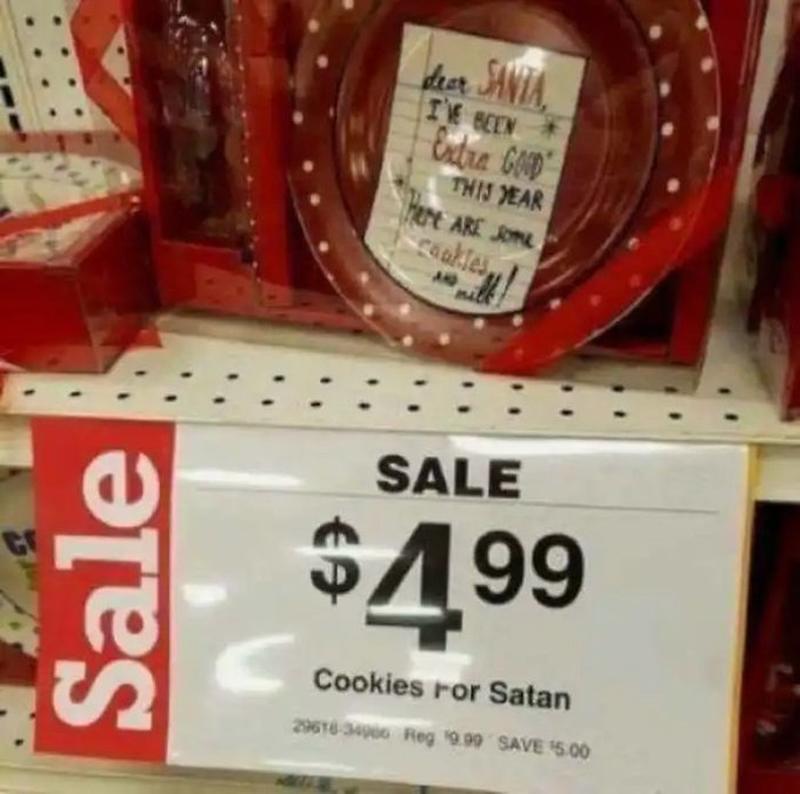 This sign clearly says these cookies are for Satan. But why is this on sale? To be perfectly honest, he isn't welcome in our home. If the devil stops by, we are unlikely to offer him refreshments. Wrong holiday, Target!
What Could it Be
Creative gift wrapping is an art. Some people use gift bags and tissue paper. Others use colorful paper and pop a bow on top. Here, someone tried the latter approach. We can't wait to finally see what's inside on Xmas morn. Oh, the suspense!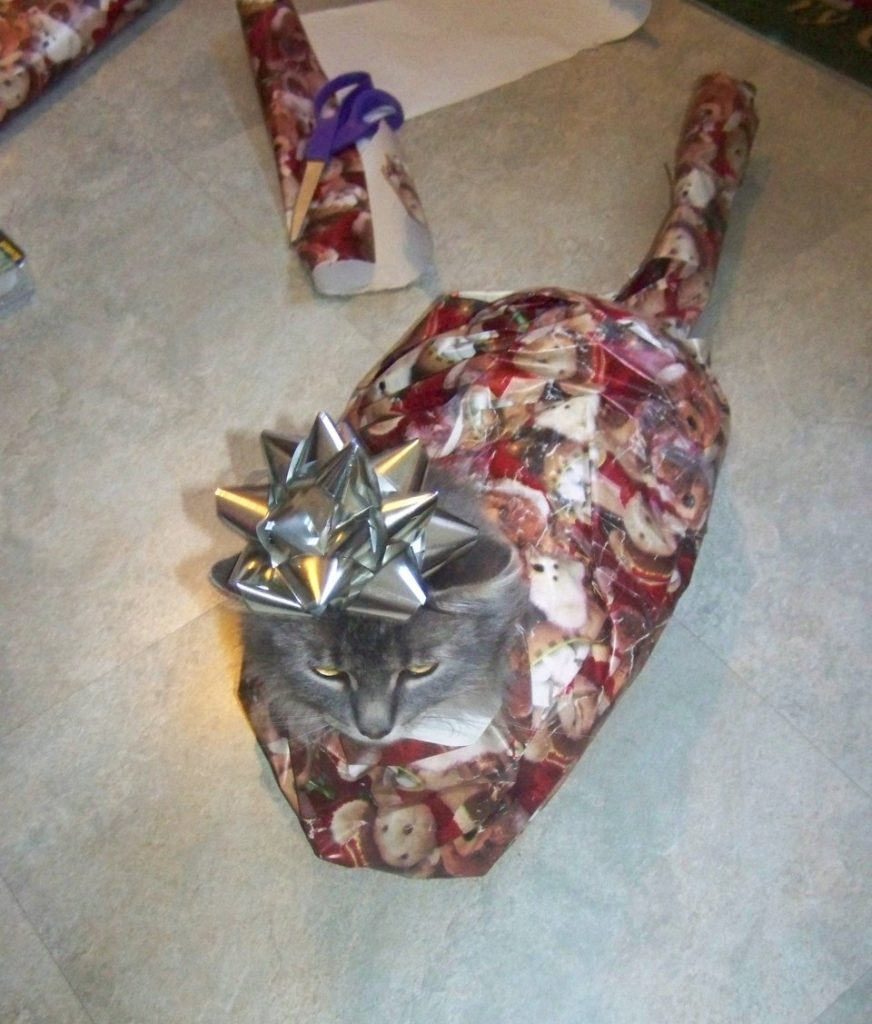 We can only guess by the outline, but it seems like something we might enjoy. There's a round part and a long skinny part. There is a cat head sticking out, but we won't let that distract us. We have other theories!
We Three Stud Muffins
Every year, Santa talks to millions of kids at the mall. They want to ask for their wishlist ahead of time, of course. Santa checks if they have been naughty or nice. It's a tricky assessment and a sensitive subject.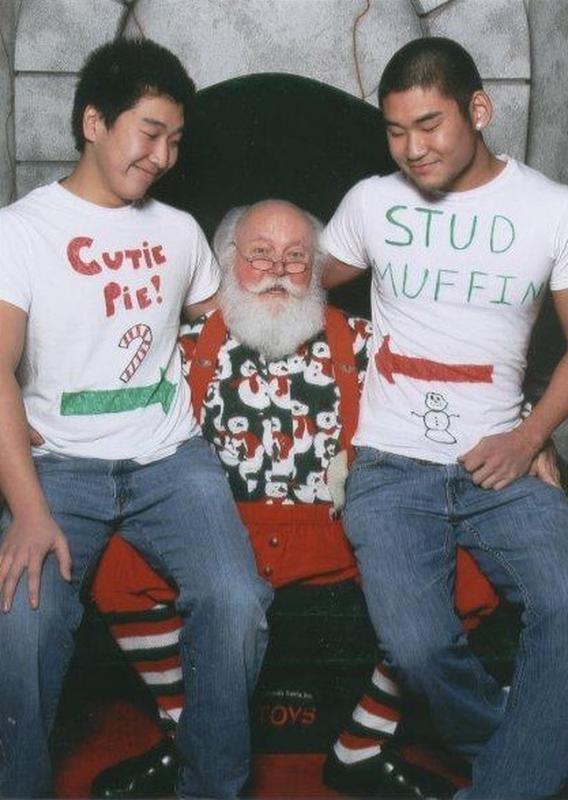 Here, two boys visit the big man. They sit on his lap and answer his questions. But Cutie Pie and Stud Muffin are hardly proper to address St. Nick. If we are honest, we know their statuses. Naughty and naughty!
Holly Jolly Panties
All over the nation, cities put up lights during the holiday season. Sometimes, they are colorful strings of red and green. Alternatively, they can take novel shapes. Here is an example of that, but the shape is a little suspicious.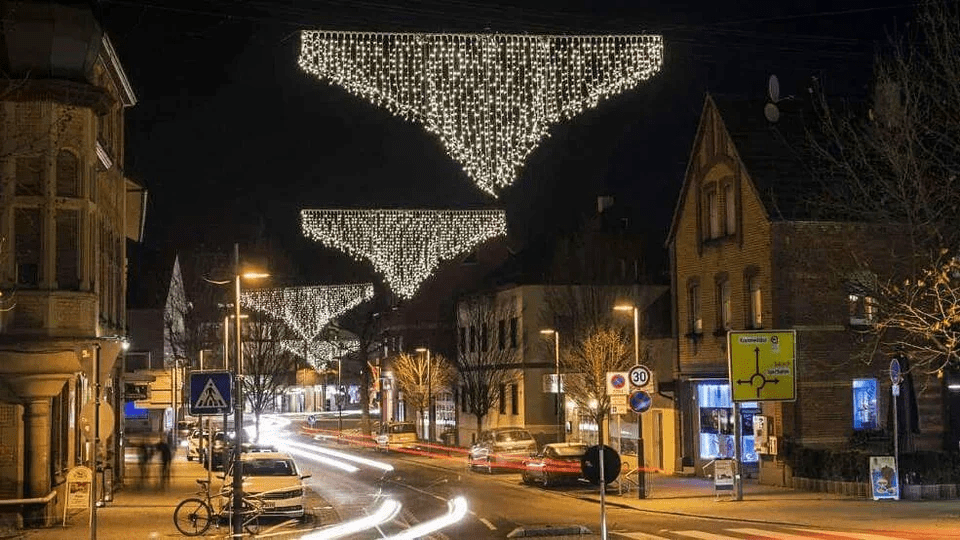 At first glance, you might think that this town is celebrating underwear. These lights look like bikini-cut panties. Are they? Glowing in the night, they seem unconnected to Christmas. You be the judge: It's either an innocent or naughty mistake.
Feliz Navidad, Mami
As they say, the heart wants what it wants. Marc is a local man that just wants to find love, and he knows what shape it will take. All he wants for Christmas this year is Latina girlfriend. Is that so much to ask?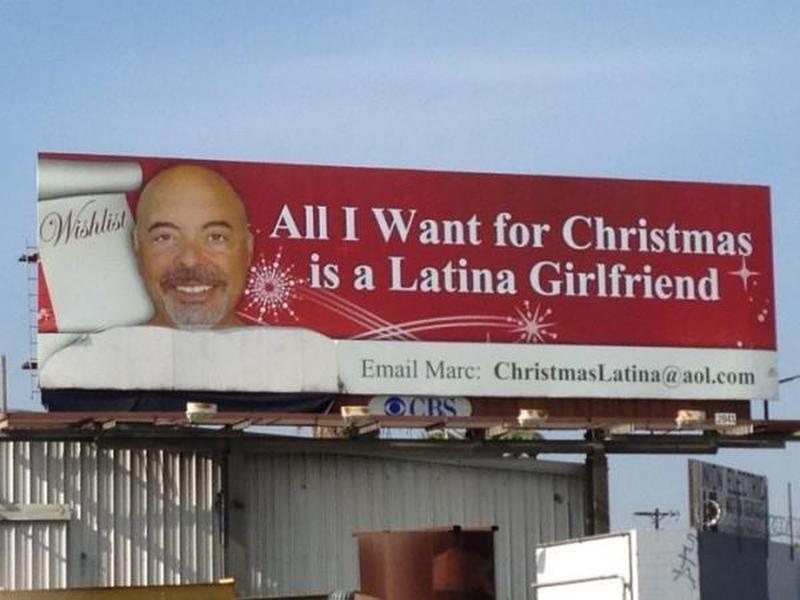 Apparently, real-life dating hasn't worked out at all. Neither has writing to Santa directly. He has decided the solution is to go bigger and bolder. This billboard provides an email to contact him with inquiries. Are you the one, mami?
The Big Ride, Captured at Last
You all know Dasher and Dancer and Prancer and Vixen. You've heard of Comet and Cupid and Donner and Blitzen. But do you recall the most famous reindeer of all? We bet you do: It's Rudolph the Red-Nosed Reindeer, and he's working here yet again.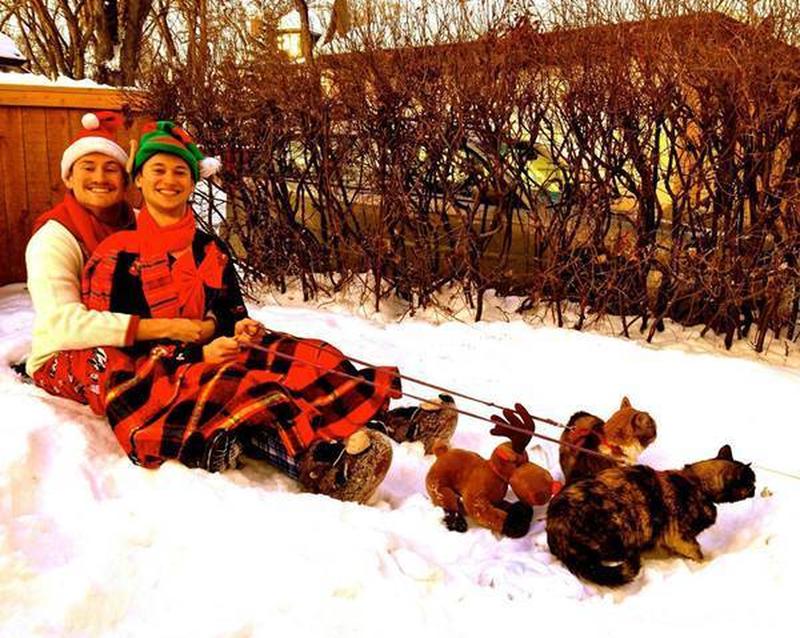 This time, Rudolph is joined by a fleet of felines. Where is the rest of the gang? We suspect they are taking a break. But he can't: He is essential. As you may recall, his red nose lights the way for the sleigh.
Baby, It's Cold Outside
More than anywhere, the mall pushes those Christmas vibes. The everyday stores we know break out the magic. They're hoping to sell gifts, and we know that. But it does feel like something special is happening. Look at these festive bears!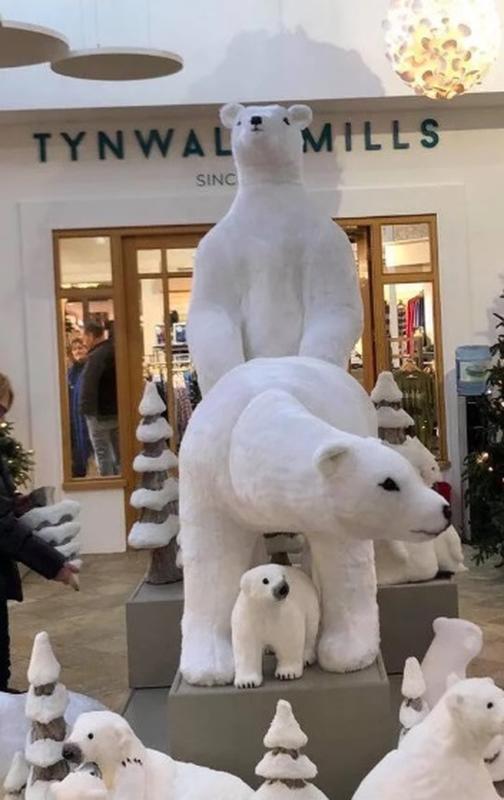 Two big bears are in the back and a little one is bent over in the front. It's a winter scene, but something about this display is not right. We can't quite put our paw on it. Is this really family-friendly?
Cookietown in Chaos
Living in a house made of cookies is a risk. One wrong move and the walls might crumble. At any moment, a downpour of milk can make your structure soggy. But the one thing you don't expect is a fire. Is this an accident?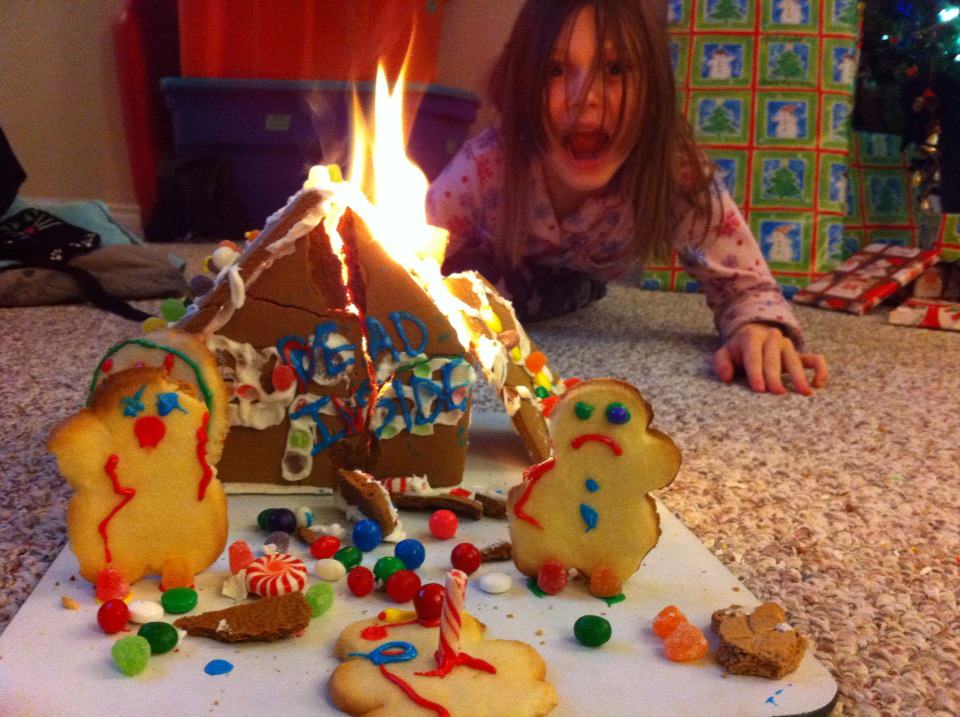 By the looks of it, we think not. Someone left a frosted message that indicates foul play. It says 'dead inside' ahead of time. We see a human who looks shocked. But as far as we're concerned, she's suspect number one.
Meanwhile, in Bethlehem
We all know the tale. Mary wrapped her baby in cloth and placed him in a manger. There was no room for the local inn. Then, some wise men arrived and gave them the good news. Here is that very scene, in real-time.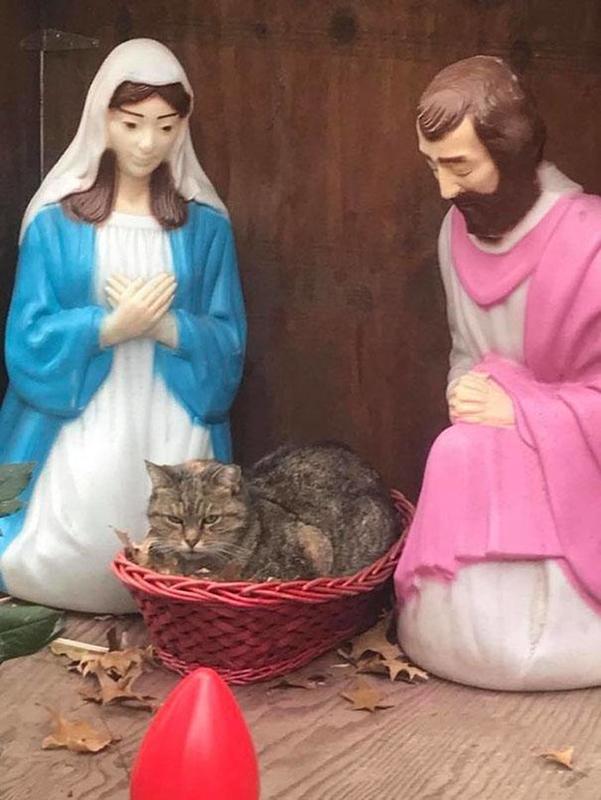 The savior of the world doesn't seem interested in this special moment. He looks grouchy, to be frank. What's more, he is covered in fur and has actual whiskers. It's a little unorthodox, but we have to ask: Is this a cat?
Caution, Reindeer Crossing
If we're honest, we ask a lot of Santa. The man has an incredible task every Christmas eve. Somehow, a bunch of reindeer transport him to all our homes on time for the big deliveries. We've never seen that in action. Until now, that is!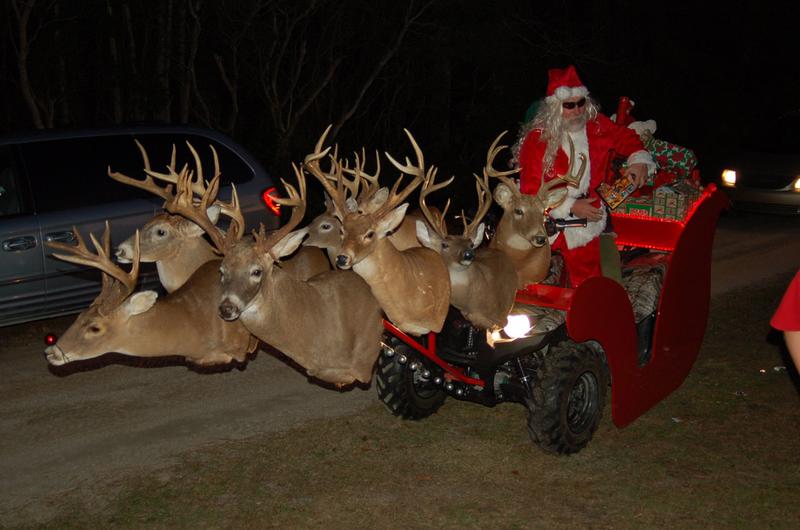 Here, Santa sits back and relaxes with a few boxes in tow. His trusty animals pull him forward. Some claim this is a tractor with dead deer heads. But they just don't see the Christmas magic. They are the cynics. Don't be them!
No Seeking, No Peeking
There's a real temptation to sneak gifts before Xmas morn. If we are mature, we know that instant gratification is hollow. But not all of us are patient. Here, one brother knew his sister well. He planned ahead and planned seriously.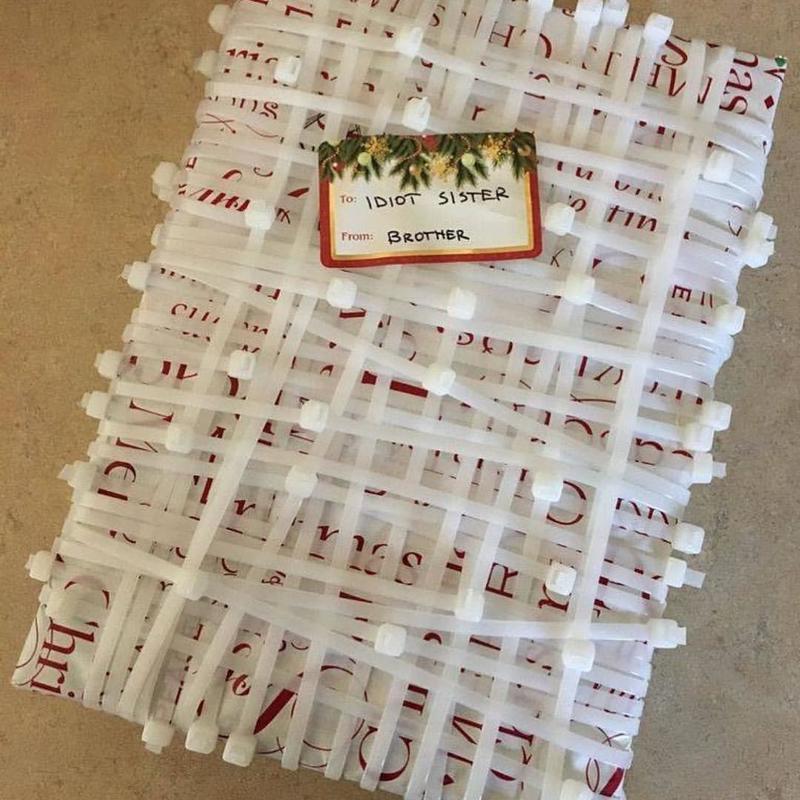 There is not one, but dozens of plastic zip ties securing his package. There is no possibility of a quick peek. It would require action with scissors, and that would be noticeable. Sis won't risk that. It's cruel, yet genius.
When You Ask For Loafers
Gift lists make Christmas easier for our friends and family. It's hard to guess exactly what we need at a given moment. Here, one mom told her loved one she wanted a special pair of shoes. She wanted loafers. Looks like she got them!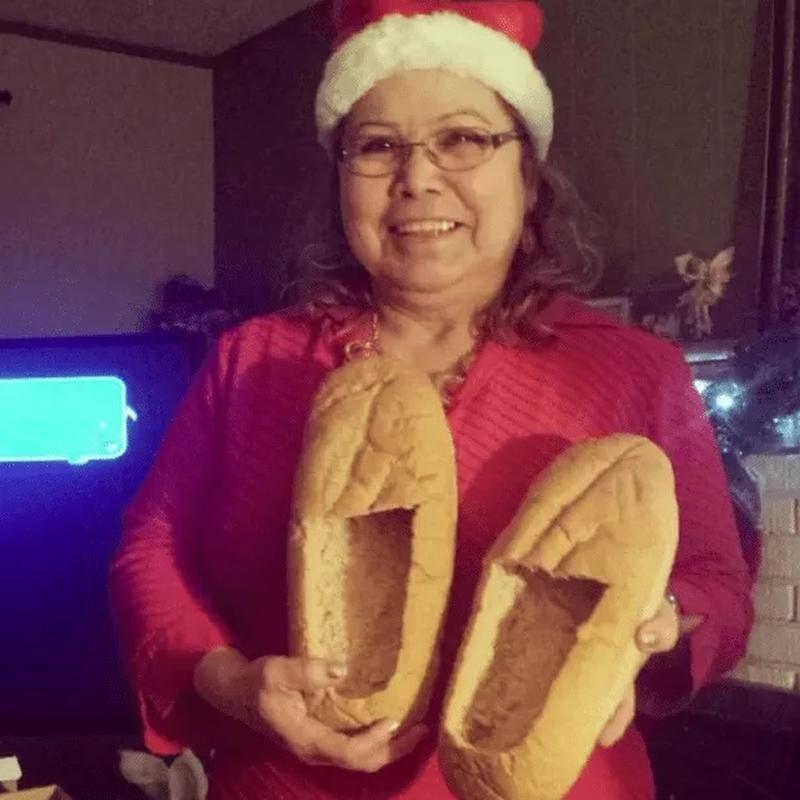 Using two loaves of bread, her family cut holes for her feet. The design is a classic loafer style. And after all, that's what she really wanted. The cost here was minimal, and the look on her face is priceless.
Surf's up, Santa
Santa Claus is busy this time of year. But have you ever wondered what he does year-round? We know he manufactures toys at the North pole. But surely, he takes a vacation once in a while. Is this him, surfing in plain sight?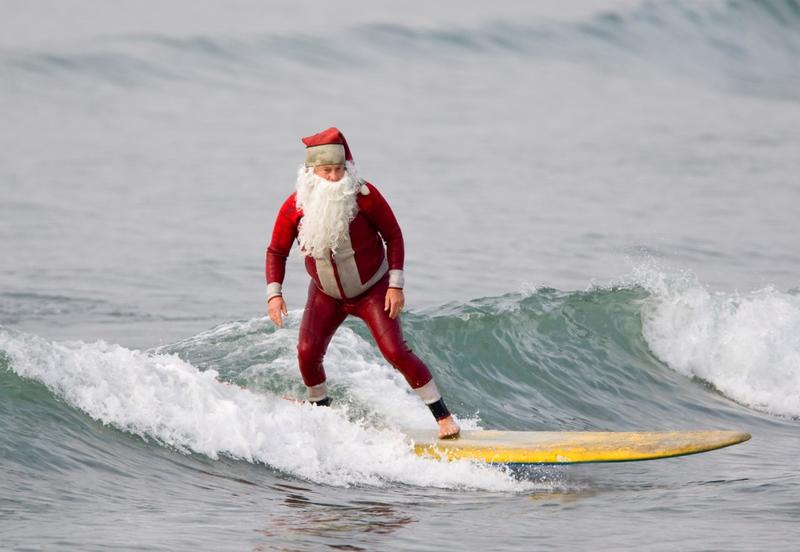 Indeed, it is. But is that really so surprising? If you spend your life in the arctic, you barely know a warm breeze. We aren't surprised he went on a tropical trip. He can ski year-round, but Hawaii is a treat.
Bell Shaped Yet Again
Bells provide many benefits. They jingle and they ring. They make us feel joy and wonder. They come in silver, gold, and bronze. But do their shapes really vary that much? In our experience, not really: You could say they are predictable.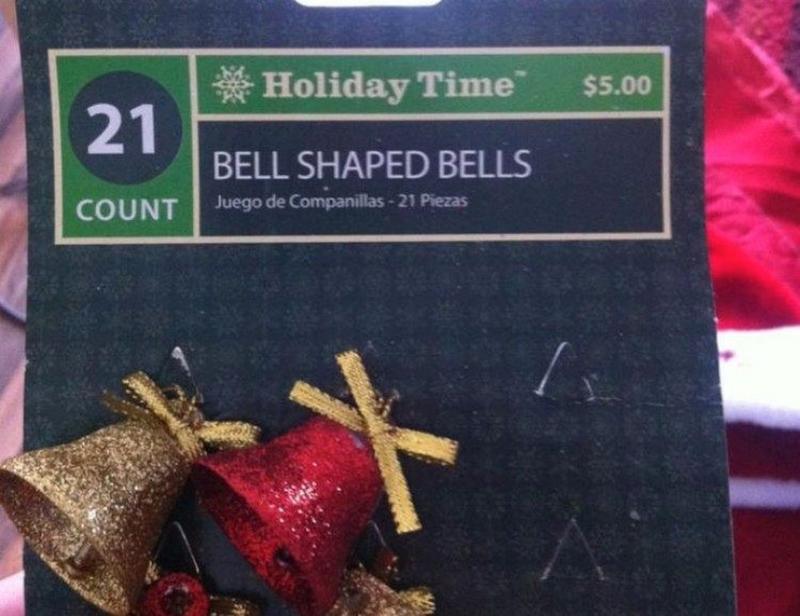 Here, holiday bells are being sold in a pack of 21. For only five bucks, you can ring them all. But the label says they are shaped like bells. Bell-shaped bells are nothing new. What shape should they take? What a silly sign!
'Tis the Season For Arson
You are probably dreaming of a white Christmas, just like the ones you used to know. You want tunes on the radio and cheer in the town square. What you don't want is arson. Spotted at Walmart: Is this subliminal messaging?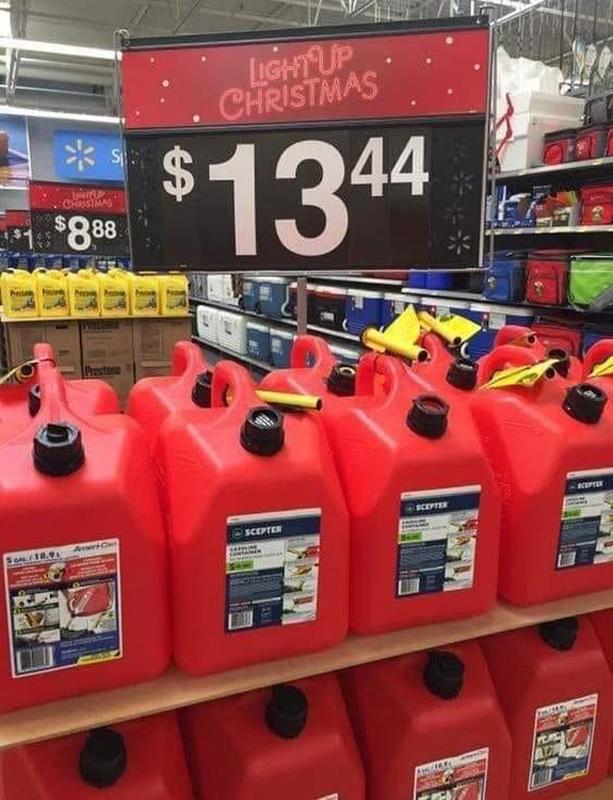 If it isn't, this is surely the worst placement we've ever seen for gasoline. Lighting up Christmas takes on a whole new meaning next to this product. Outside chestnuts roasting on an open fire, the last thing we want is flames.
Hissy Santa Puss
Santa Claus is usually depicted as a big, jolly fat man. He wears a matching red suit and hat. His white beard is iconic the world over. But have we been wrong about him all along? Here, he looks more like a cat than a man. And, he looks mad!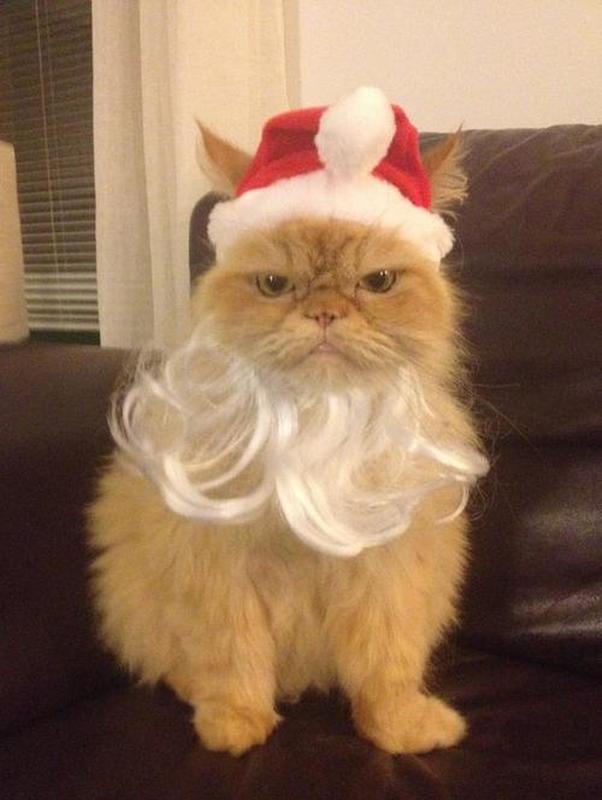 Some actually claim this is a housecat dressed up with a hat and beard. It's possible. And we could imagine that would be uncomfortable for a cat. But until proven otherwise, we'll accept that sometimes, even Santa is a sourpuss.
All Wrapped and Ready to Go
Gift wrapping creates suspense and surprise. What is hiding under that bright paper? You are asked to be patient until Christmas morning, and then all bets are off. This year, the fridge is participating. Get ready to rip, boys and girls.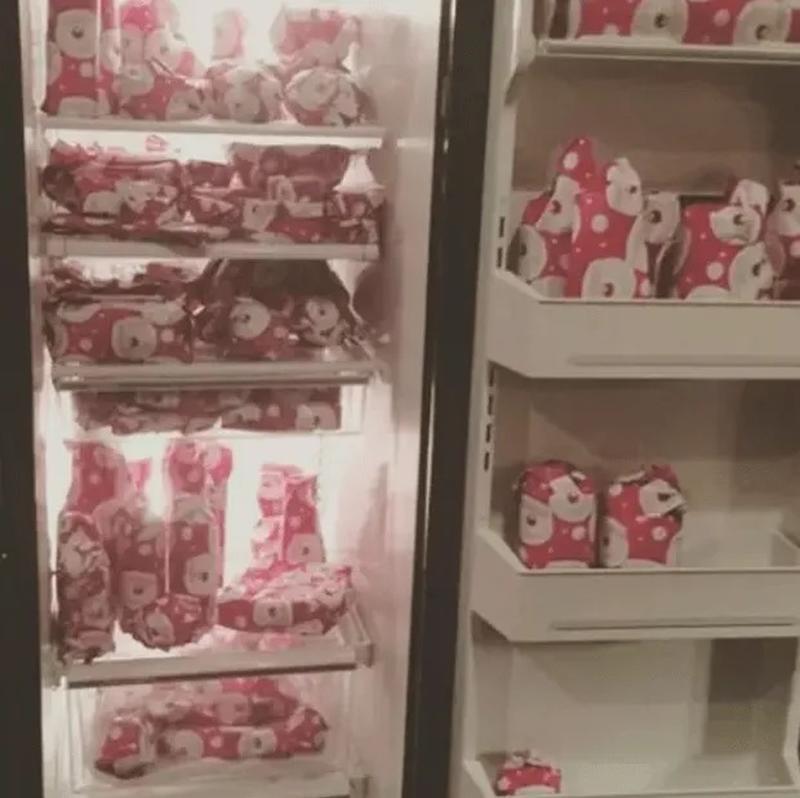 Start with the shelves on the door. Then, unwrap more and more. We see goodies lining this fridge from the top to the bottom. We see surprises on every shelf in between. It's time to peel and reveal your meal.
Unfairly Banned From Shelves, These Elves
From time to time, it happens. It seems customers were offended by these items. We imagine that Santa and his elves have a close relationship. But what is the message here? To transform your home, you may need better props.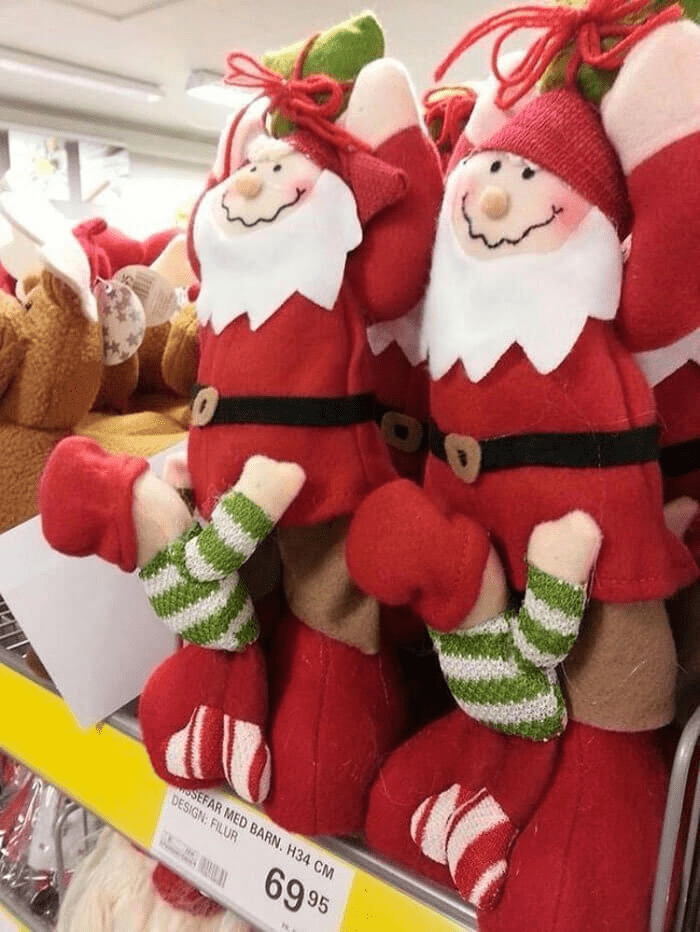 It seems the placement of the elves is the main concern. It does seem a little rude. They are attached to Santa's body in a strange way. And to be frank, the price doesn't help customer suspicions. Why does cost 69 dollars, specifically?
Free Reindeer Poop
Manure has always been a clever way to use animal waste. It's stinky, but it is actually part of the circle of life. What goes in comes out and makes food grow again. But reindeer poop is different. It's edible, as is!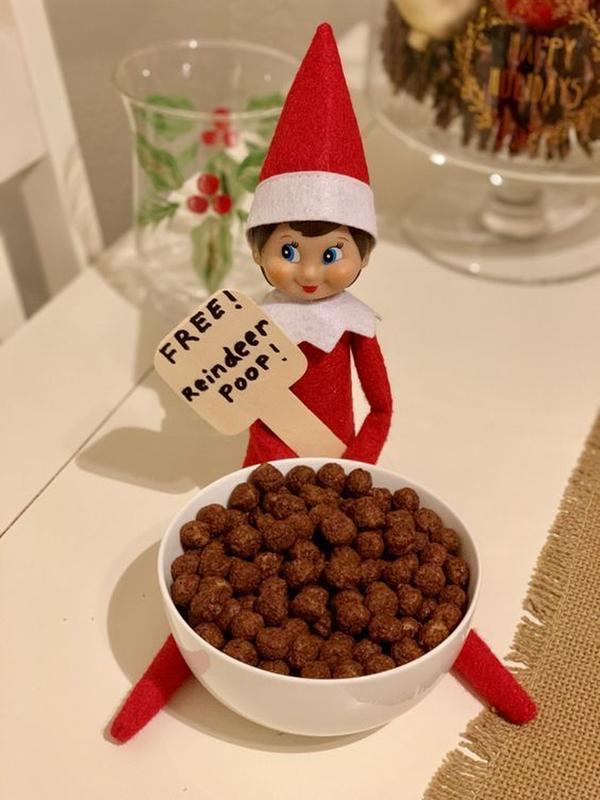 This elf is normally on a shelf. But he popped by for a little poop. Here, he holds the bowl for guests with a sign. The treats are reindeer in origin. And best of all, this experience is free. No charge!
Look Quick, It's St. Nick
When Santa's reindeer are sick, that's no small hiccup in logistics. If he is in the middle of millions of deliveries, it's dire. Luckily, this man is experienced and has plenty of secondary plans. Here is one: Parachuting in personally.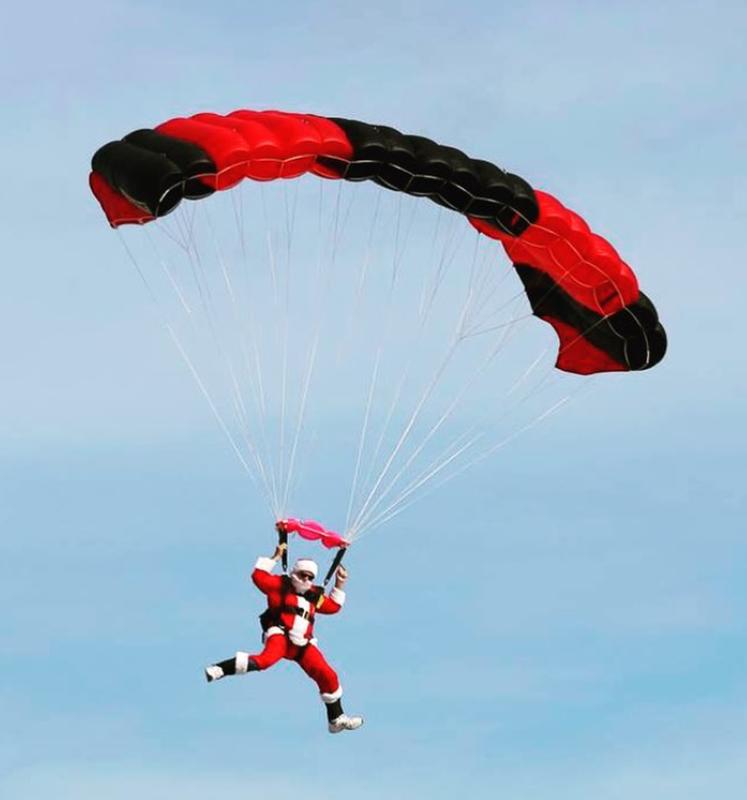 The wind is strong on the way down, but does Santa frown? We don't know actually. In this photo, his beard has flapped back up into his face. This selfless act shows determination. Santa truly is a noble, dedicated man.
The Frosted Forfeiture
In recent years, millions of Americans lost their homes. Was it their fault? McMansions were always a gamble, you say. But that's not the whole story. Believe it or not, some of them lost gingerbread houses. Look at this mess!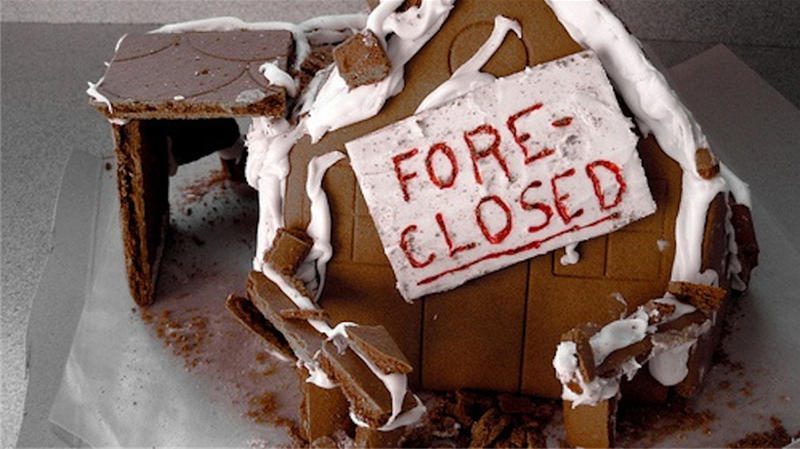 The sign indicates the status of the home. It's in foreclosure, which means the bank is taking back its investment. One unlucky gingerbread family will have to find a new place. They're homeless on Christmas. May we suggest the cookie jar?
Now That's Just Creative
Christmas is commercialized, and there's no going back. In a bygone era, kids used to receive an orange in a sock. Now, they expect video game consoles. They want tablets and other expensive electronics. This clever mom technically delivered. Are you impressed?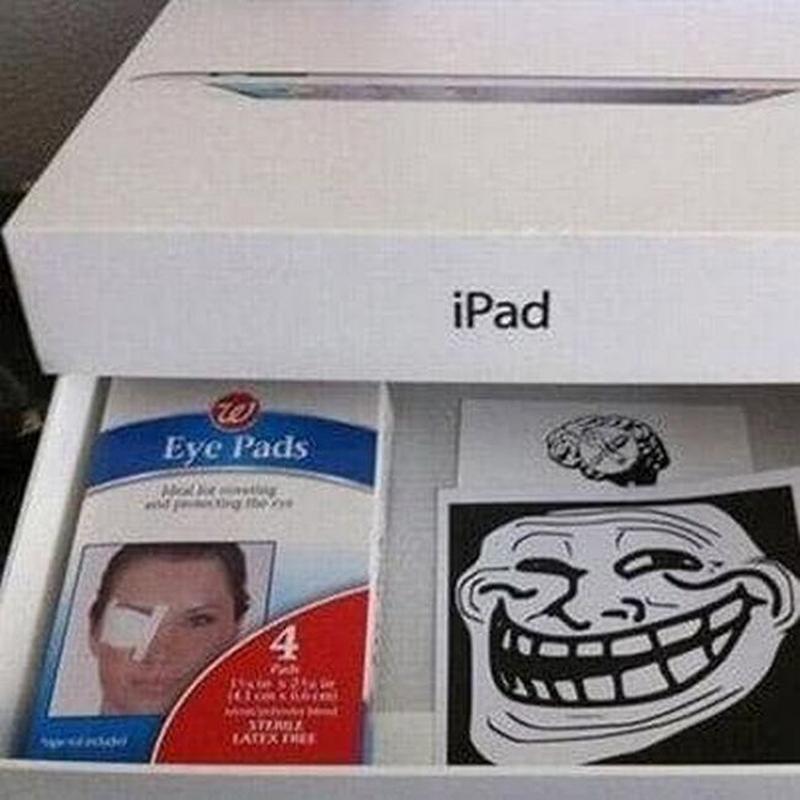 We are very impressed. On the left, we see a box of eye pads. Make no mistake: They're medical products from the pharmacy, a frugal choice. On the right, we see a printout of a laughing face. Moms can be mischievous!