Literary Library Cat Dressed Up As Our Favorite Novel Characters!
By Larissa C November 30, 2021
---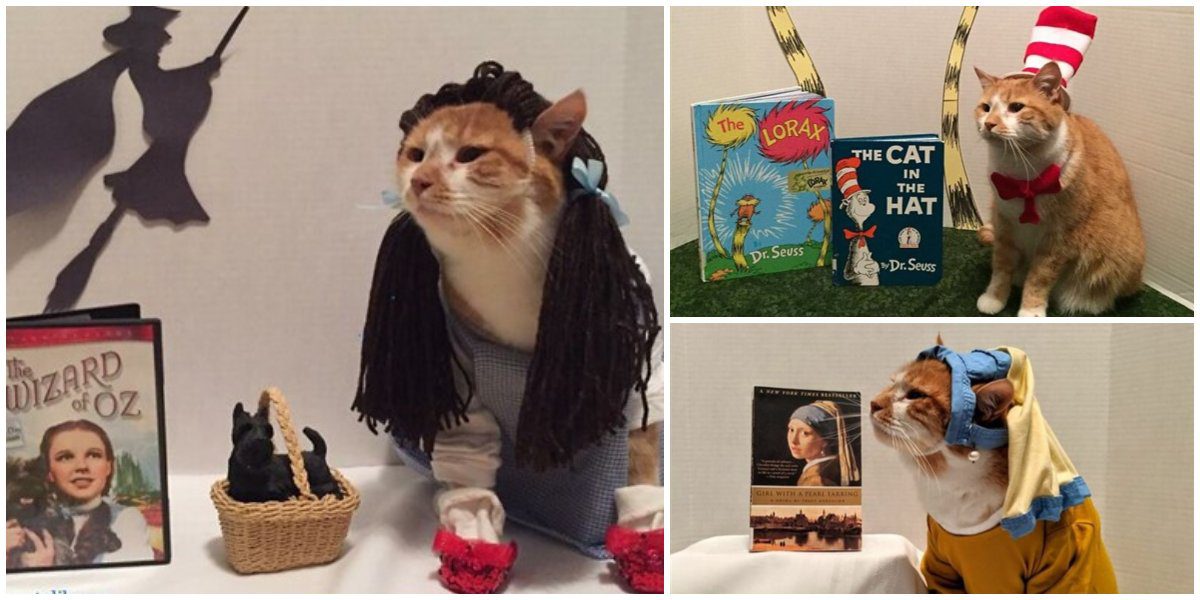 Do you love cats? And do you love books? If your answer to both of those questions was affirmative, then stop everything you are doing and read this article. We are about to show you the cutest cat on the planet, and this cat is a literature lover.  Well, we can't exactly say that the cat loves books, but he sure loves to dress up as characters from books (and sometimes from movies and TV shows as well). The cat is called Horatio, and, believe it or not, he is an honorary employee of the Centre County Library in its Bellefonte (Pennsylvania) branch. Horatio's human mother, Lisa, works there and had the brilliant idea of dressing up her beloved cat to promote the Library. Once you look at the pictures we're about to show you; you'll see that this was possibly one of the best ideas in the history of great ideas. If you live around the Centre County area, you should certainly stop by the Bellefonte library, and maybe you'll get to meet Horatio! Until then, enjoy his pics — here are 45 pictures of the world's cutest library cat dressed up as your favorite characters!
The cat who lived!
Regardless of your opinions on the author, Harry Potter is one of the greatest sagas ever created. This series of books helped shape a massive part of our culture, even more so after the movies started coming out and became box-office hits.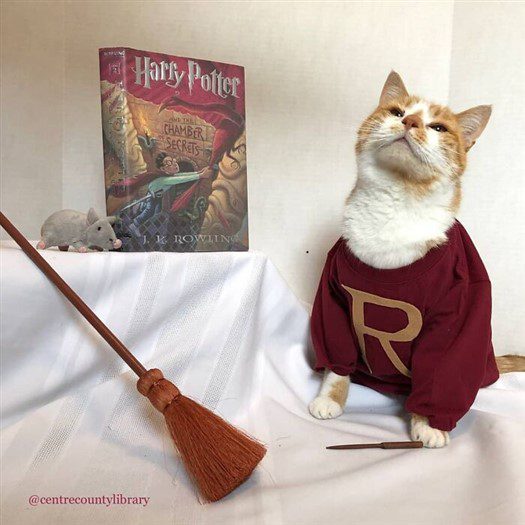 If this adorable picture doesn't make you want to visit the Centre County Library so you can meet Horatio, we don't know what will. Look at that cute face — he's loving this! We wonder which house Horatio would be part of. Maybe Gryffindor?
The Mother of….Cats?
Not everyone has made it through all "Song of Ice and Fire" books, but maybe you have watched Game of Thrones. This show is one of the most popular TV series of all time, and many characters from the show are still hugely popular even though the series came to an unfortunate end.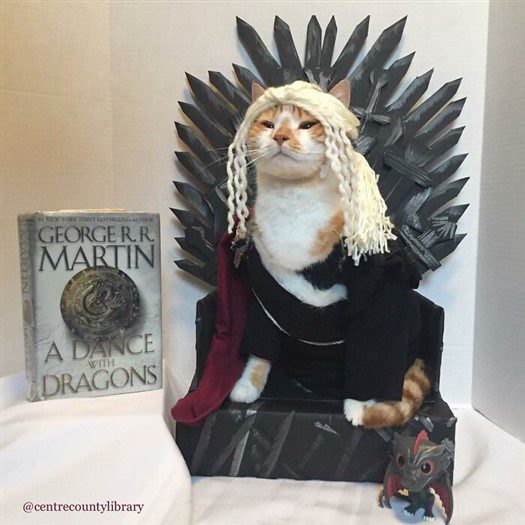 We bet that we don't even have to tell you who Horatio is cosplaying. Yes, it is the Mother of Dragons herself — the one and only Daenerys Targaryen. We would like to give kudos on the wig and the props — especially the Iron Throne, which looks amazing!
My young pawdawan!
Now, if we are here to talk about popular franchises, then we must surely talk about Star Wars. This iconic franchise has not only given rise to iconic characters but also memorable words and phrases, such as "young Padawan" or "may the Force be with you".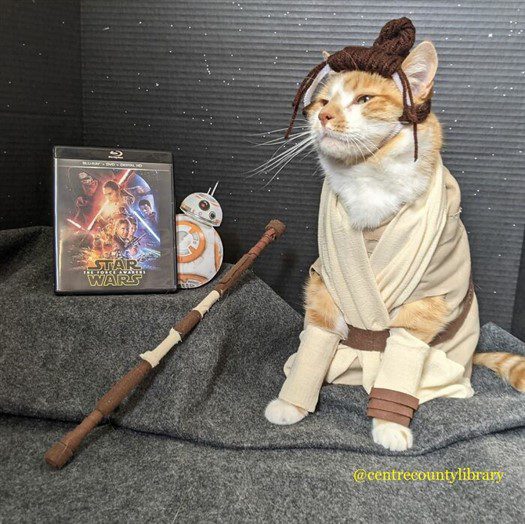 If you are into Star Wars, you just have to visit this Library. Horario probably won't be wearing this Rey costume, but that doesn't mean that you can't meet this pop culture icon. Also, you will love the Library's collection of DVDs and books.
Library cat!
Horatio, the library cat, just had to take a picture in which he's wearing a cute outfit and cosplaying a fellow cat. If you didn't think this cat was the most adorable cat before, you certainly would change your opinion now.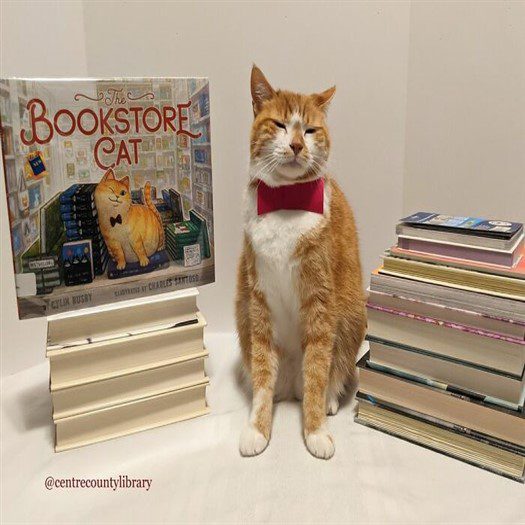 And so the bookstore cat becomes the library cat! Life imitates art, and that's why you can even see how Horatio was trying to wink just like the cat on that book cover. He probably can't wink, but we would still give him a bunch of treats just for trying!
A gold medal for him, sir.
Now, if you are more interested in reading about the history of the world, then you are likely to appreciate a book that recounts the history of the Olympic Games. The Summer Games are one of the most anticipated events on the sporting calendar, and Horatio is aware of that.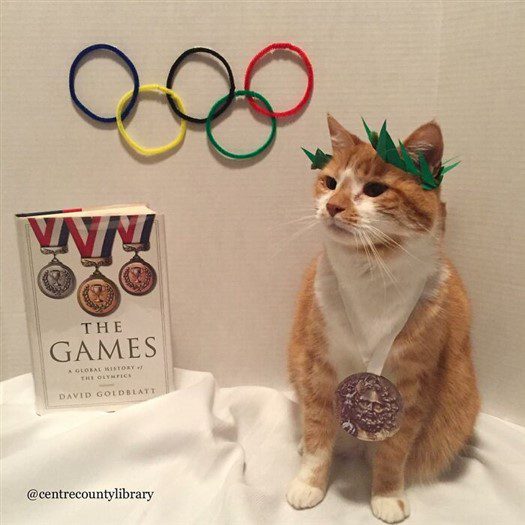 If being adorable was an Olympic sport, there is not a speck of doubt in our minds that Horatio would win the gold medal every time. We mean, you don't any cuter than that! He's totally rocking the Olympian look; even his stance is sporting.
The purr-fect union!
Cats act like they are part of royalty — and maybe they really are. Well, we don't know about other cats, but Horatio and his lady friend certainly look like they were a prince and a princess in one of their nine lives: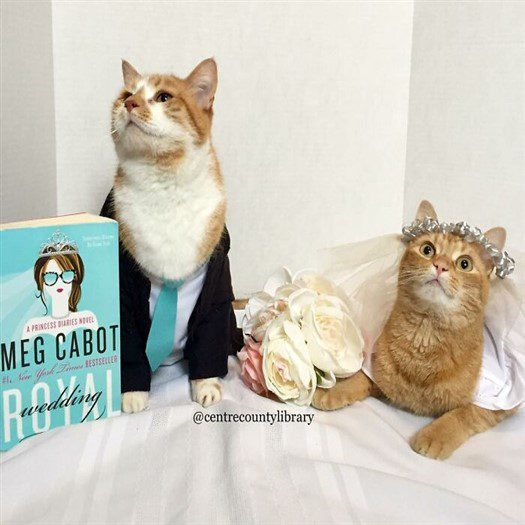 Don't they look amazing together? We are even thinking of starting a petition to make this picture the cover of the "Royal Wedding" book. Though we would like to know how Lisa (Horatio's owner) got these two cats to pose in perfect sync while wearing those costumes!
Lord of the Cats, that's more like it.
J. R. R. Tolkien created some of the world's most iconic characters, including Bilbo Baggins, Sméagol, and Gandalf. Speaking of the powerful wizard, it seems like Horatio is a huge Gandalf fan if this costume is any indication of that: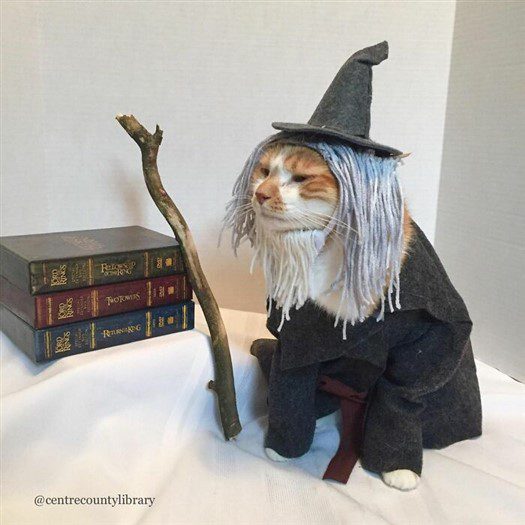 If you stop by Centre County Library, you will get to read the three volumes of Tolkien's epic trilogy, and you will also get to meet Horatio, the wizard cat. To be honest, it is kind of hard to decide which one sounds more appealing!
We would love to eat this cake!
If you have a child (or children), you probably want to introduce them to the world of literature as soon as possible. Developing the habit of reading is beneficial in many different ways, and your kid(s) will certainly thank you in the future if you get them loving books from a young age.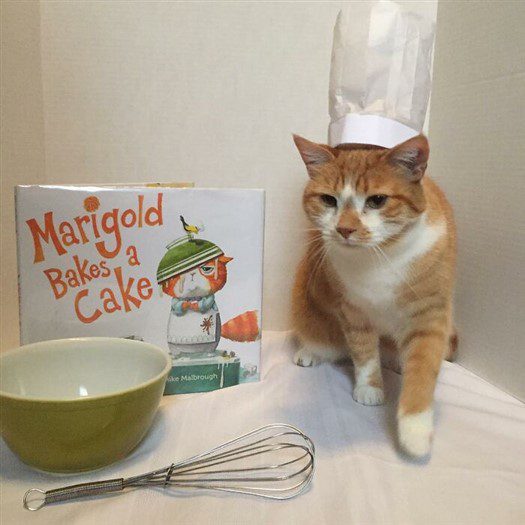 If you're around Bellefonte, Pennsylvania, you should certainly take your child to visit the Centre Country Library. They will love to see the children's literature section at this Library (including the adorable volume in the picture), and if you're lucky, they may even catch a glimpse of Horatio!
Love totally wins!
Non-fiction books are also a great read — you just have to find one on a topic that interests you. In case you want to get invested in social issues, you can start by reading informative books. For instance, if you're part of the LGBTQ+ community, you can read about the history of marriage equality.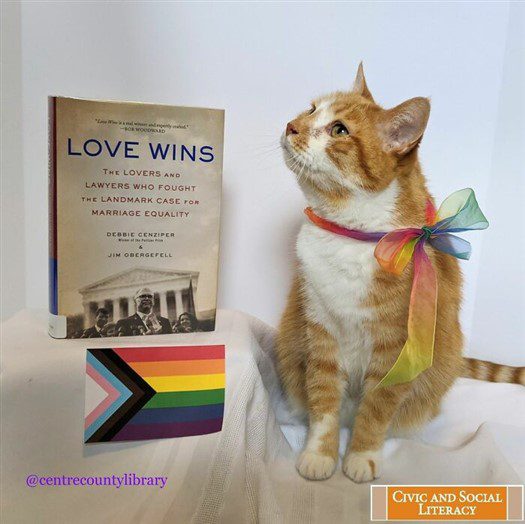 This topic in itself should be plenty interesting on its own, but here's some added motivation. Look at this handsome cat wearing a rainbow tie. Supporting equal rights surely fits Horatio to a tee, and now you're probably crazy to visit the Library and see him! 
I see what you did there!
Even if you are not an art lover, you probably know about Van Gogh's tumultuous story. Over the years, this genius' mental health started deteriorating — to the point of the artist mutilating his own ear at some point in his life!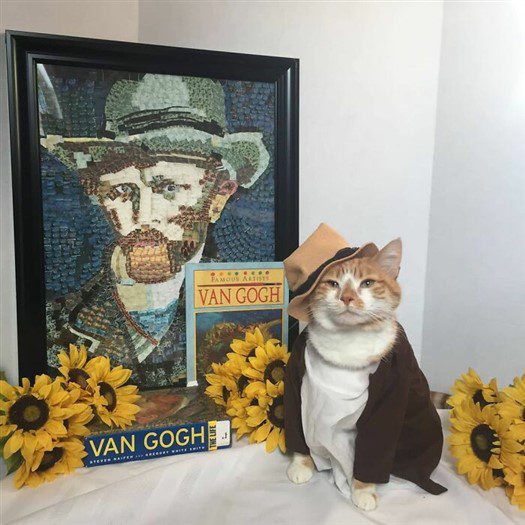 If you want to learn more about Vincent Van Gogh's life, you can read one of the many biographies at the Centre County Library. If you need the incentive, just take a look at Horatio's costume. Do you see what his owner Lisa did there? Hint: she covered his ear with the hat to represent Van Gogh's tortured soul!
The hat suits you!
Anyone who likes adventure movies and books must have taken the time to watch at least one Indiana Jones movie. This iconic character and saga marked our childhoods, and we'll never forget him racing through the jungle after hidden treasures. If you want to stop by Centre County Library, you can find this DVD and this adventurous explorer cat: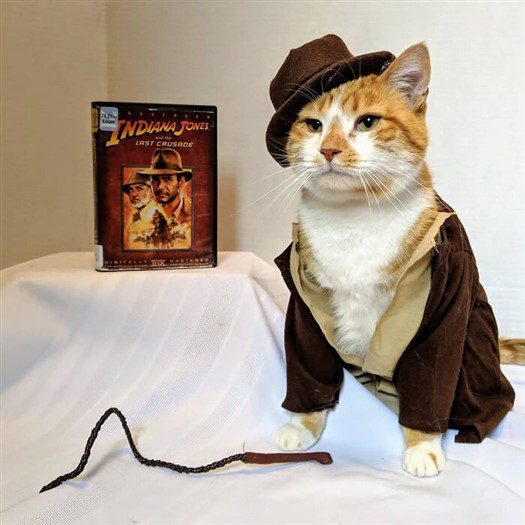 Okay, we don't know if you will indeed find Horatio at the Library when you pop in, but the Indiana Jones movies will undoubtedly be there. If you live in the area, you just have to get your library card so you can loan this movie and many other titles. 
He even got the pose right!
For Horatio, there is no such thing as posing only for one gender roles only. This little guy is a real professional and will happily bring any character to life, be it man, woman, or even another more famous cat.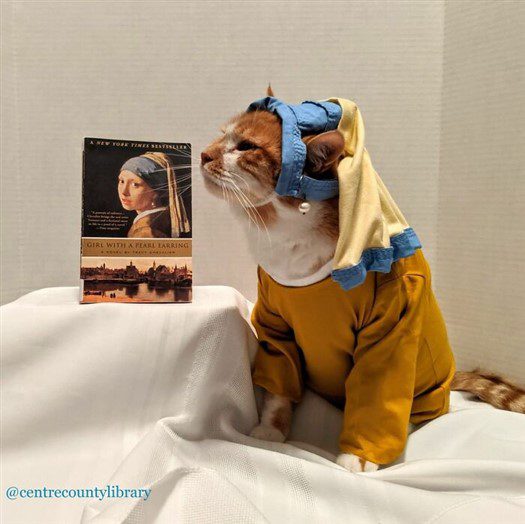 An example of that is how Horatio perfectly portrayed the "Girl with a Pearl Earring", the iconic painting by Johannes Vermeer. If you want to learn more about the story behind this painting, you can stop by the Library and read the book you can see pictured above.
You can cast a spell on me anytime.
Have you heard the big news? The classic 1993 film Hocus Pocus is finally getting a sequel, almost 30 years after it was initially released. To celebrate this fantastic news, Horatio dressed up as Winnie, the witch played by Bette Midler.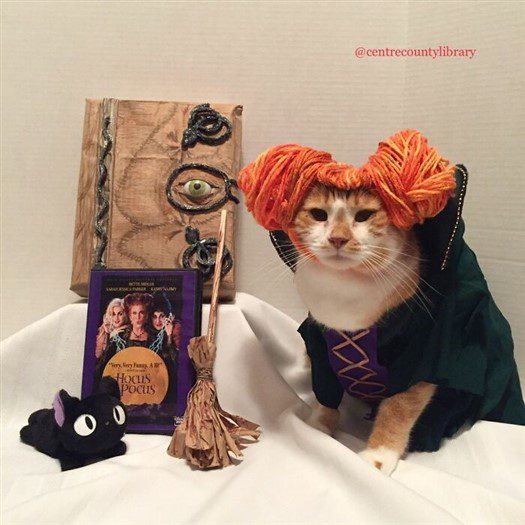 If you are just as excited as Horatio to watch the new Hocus Pocus film, you should certainly visit the Bellefonte library and take a look at the DVD. Maybe you'll even get a chance to see Horatio and practice spells with him!
I feel like I've seen this before!
In case you want to bring your children to the Centre County Library's branch in Bellefonte, you'll be pleased to know that they have a schedule dedicated to reading stories for children. If you stop by on Mondays, at 10:30 AM or 3 PM, arrive just in time to enjoy a Dr. Seuss story!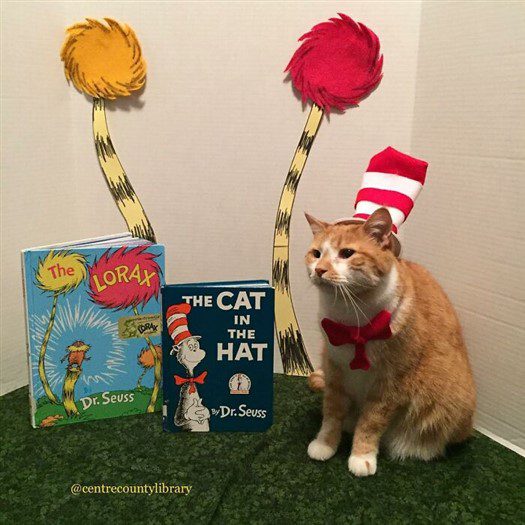 To be honest, there is not a single child who doesn't like Dr. Seuss's stories. The Lorax and The Cat in the Hat might be two of the most popular ones, and they can read them at the Library. Show your kids this picture of Horatio in a hat, and they'll get really excited to visit!
Freddie Meow-cury!
Lots of people get judged for their literary choices, but we are here to reassure you that there is nothing wrong with wanting to read biographies and other non-fiction titles. The fact that you don't want to read a Hemingway book doesn't make you any less smart!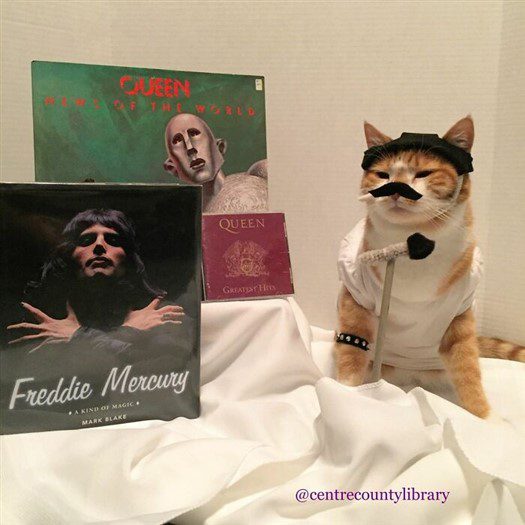 If you love pop culture and you love learning more about the lives of your favorite artists, you can stop by the Centre County Library and read the biography of one of the most iconic performers of all time, Freddie Mercury. Here's Horatio dressed up as the singer to motivate you!
The cat who landed on the moon!
The Apollo 11 mission was one of the most important milestones in human history. A group of astronauts landing on the moon? Stellar. But do you know what would've made this mission even better? If they had sent a cat with the astronauts!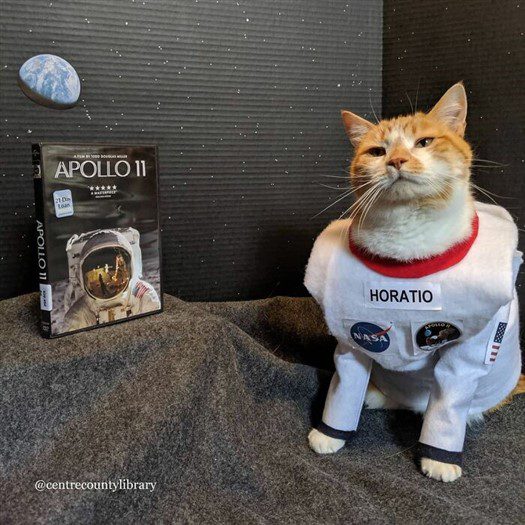 Maybe NASA was having a hard time trying to find the right cat, but we have just found the perfect guy for the job. Yes, we're talking about Horatio. Look, he even has his own spacesuit already! Plus, he looks très chic in that ideal astronaut pose!
It's literally "Cat"niss!
Are you into YA books? Even though they're called "Young Adult", you can read and enjoy these books regardless of your age. And there are few books that are more iconic than Suzanne Collins' Hunger Games trilogy. The movie adaptations even turned J-Law into an international star!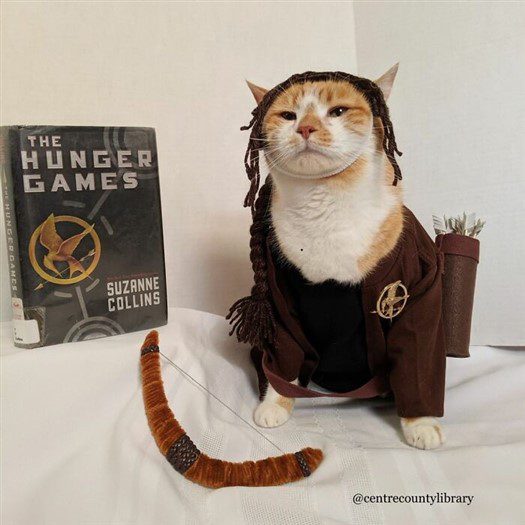 The trilogy's main character, Katniss Everdeen, has inspired many boys and girls around the world with her solid and hard-working personality. Even Horatio was encouraged to dress up as "Cat" niss. We sure would let him hit us with this bow and arrow (much like the Cupid)!
There's no place like…the library!
No matter how long it's been since the release of the original Wizard of Oz movie, this story keeps inspiring people from all over the world. It has even originated books and Broadway plays! If you're yet to watch this movie, Centre County Library has it.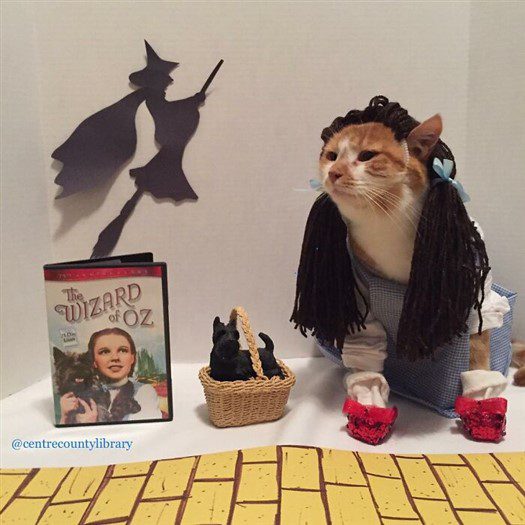 Dorothy ended up in Oz because she was trying to save her loyal companion, Toto. While Horatio doesn't have a canine friend (apparently, even library cats don't get along with dogs), his owner Lisa got him this miniature Toto and a basket just so he could cosplay Dorothy. But, really, the detail that got our attention was the pair of ruby slippers!
He looks like a model.
Woodstock is a word that most people recognize, even if the younger generations don't really know what it meant for people at the time. The music festival that took place in Woodstock was revolutionary and will be forever remembered. Now, if you're wondering how people dressed up during those 3 historic days, here's a sample look: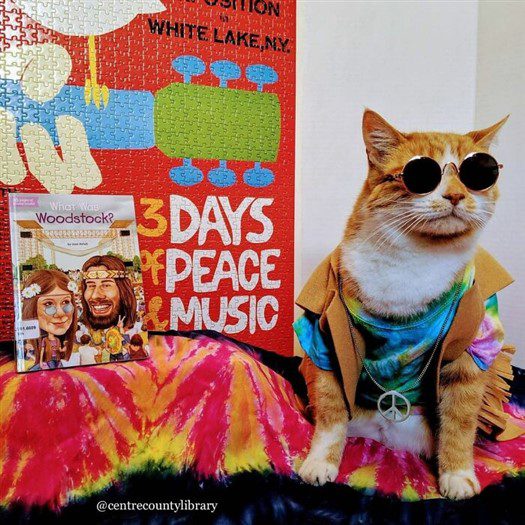 Now, this is how hippies were dressing up back then. If Horatio were alive back in the Woodstock days, he would have been the star of the party. We're pretty sure that everyone would've wanted to get pictures with him!
"Cat-urday" Night Fever!
Back in the 1970s, John Travolta became the real deal after starring in two iconic films: Grease and Saturday Night Fever. Now, if you love the latter movie, we are certain that you will love this tribute by Horatio: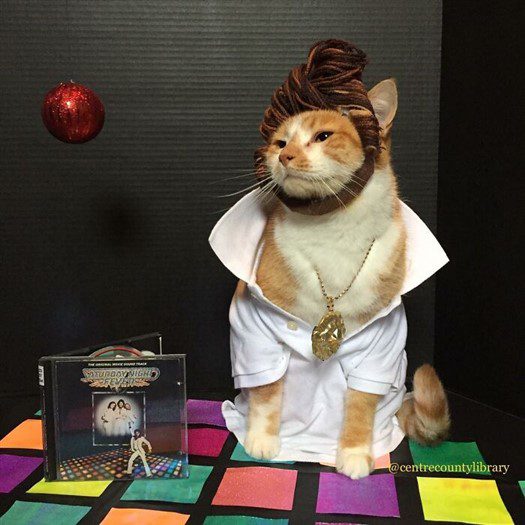 We don't know if his owner Lisa told him about the classic pun "Cat-urday Night Fever", but we sure would love to dance with him. Imagine how fun it would be to have a bunch of kittens dancing to 70's disco songs?
Let's take a nap!
The Snowy Nap is another title that is ideal for children. Bring your kids to the Library, and they'll love it if you read this story to them. After all, who doesn't enjoy a nap? They're especially good when it's cold outside!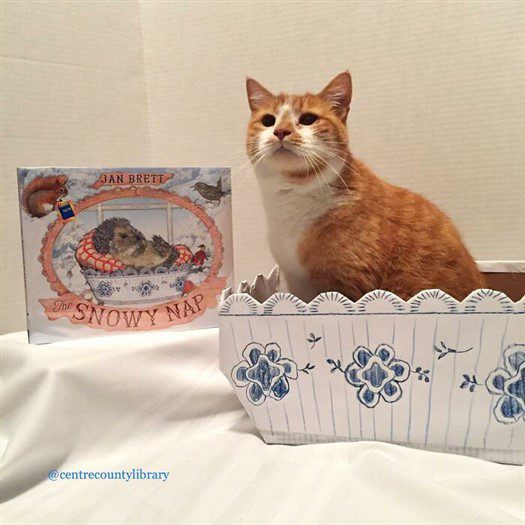 If Horatio could speak, he would certainly agree that afternoon naps on snowy days are simply divine. He is probably thinking of taking a nice nap as his owner snaps a picture of him in that makeshift cardboard bed!
Do all of them!
If you like sci-fi shows, you must have heard of Orphan Black. This show featured the incredibly talented actress Tatiana Maslany playing the role of a bunch of clones. Yep, it was one actress playing the 5 main characters all along!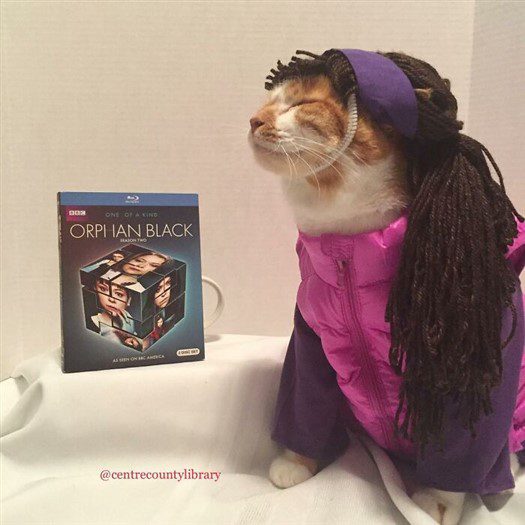 The show was a big hit and ended in 2017 after five successful seasons. One of the main characters is Alison Hendrix, a soccer mom, and that's the one that Horatio is cosplaying. Now, we would love to see him dressing up as the other clones. But there are over 270 of them, so this would probably take quite a while!
You're killing it!
Back in the late 2000s, The Office (the US version) and Parks and Recreation were two of the many fantastic comedy shows airing on TV. The latter featured Amy Poehler and a group of people working at the Parks and Rec department in a fictional town called Pawnee.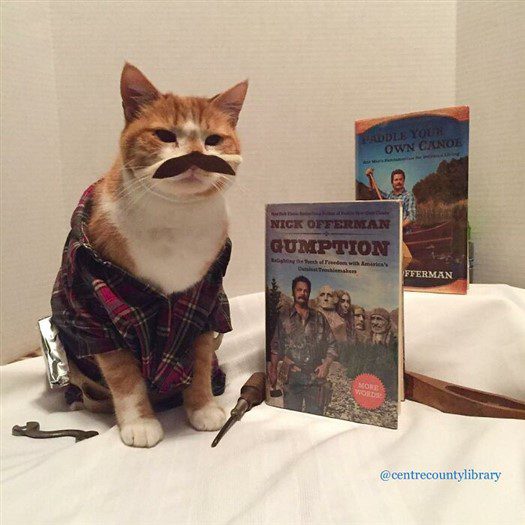 One of the lead characters of the show was Ron Swanson, brilliantly portrayed by Nick Offerman and his beautiful mustache. If you want to read some books written by the actor, you'll find them at the Bellefonte library — for now, let's appreciate how good Horatio looks in that outfit!
A farmer cat!
If you were to ask Horatio what he would have liked to be if he weren't the star of Centre County Library, he would probably say he wanted to be a farmer. If this following picture is any indication, he would've been a natural!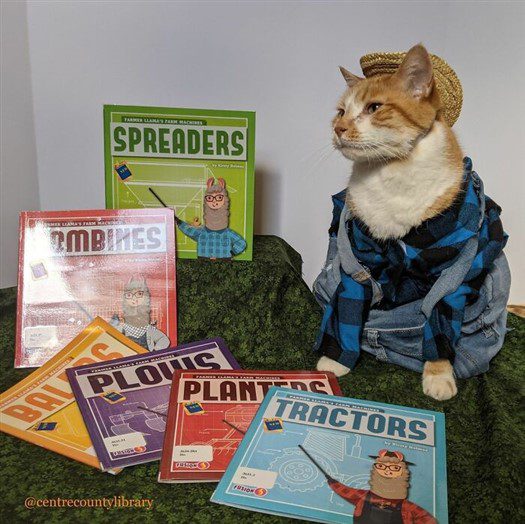 Approximately 25% of the total area of Pennsylvania is farmland, so maybe it's not too late for Horatio to get himself a piece of land and become a dedicated farmer. He already has the books, plus he looks great in the outfit — we can't think of a single reason why he shouldn't follow his dream!
Did it hurt? When you fell from heaven…
Buffy the Vampire Slayer was one of the most successful shows of the 1990s, and it still has many fans to this day. This show was such a hit that it even had a spin-off made just for Angel, the vampire who was one of Buffy's greatest loves.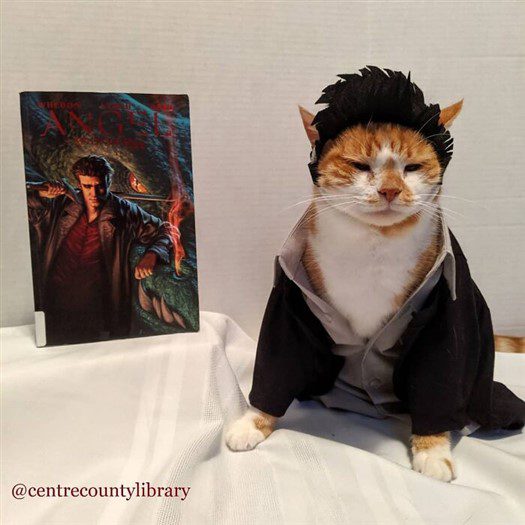 The show became so popular that Angel even gained a comic book series (which you can find at the Centre Country Library) after his spin-off ended. We don't know about the Angel from the show (his personality was questionable, let's be honest), but Horatio, the angel, looks so good he's got all the girl kitties fawning over him!
Roller Cat!
If your kid is not so little anymore and you want to bring them to the Library, the Centre County Library has an extensive collection of titles for children who can read independently. Victoria Jamieson's Roller Girl is a great read for 11-13 years old pre-teens.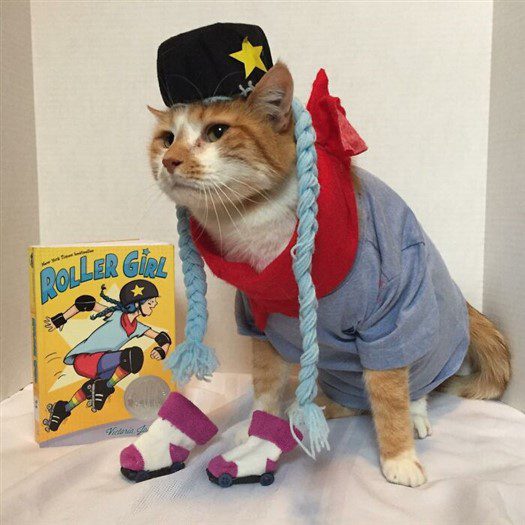 Have you ever seen a cat in roller skates? Well, neither have we. And Horatio certainly doesn't look like he wants to change that. Even though he didn't wear those adorable roller skates his owner got him, he still looks really cool!
It's the cats-titution!
Have you ever wondered what the world would be like if cats ruled everything? No offense to cats or to cat owners, but we are almost certain that they would make humans do everything for them while they lounge around!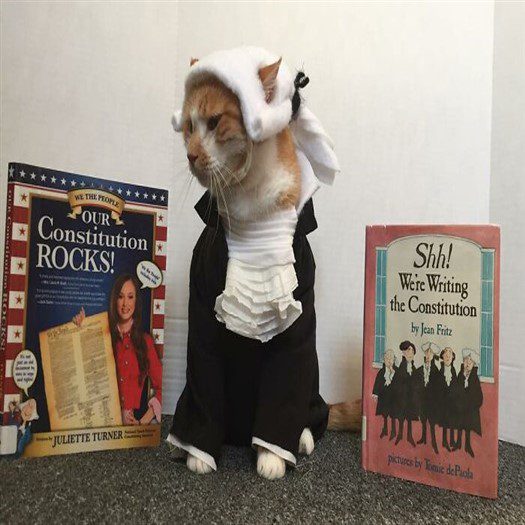 While a feline-ruled society is not real, this picture will give you an idea of what the United States would be like if cats had written the constitution. Horatio looks so cute that we would let him get away with writing whatever law he wanted to!
My cousin Horatio!
Children love animals, which is why there are so many children's books revolving around animals. If you're having a hard time getting your kid to understand a concept, maybe get them to read an illustrated book that contains animals, and the results will amaze you.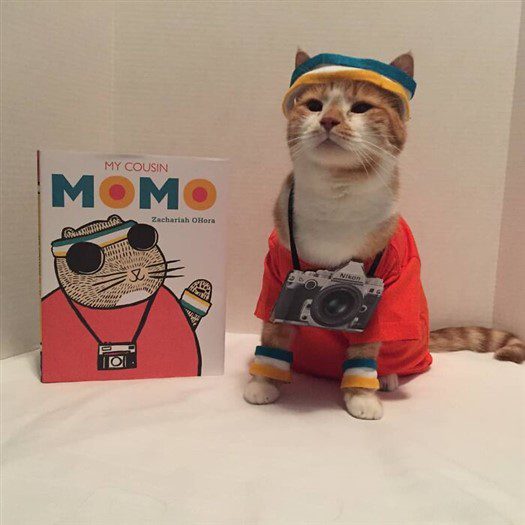 The book in the picture, for instance, is an illustrated book that approaches the vital topic of celebrating differences. Your children will have a great time reading it while still learning to accept that everyone is different, and that's ok. Horatio indeed celebrates differences!
Give him an award right now!
Award shows have been around for many decades, and they're still widely popular today. Events like the Oscars or the Emmys are watched by millions of people worldwide, not just because everyone wants to see who's going to win what award.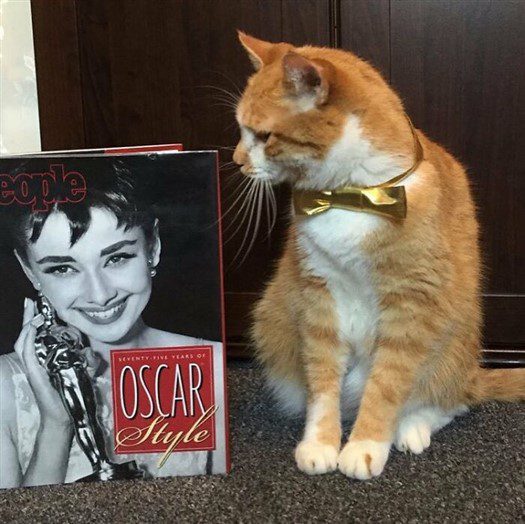 We also award shows to comment on celebrities' speeches and, most importantly, see their red carpet outfits. Horatio may only be wearing a gold tie, but he looks fantastic. If there were an Oscar for the best-dressed cat, he would definitely win it!
Is that Dolores Cat-nathy?
HBO is well-known for producing and creating some of the best TV shows in the history of television, and Westworld is one of those shows. This sci-fi show is currently awaiting the release of its 4th season, and Evan Rachel Wood plays the role of the main character, Dolores.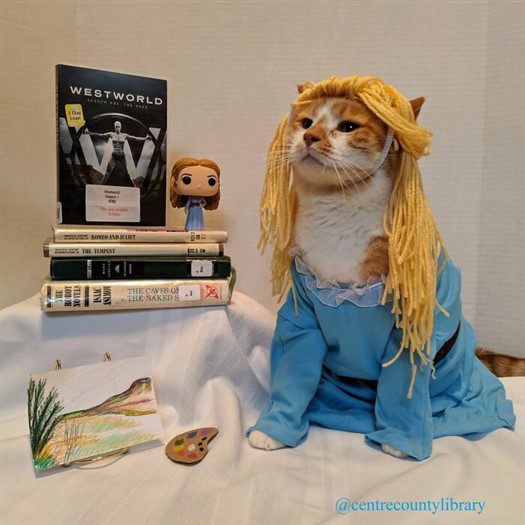 If you're interested in watching Westworld, get yourself a Centre County Library card so you can borrow the show's box set. Horatio is dressed up as the main character to promote the show — but (spoiler alert), we can only hope that he turns out differently than the original Dolores!
The yarn ball slayer!
A few slides ago, we showed you Horatio dressed up as Angel, one of the vampires in Buffy. Well, now it's time for us to show you his version of the main character herself, the one and only Buffy Summers.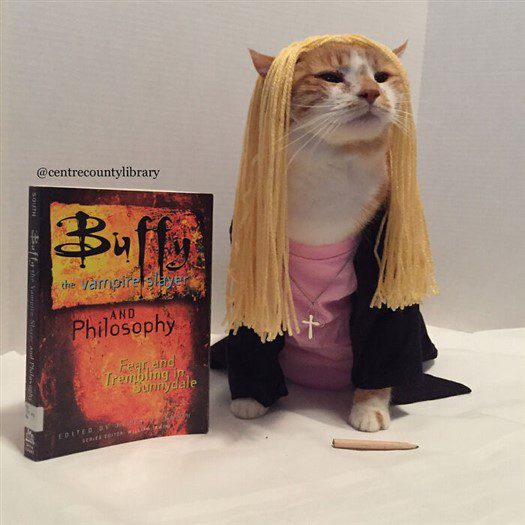 We have to say that, if we had to guess only by the wig, we would say that Horatio was dressed up as Phoebe from Friends. However, the necklace and the wooden stake make it quite obvious that this is a vampire slayer!
Karate Cat!
If you have ever watched Scary Movie 2, you probably remember that iconic scene where the black cat gives Cindy, the ditzy main character, an epic smackdown. If you wonder where the cat learned to fight like that, maybe this next picture will give you a hint: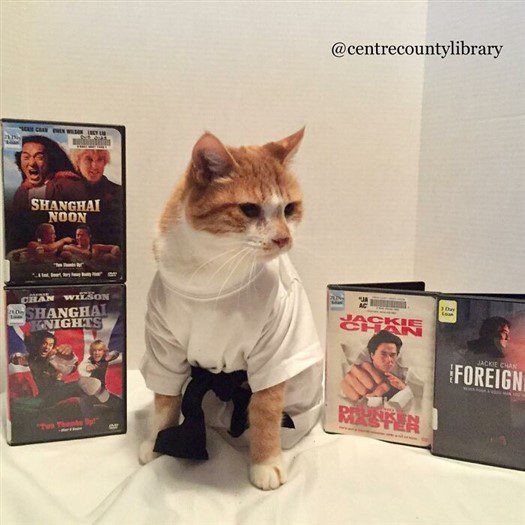 We have two theories based on this image. The first one is that cats learn ninja moves by watching Jackie Chan movies. The second theory is that Horatio is a karate master and has been teaching all the other cats how to fight!
It really is him!
Truth be told: who cares about the Easter Bunny when you can have an Easter Cat? The cat seems much cuter than the bunny. If you have no idea what we are talking about, you just have to check out this next picture.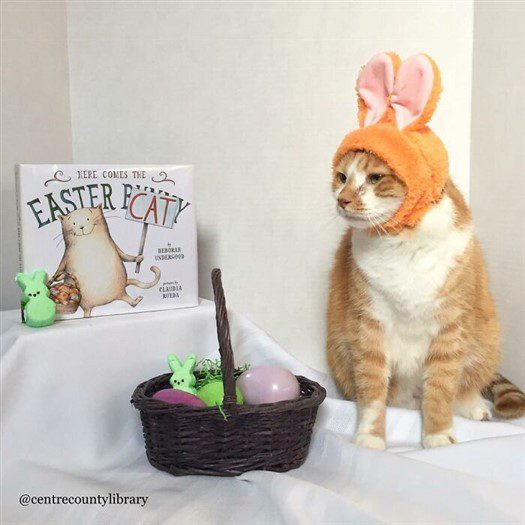 Horatio looks so adorable in that hat that we truly have no words to describe how we feel. Just a glimpse of him, and our hearts are overflowing with love. If you bring your children to the Bellefonte library around Easter, they will feel the same way!
Your cat-jesty!
No matter how young or how old you are, you must have heard of Dame Judi Dench at some point. This British actress is a living legend, and she won an Academy Award for her portrayal of Queen Elizabeth I back in 1998.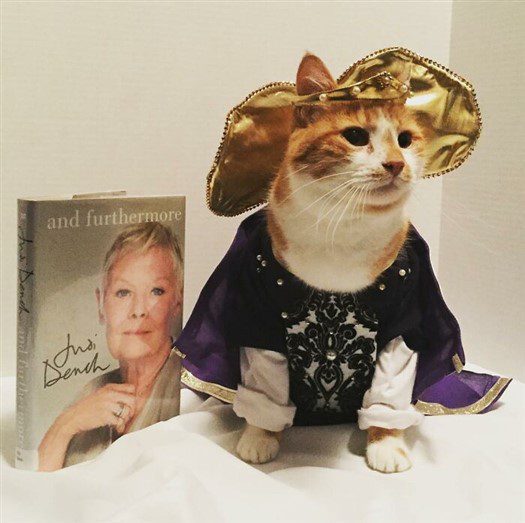 But do you know who should also get an award for portraying the Queen? Horatio. We mean, look at that outfit. He's totally pulling off this regal look, and we would love to see him in action, acting his heart out!
That's not who you think it is.
Who has never heard of Tom Sawyer? This iconic character in American literature was created by the one and only Mark Twain, one of the greatest writers in the history of the world. If you want to learn more about his life, the Centre County Library has the perfect book for it.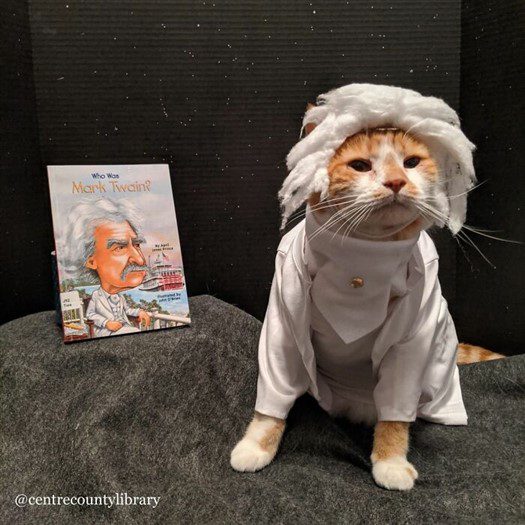 At first glance, you may think that Horatio is dressed up as Albert Einstein, but that is his cosplay of Mark Twain (or Samuel Clemens, his real name). Even still, we're going to give him an A for the effort that he put into posing!
Voting can be fun!
Children can do so many things these days that it is not hard to understand why they don't seem to take an interest in actually important things, like politics. We're not saying that children should have political stances at that age, but they should at least understand why politics are important to the world.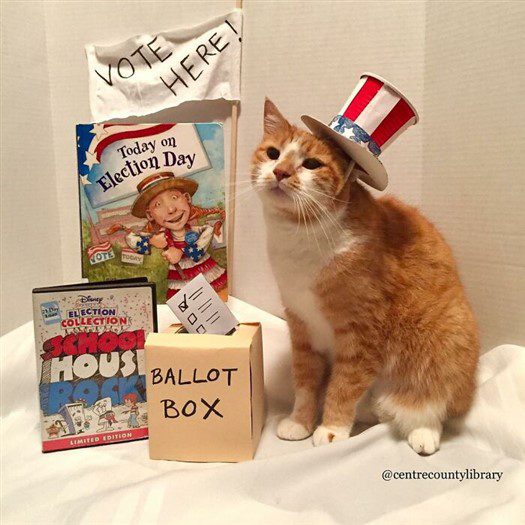 If you want to get your children interested in this subject, you'll be happy to know that there are plenty of children's books that can help with that. Even Disney has released a special "election collection" — all of which you can find at Horatio's Library!
All praise to the shadow.
Hortense and the Shadow is one of the most interesting books that children between the ages of 5 and 7 years old can read. Hortense doesn't like her shadow, and she hates it that it follows her around. But Horatio doesn't seem to mind his!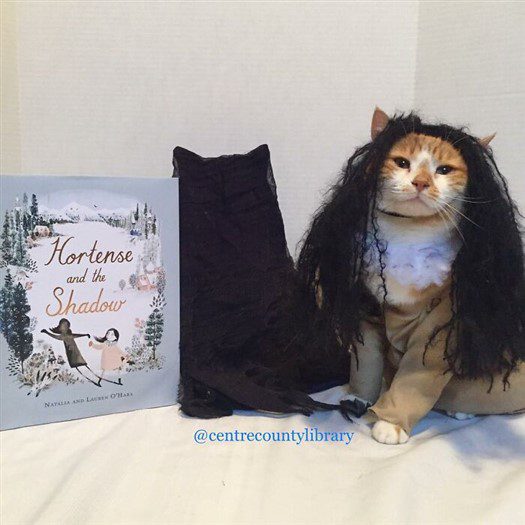 First of all, Horatio kind of looks like Hagrid (from Harry Potter) in that wig. We have to say that his owner, Lisa, did a great job at recreating Hortense's coat and scarf. Though what really should get praised here is the shadow. Is that a real cat or just one cut out of cardboard? Guess we'll never really know!
Horatio's friend has seen some things!
Do you remember Horatio's friend that sometimes poses with him for pictures? Though we don't really know her name, she also deserves to have her performance acclaimed. She is certainly a talented actress/photograph model just like Horatio, the prodigy cat.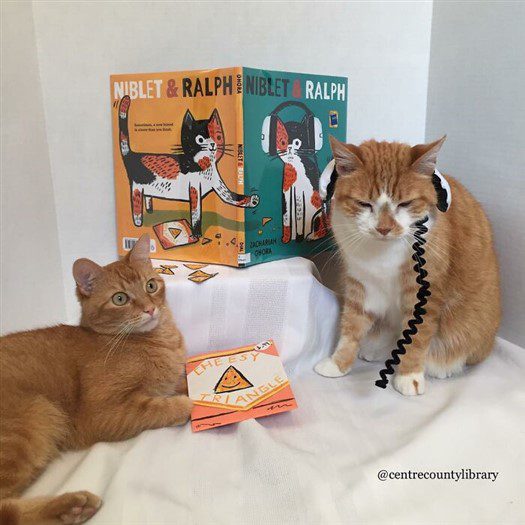 Well, this picture didn't turn out like the other ones, but it's still great (and quite hilarious) nevertheless. The photo is funny because: 1) Horatio doesn't look too happy about his headphones, and 2) his lady friend looks like she is seeing a ghost!
Perfect reenactment!
If you like to read stories that mix elements from real life, you will undoubtedly enjoy reading John Steinbeck's The Grapes of Wrath. This book approaches a sensitive topic that marked a crisis in the history of the US, the Great Depression.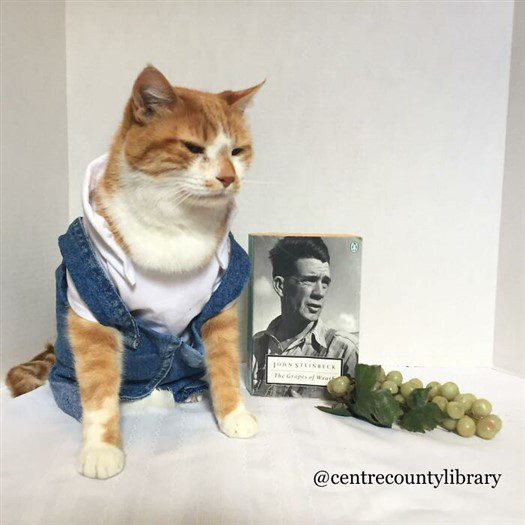 Even though Horatio certainly doesn't understand the long-lasting effects of the Great Depression, it certainly looks like he does. We mean, look at the somber expression on his face, almost as if he knows that this is a topic that deserves attention and respect!
He's just perfect!
Remember how we mentioned that HBO is known for creating some of the best shows on television? If we are to talk about iconic HBO shows, then we must mention The Wire. This show aired in the early 2000s, but it is still considered one of the best shows to this day.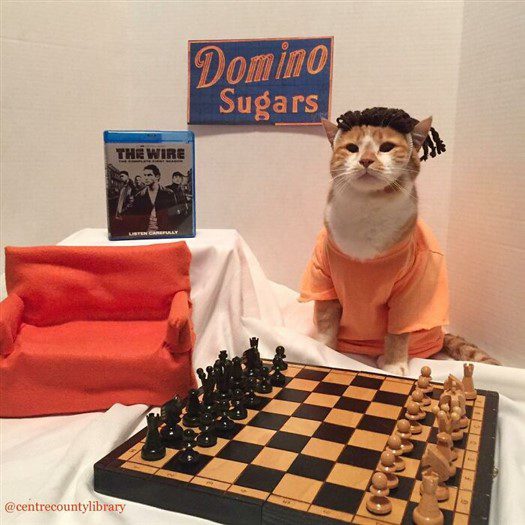 Judging by the scenario and all the props, we can tell that Lisa (Horatio's owner) is a huge fan of the show. And judging by the way that Horatio is calmly posing for pictures in that outfit, we can tell that he is the best cat in the world!
Always look up!
If there is one thing that artists do in addition to making music and films, that thing has to be writing books. Some actors write autobiographical books, while others venture into writing fiction books. If you've watched Back to the Future, then you know who Michael J. Fox is.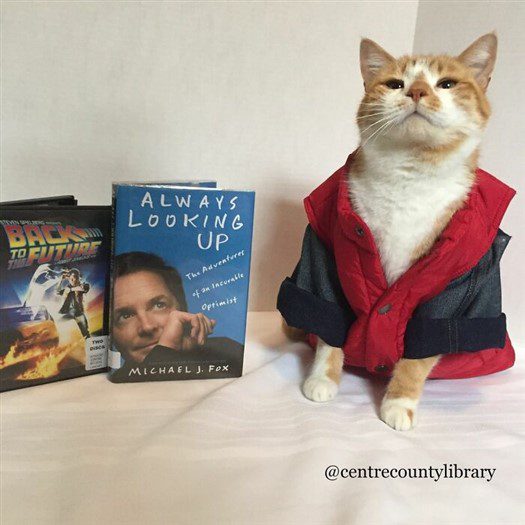 More than just being the actor who portrayed Marty McFly, Michael J. Fox is also an important advocate for finding the cure of Parkinson's disease, which he was diagnosed with a while ago. Well, he said we should always be looking up, and Horatio is doing just that!
Love the costume design!
Ellen Degeneres has been a fixture of American television for years now, and most people love her. It seems like Horatio is part of that group, considering that he is looking mighty content to be wearing this Ellen costume: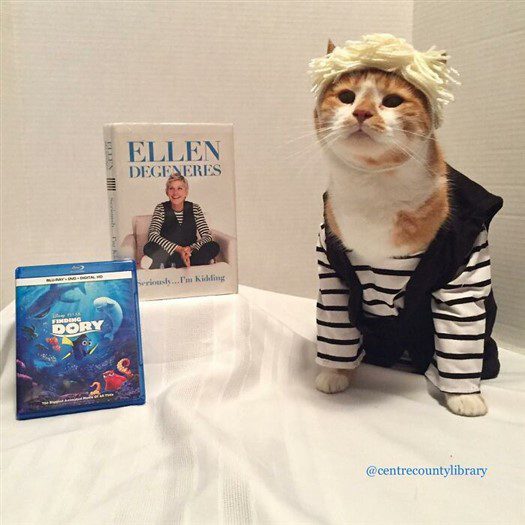 We have to say that, while this costume is not that complex, it is certainly one of the best on this list. Horatio looks incredibly good in the striped shirt and jumpsuit! And let us not get started on his adorable wig — he looks like he's part of One Direction!
King Cat.
If you want your children to read a book that reflects this time of the year (wintertime, that is), King Alice is a great option. This book tells the story of a young girl who is bored on a snowy day and sets out on writing her own book.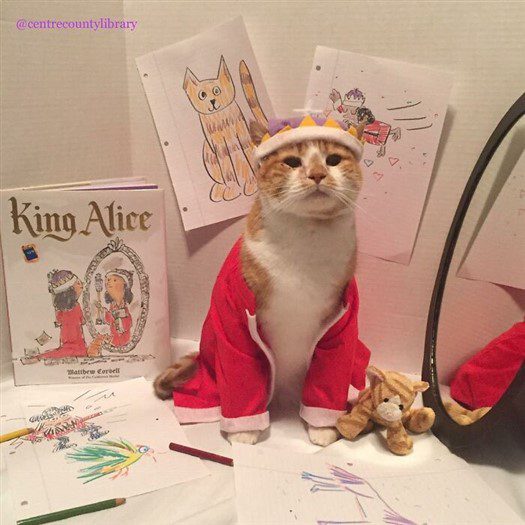 King Alice is a story that shows children that they can be whoever they want to be, as long as they persist and are strong. Though we have to admit that, while King Alice is a cute girl, she doesn't even compare to King Horatio, the cutest cat king in the world!
Representing Philadelphia!
Lots of people love the places where they come from and what they represent. If you're from Philly, you know that feeling very well. Philadelphia is a great place to live, and it is often portrayed in the media because of how good it is to live there.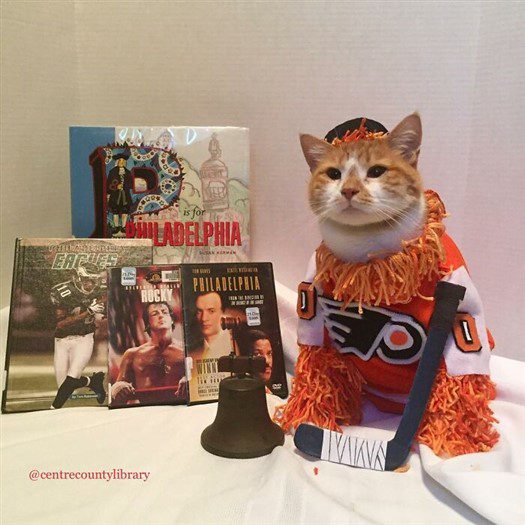 Although Horatio lives in Bellefonte (which is about 200 miles away from Philadelphia), he certainly is representing the state very well. If you want to see more about Philly, the Centre County Library has plenty of books about this city and films that took place there. And there's also Horatio rocking that Philadelphia Flyers uniform!
Closing it off in great style!
Whether you love or hate country music, you certainly know Dolly Parton. To be honest, who hasn't heard of this legendary performer? Even the people who aren't big fans of the country genre, appreciate this woman, for she's always doing good deeds and trying to make the world a better place.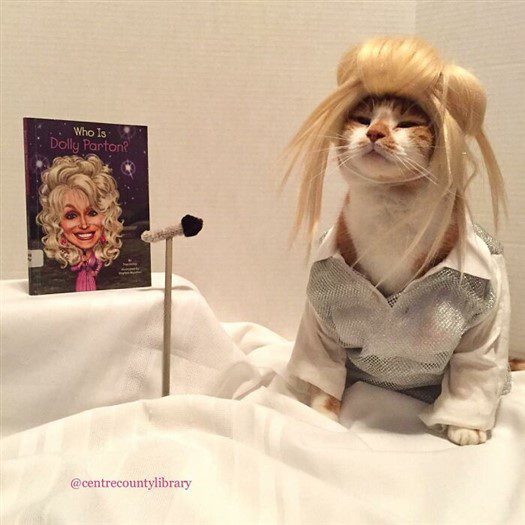 Dolly is one of the wealthiest country stars, but did you know that she was once really poor? You can read more about that if you check out this book at the Bellefonte library. Horatio clearly did, and now he's a big Dolly fan. We love his costume and his wig, but there's a detail (inside his blouse) that is getting our attention. Maybe Lisa should've added more tissues there — if you know, you know!