The Pine Needle That Broke The Camel's Back: 40 Pet Owners Who Came Up With Ideas To Protect Their Christmas Trees From Rowdy Pets
By Louise T October 9, 2022
---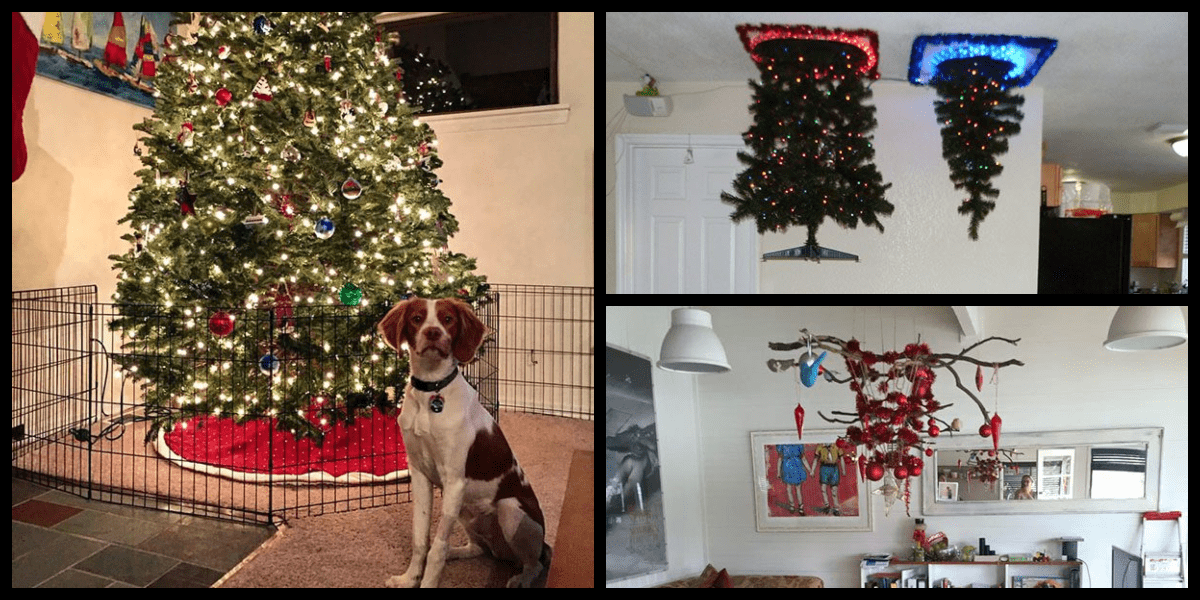 Let's face it, Christmas would never be complete without a well-decorated glowing tree. Think about it, where else would Santa leave his presents? Keeping your Christmas trees and decorations safe in a house without pets is an easy task.
But if you own an evil cat or a naughty dog, then you must know your tree is far from safe before Christmas morning. These pets care less whether or not the tree is precious; they just enjoy knocking them over, jumping over them, scratching, and eating decorations. 
To that end, we are delighted to bring simple ideas to spare you the trouble of locking up your pets during Christmas. Now you just need to go through this list and decide on whichever works for you. 
Dreaming Of A White Christmas 
This tree looks as if it has been frozen in time to be defrosted later in the future. We often forget that Christmas trees can also be white so let's admire this beautiful tree for a brief second before we get down to business.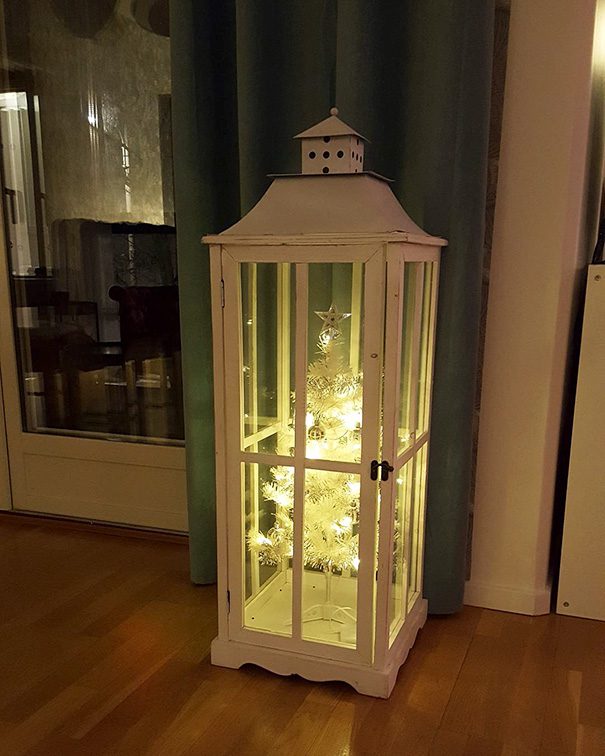 This magnificent creation can be used even if you don't have any pets. It's as simple as placing your tree inside a cabinet. So if you haven't thought of the perfect tree yet, consider this unique structure. We would love to have this tree all year round.
Put Up Your Tree 
'Tis the season to be scheming! Just like her owner, who decided to hang her trees up as a safety measure, this cat has accepted the challenge head-on. But isn't this kitty Marmalade from Cole and Marmalade, or are we mistaken?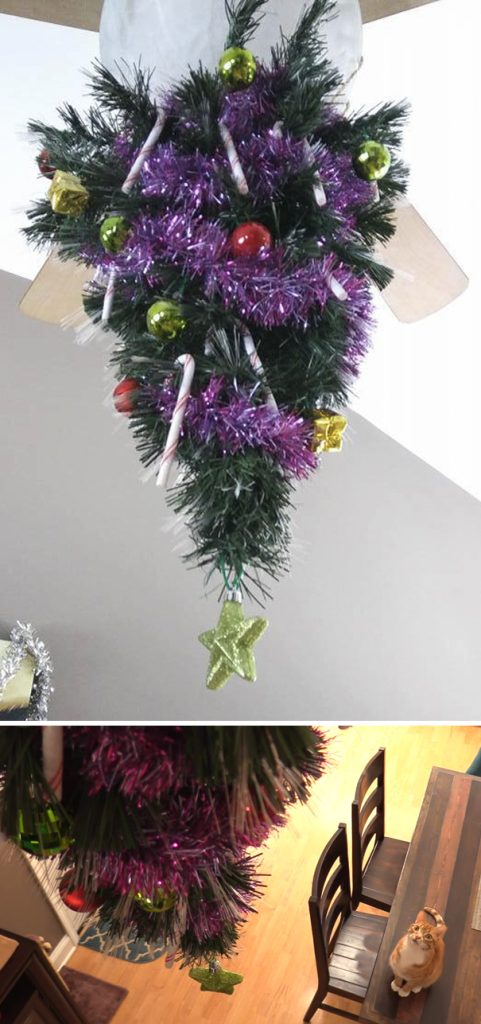 Even though this might look like a bright idea, we are pretty sure the tree isn't going to last long up there. The look on the kitty's face says it all; the little creature is getting ready to cause some serious problems.
Half Trees Helps 
Here's a Christmas tree with its bottom part completely bare as part of a thoughtful strategy to keep the cats away. The two sulking cats must really be mad for not being able to reach the Christmas decorations this time.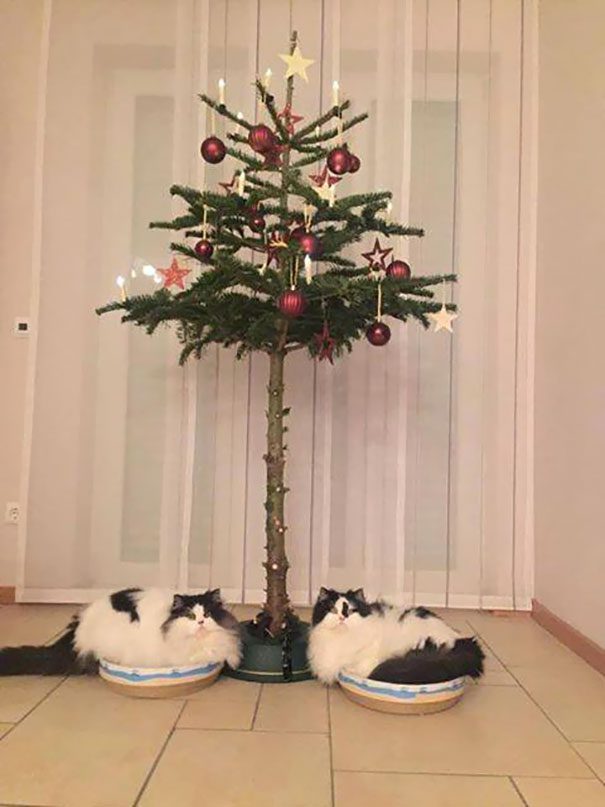 Regardless of how the tree looks, it's really a classic idea. The discontentment on the faces of the cats says it all. Completely unrelated, but we think these cats need new bowls for Christmas or, better yet, comfortable boxes.
Cat-Proof
Nice try, human! This cat clearly has evil intentions written all over his face. If looks could kill, then this cat would have done some mighty damage already. He looks like he's summoning Satan and not innocent Santa for Christmas.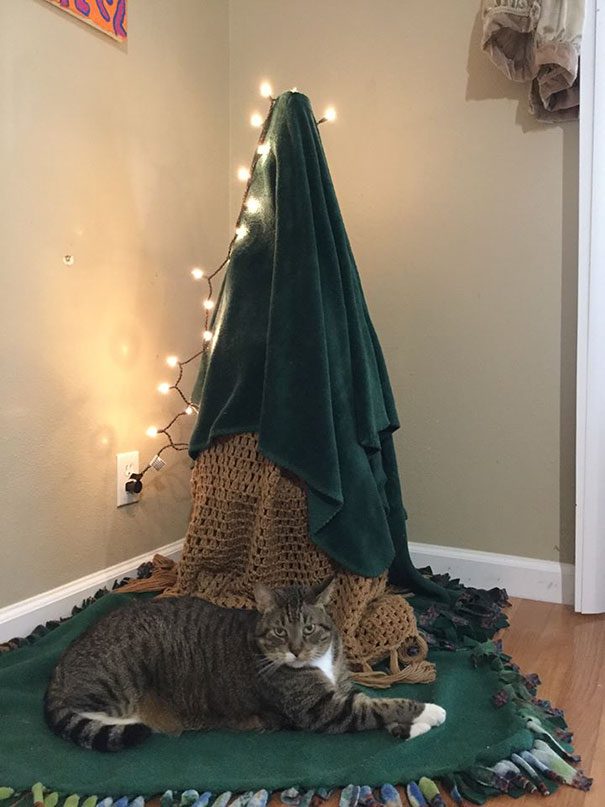 This family decided to keep their tree disaster-free by covering it up with a blanket and tomato cage. It's a pretty good idea, but what's the need for a tree if you can't see it? Why even bother with the lights?
Upside Down Dimension 
This is yet another upside-down tree. This is probably what Christmas trees look like in the Upside Down dimension in Stranger Things. From the look of things, we doubt they succeeded in keeping the cats away from this poor tree.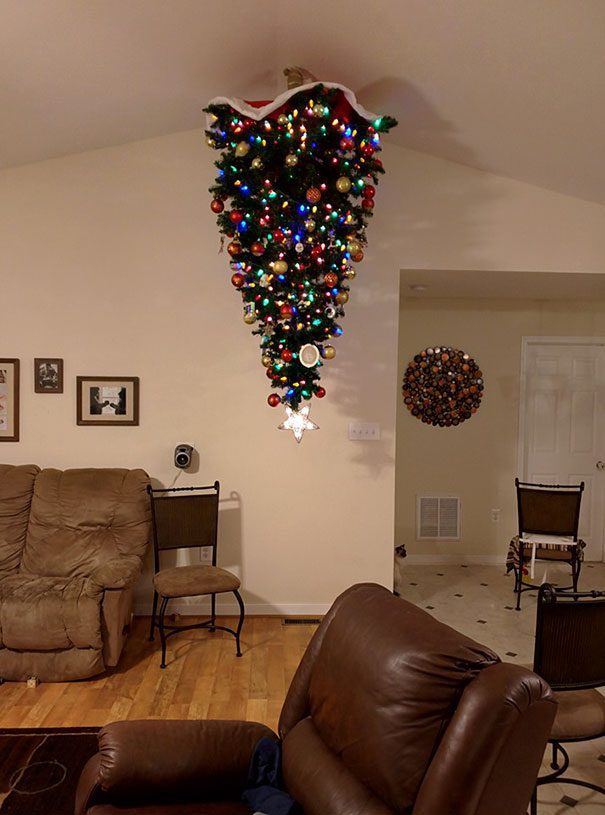 For one, the tree is too low, and the star is clearly easy to reach. But we are pretty curious as to how they put the presents under the tree. Probably on the roof, if they had to be under the tree. 
This Works Too
This one here works for us. What is a more perfect place for your tree than putting it on the cabinet? They are definitely the best, and we wouldn't mind trying this in three months. This works perfectly for cats and puppies.
At the end of the season, they wouldn't even be able to reach the decorations, and let's not mention the tree. This is why desktop trees are the best. We are just a little worried about the things on the table, though.
Cover All Three Aspects 
The best way to have a peaceful season with damage-free trees and decorations all through Christmas is to come up with a genius solution that covers all three aspects of destruction. The three has to be dog-proof, cat-proof, and toddler-proof.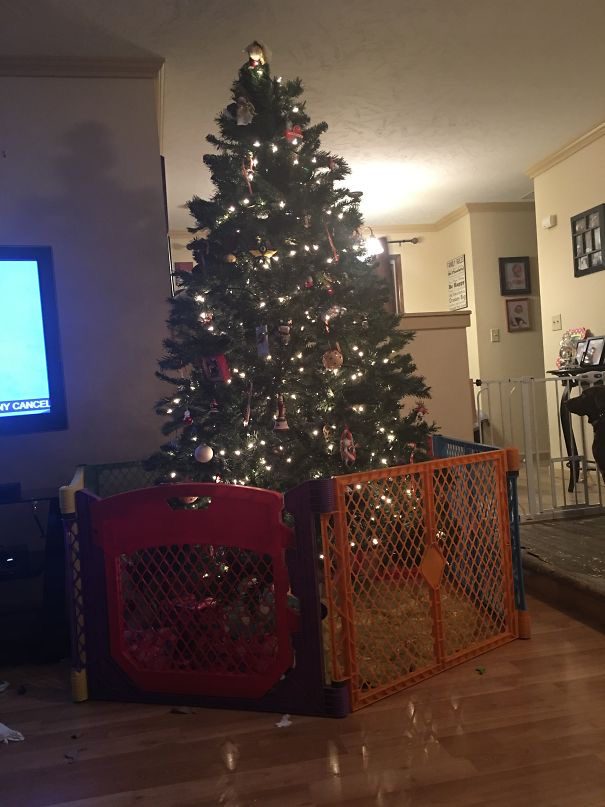 All you need is a makeshift fence made from plastic crates you can find around the house. Tie them together to create a fence around your tree. Voilà! You will have the perfect Christmas, and it will be properly protected!
This Year's Favorite Tree
This is a very unique and animal-friendly Christmas tree. There are no ornaments for cats to break and no tree for them to dismantle, just a nice and colorful structure that they can have some fun on. The perfect tree.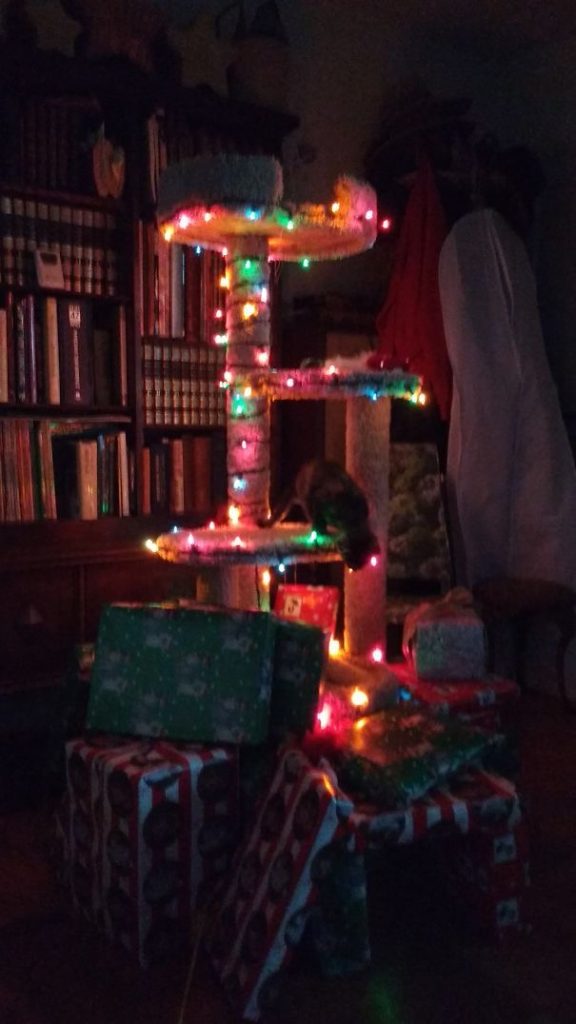 So instead of worrying about keeping your tree safe from your pet, you can just do this. We'd definitely be trying this for Christmas. Just look at it! Even the adorable kitten is having the time of his life. But be careful with the lights placement to avoid injuring your pets.
Merry Christmas In Advance 
This tree looks good enough with just light on it and zero ornaments. The unique thing about this tree and the whole idea is that the animals can play under the tree without causing any serious damage whatsoever to it.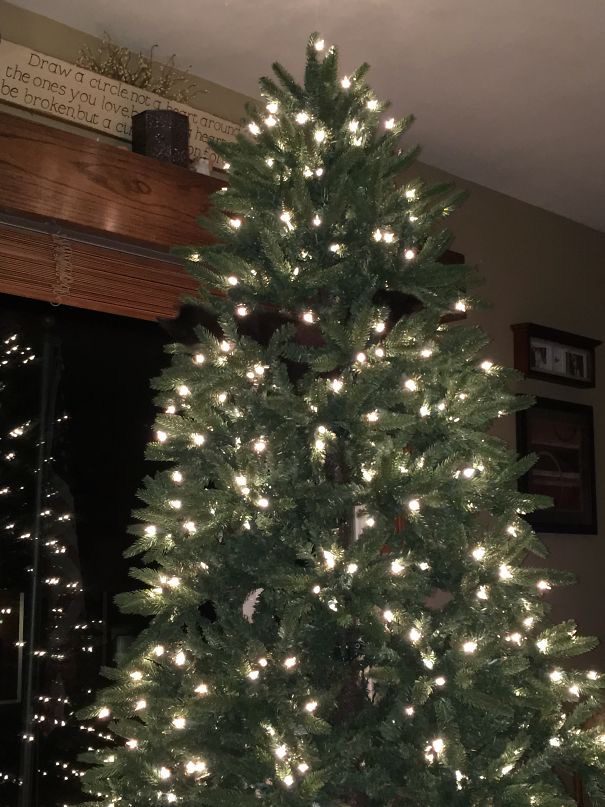 A rather thoughtful and animal-friendly tree if you ask us. Dare to be different this Christmas and do something you have not done in the past years. Get a decoration-free tree just like this one here and have yourself a lovely Kittmas!
Printed Trees Equals Problem Solved 
Here's how you can solve your Christmas dilemma this year by getting a printed fabric like this one at Ikea. Sew it to secure the wood slats, then use safety pins to secure the ornaments in place and the fairy lights.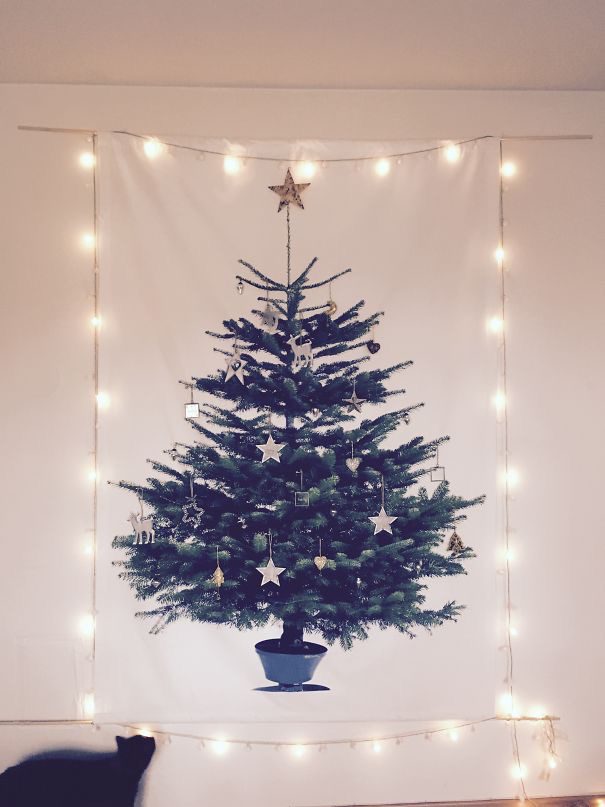 You don't have to go through the stress of getting an actual tree only for your pets to rip it to pieces before it's even Christmas morning. This is a quick problem solver with just a piece of fabric. We highly recommend it!
Get A Cat Altar
The person who posted this picture said this was the only section of her house where her cats don't bother. She called it a holiday table, but we know this looks more like a cat altar than a holiday table.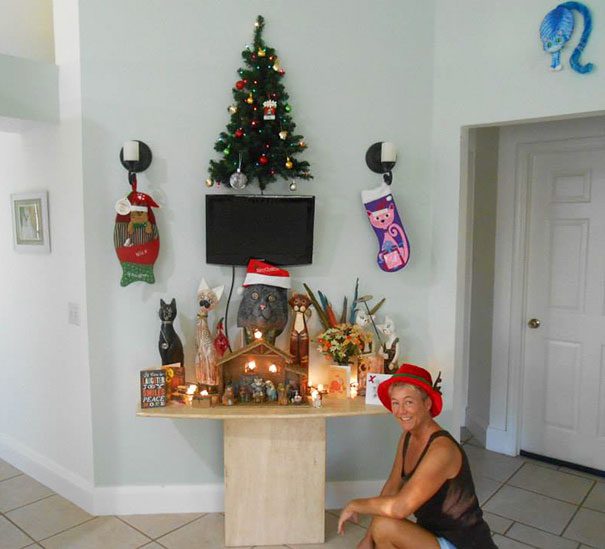 The decorations and design are very lovely and simple, coupled with the beautiful and creative cat artifacts all over the table. She also did well hanging her mini tree above her TV, giving her cat no chance of ruining the tree.
Christmas Carpet
This person said she couldn't bear to spend Christmas without a tree, and this was the plan she came up with. She indeed couldn't fathom the idea of going without a tree, even if it meant going to extreme lengths. Pun intended.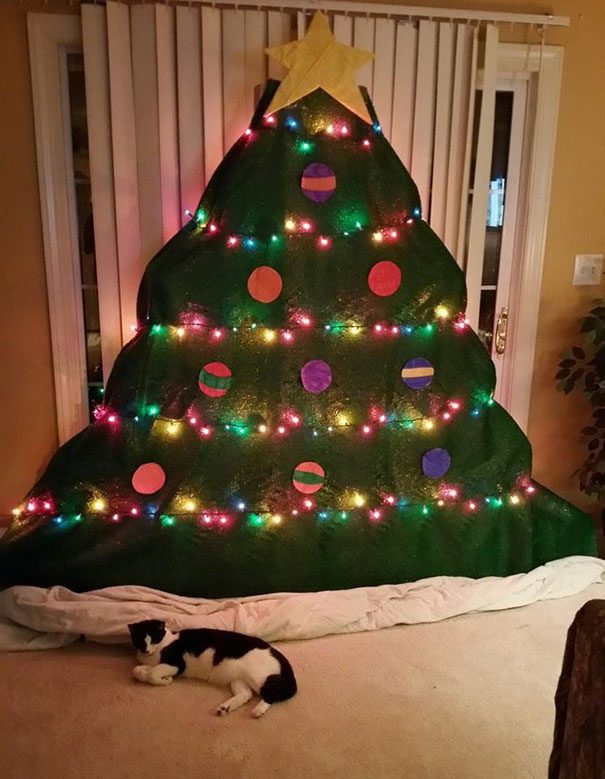 A nice excuse for a tree if you ask us. But where did she find the green carpet? Even the ornaments were made from cardboard and paper, and so was the star on top. Terrific, but still a clever idea, though!
Perfect Trees Are Made From Sticks
The user who posted this picture said she didn't have enough room in her home for a Christmas tree and made a wall tree instead. She decided to accomplish this by using sticks and beads to create that Christmas feeling.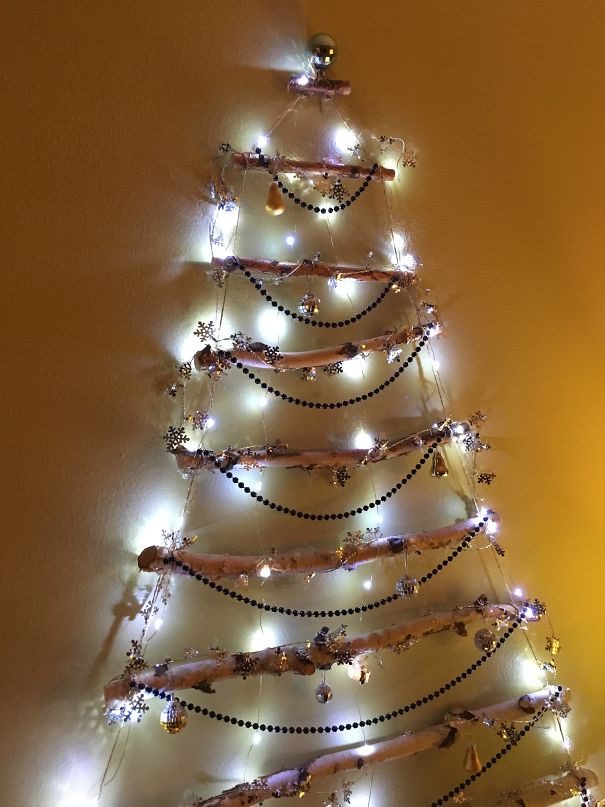 It's quite a beautiful tree she has got going there if you focus more on the decorations than the sticks. Now her dog surely has enough sticks to play fetch. We wonder where she found those thick sticks anyway and how she kept her dog from ripping them off the wall.
Christian Fire-Wall Tree
There's so much going on in this house, from the extension cords on the floor to the Star Trek plates on the walls. Oops, even the cat is fascinated by the hairband on the floor. But this wall tree caught our eyes.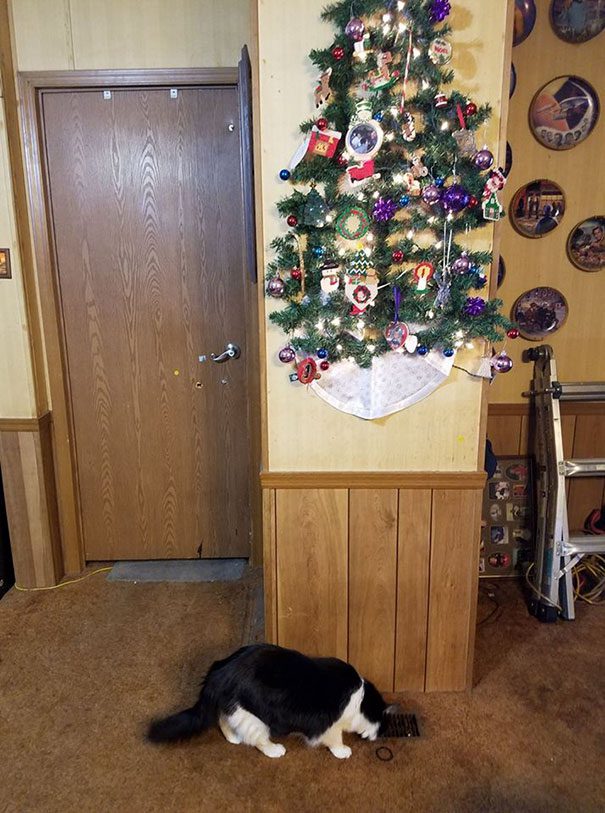 The owner of this tree was quite creative by opting for a wall tree because of her cat. The tree looks quite out of shape, and there are so many ornaments and cards on it, but it still looks nice.
Chandelier Tree
This woman decided to take her Christmas decorations all the way up to her ceiling, and her cat wouldn't stop staring at them. She said her cat is meowing angrily because no matter how hard she tries, she can't reach it.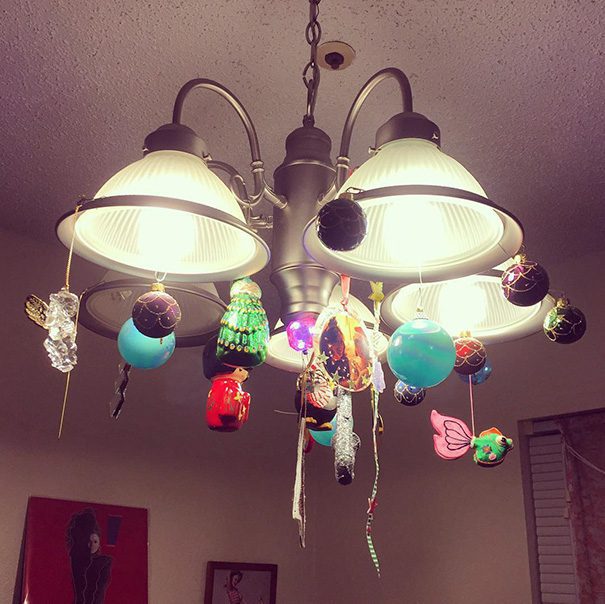 No matter how we look at it, this is a brilliant idea. This woman really has an interesting collection of ornaments. Take a look at the Christmas fish. Anyways, she doesn't even need a Christmas light; the chandelier lights illuminate her tree well enough.
Tree In A Cage
Instead of putting the cat in a cage during Christmas time, just put the tree in a cage and save yourself the stress. Easy peasy, lemon squeezy. This is one of the best ways to avoid any real havoc before Christmas morning.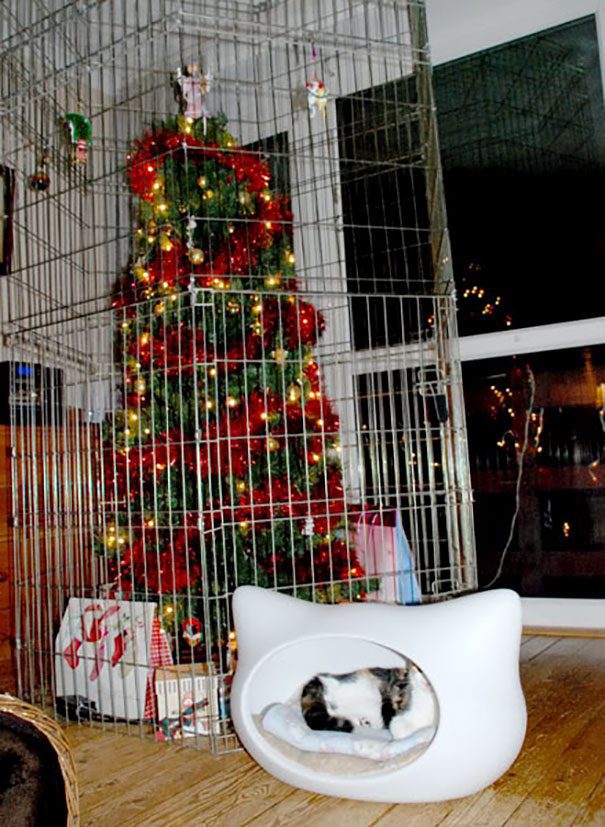 It also looks like a great way to make sure no Christmas presents are tampered with before the 25th. Where can we purchase this cage because we will be needing it soon? Nice cozy cat, too. This is some parenting done the right way.
Christmas Portrait 
At first glance, the middle thing looked like a cat's paw reaching up, but whatever that was, they almost had us fooled for a minute. We are glad this solution kept the pets away; a very nice idea, in our opinion.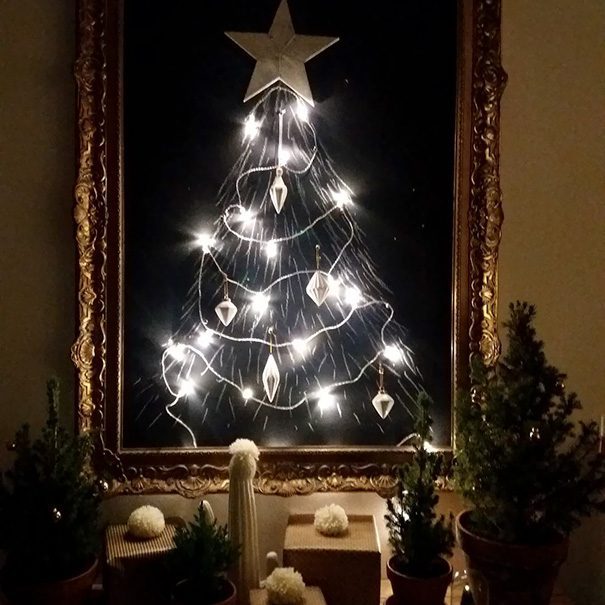 For this person, sometimes you don't need a Christmas tree to pull off a nice decoration. The frame makes it nice, and the lighting adds to its beauty, and we can't wait to try it out this Christmas. It's just super cool and paw-fect!
Dog-Proof Tree
Here is another great idea for your tree. This one is simple and effective, yet it's pretty cool. You can even decorate your tree as you like and put all the ornaments you want around it. This is an amazing dog-proof Christmas tree.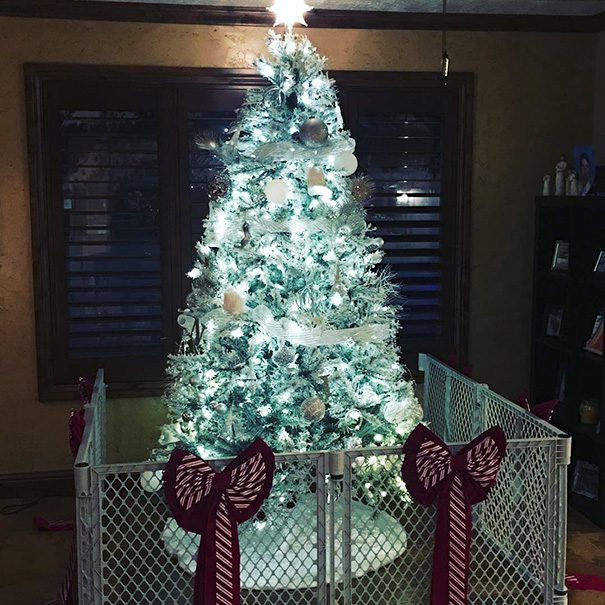 You just have to love this particular picture! The tree is so totally beautiful with the gorgeous white little gates around it to keep those naughty pets away. Even the red bows on the gate are a nice added touch.
Famous Wall Trees
Cheers to wall trees! They are becoming more famous, and we can only thank these pets for that. A nice thing about these trees is that if you live in a small apartment, you needn't worry that your tree will take up space.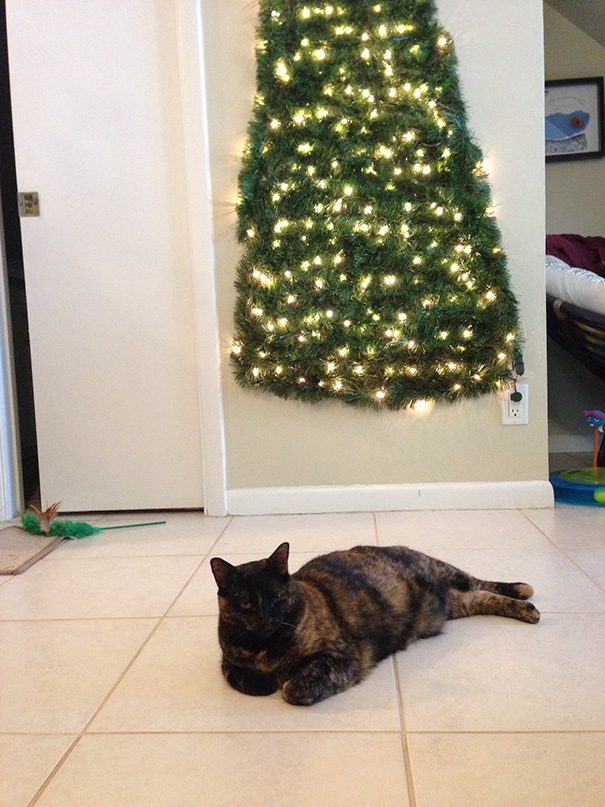 But this one looks lower than the ones we have seen so far, and with that look on the cat's face, we are very sure there will be some destruction this midnight. Sigh. These people forget cats can climb walls!
Half Done Is Fully Done
Like the user said, this isn't a half-done tree; it's well done. This is one hilarious but sensible idea to keep your pets away. This person must have pets that climb trees for her to come up with something like this.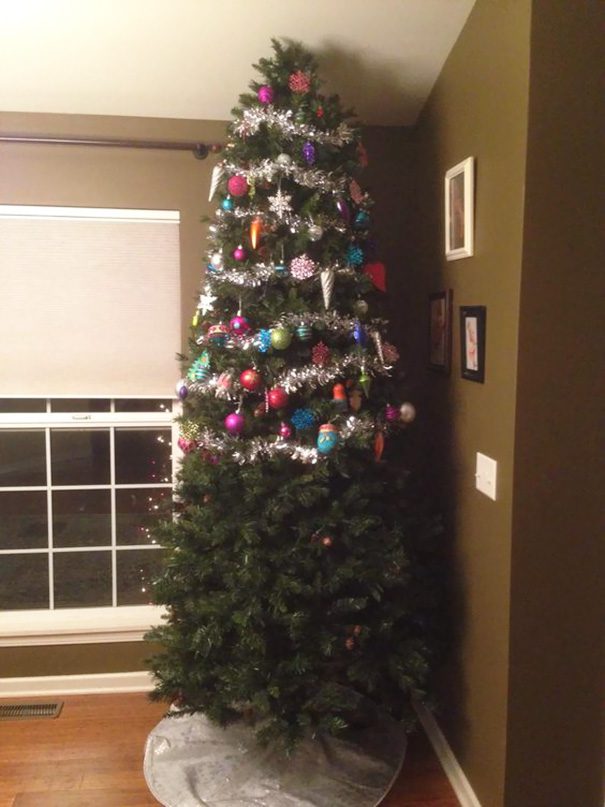 Decorate only the top part and leave the down part untouched. If you ask us, although this might not be the best-looking tree in this post, it's a good idea. As long as it keeps the pets away, the idea is still very much splendid. 
Flying Kitten
Our best guess is that this Christmas tree started as a full tree, but this woman had to take off several branches because of her high-jumping kitten. The tree still looks nice this way. But we doubt it will keep the little one away.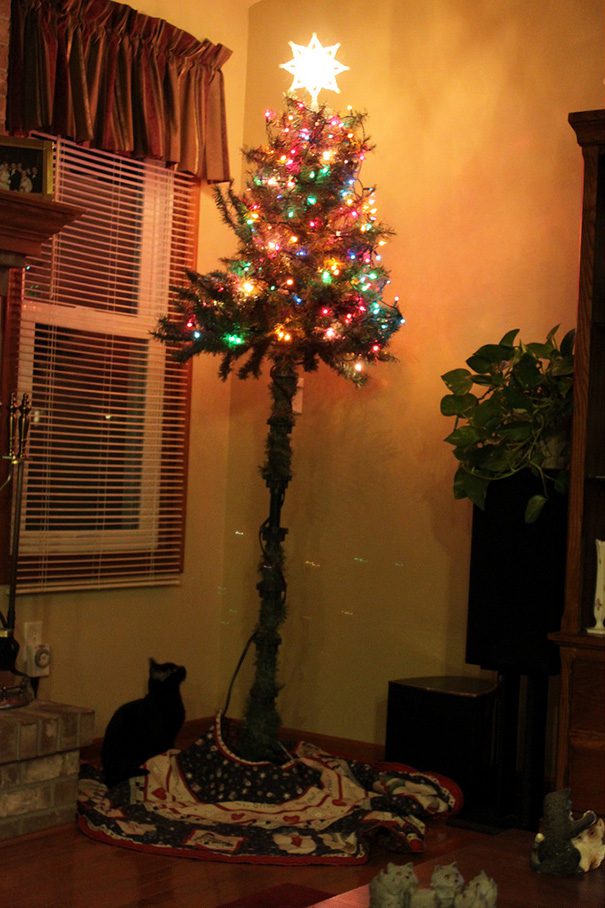 The world's highest-flying cat is looking up because he certainly won't give up without a fight. Good luck, little man. We would love to see what you can do. Probably she'd have no choice but to hang only the stalk for the next Christmas.
Fences Are Perfect
Fences are becoming the perfect way to keep your trees away from your pets and toddlers. Jokes aside, this Christmas tree is very beautiful with all the decorations. Not only will the fence keep the tree safe, but the presents will be too.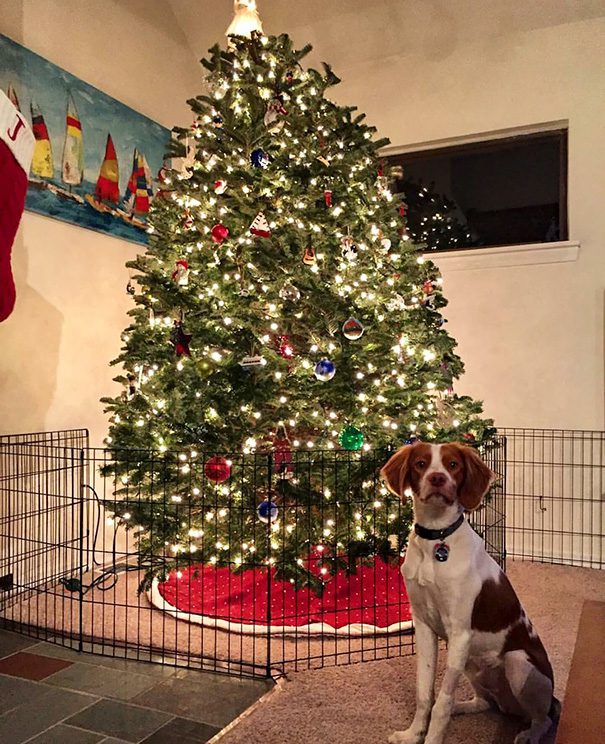 The Christmas season is already in the air. You can start buying your trees early and set them up like this. What do you think? Is it a nice idea, or that little doggie can still make a go for it?
Christmas Tree Wrapping
Christmas presents are not the only things that get wrapped up. If you didn't know, we're glad that now you do. You can wrap your Christmas tree in a Saran Wrap to keep the pets away. A nice, fun project if you ask us.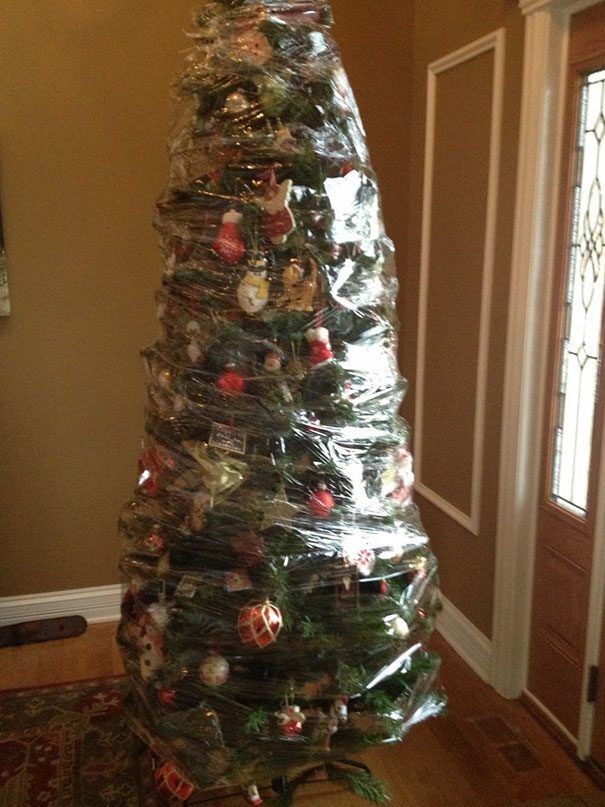 After Christmas, there wouldn't be much dismantling to do. All you need to do is move it out to the garage, and voilà! Instant Christmas tree for next year. It even comes with all the decorations. Sweet victory for pet owners!
Vacuum Tree
Now, this is one hilarious solution to a Christmas tree problem. Just attach a tiny Christmas tree on top of your vacuum cleaner to rescue you from these asshole pets. Although it's not the best idea, it is still a useful solution.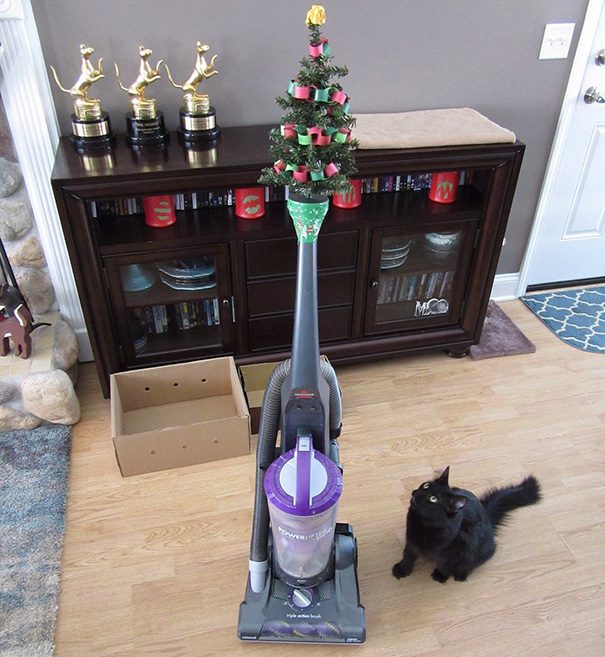 While this might seem like a professional idea because the owner figured out a way to keep her pet away, the cat is still figuring out how to take the tree down. But can you still use the vacuum while it's still acting as a tree?
Portal To A New World
What in the portal is going on here? This person decided to hang her trees upside down, but how is this even possible? The first one is standing without being attached to anything. The lights also look like they are portals to another world.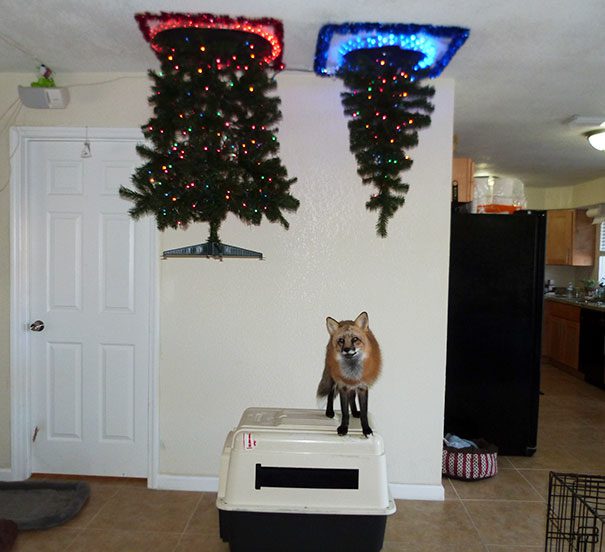 Well, those aren't all the strangest things in this house. This woman apparently has a fox for a pet. Foxes stink terribly and bite really hard, so we wonder how this woman is even able to cope with this choice of pet.
Christmas Stalk Is A Win
For so many people out there, a Christmas tree needs to be magnificent and must come with all the decorations one can buy. But for this person, a Christmas tree could also mean a tall stalk with four branches and just three ornaments.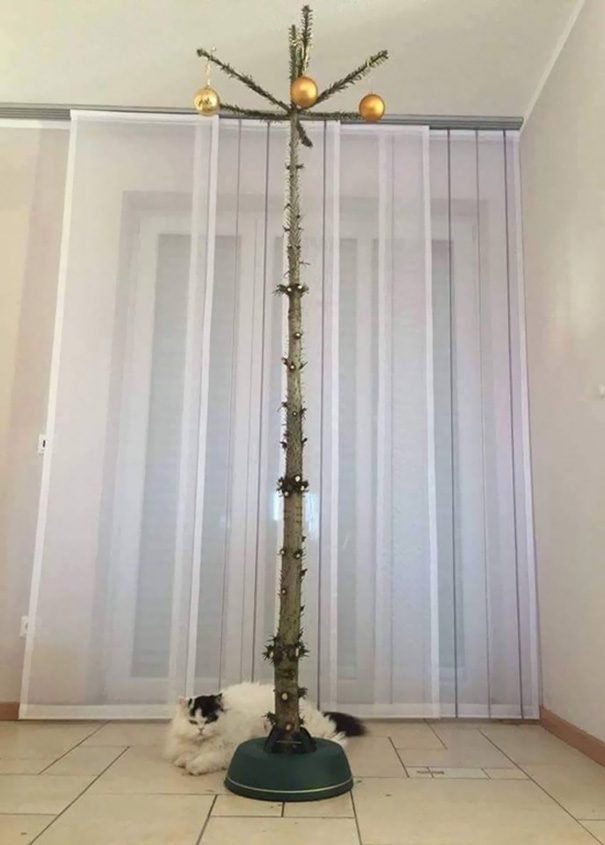 For us, it is better to have no tree at all than to go for this. Even the cat looks very grumpy and hates everything about this tree. We do, too, because the most important thing is missing: the star on top.
Sentinel Vacuums
This user's dog kept eating their ornaments and decorations; this was her solution. We know animals don't like vacuum cleaners. So this person decided to surround her tree with two vacuum cleaners to keep them away, which was a genius idea.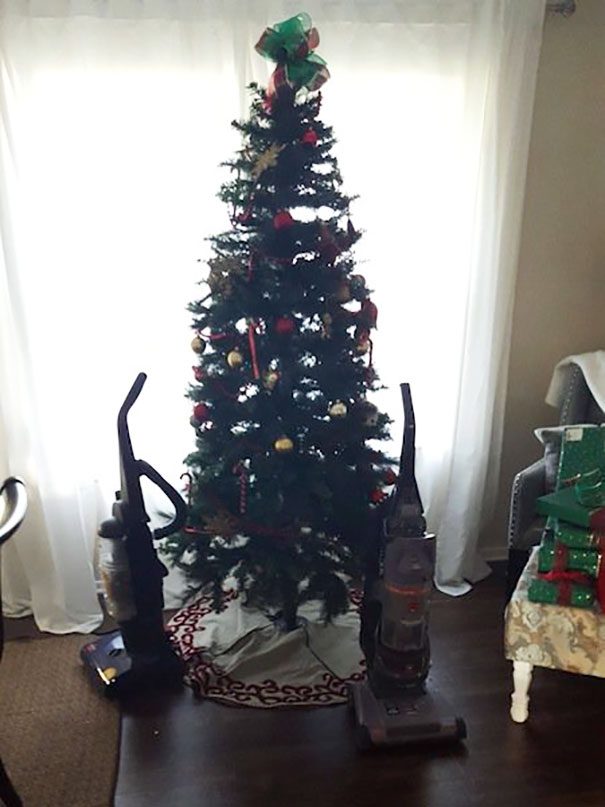 More like, "the enemy of my Christmas tree is my best friend." This would also be an excellent deterrent for cats. You don't even need to turn it on. The mere sight of a vacuum cleaner is enough to send them running to the hills.
We Wish You A Prickly Christmas 
This is definitely Christmas in Arizona. A very modern and new design for the holiday. We just found a way to protect our ornaments with this Xmas tree or, rather, Cactus tree. How do you even get the decorations out?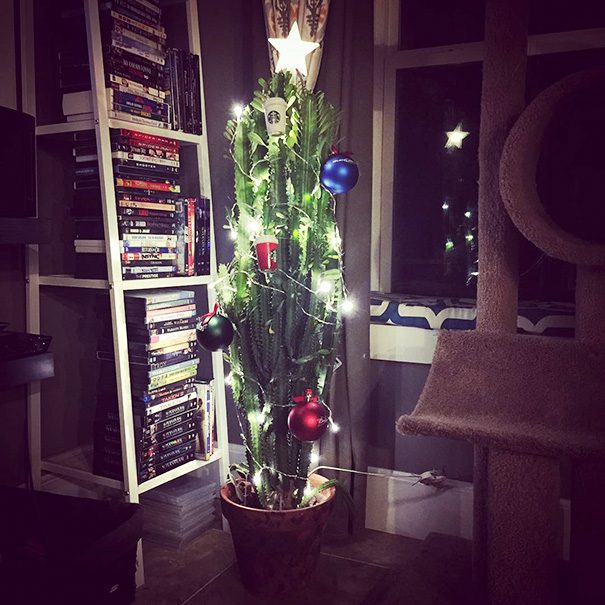 This, beyond doubt, promises to keep the cats and dogs away. But are those two Starbucks cups on the tree ornaments, or did the owner forget about them totally? Oh Cactus tree, Oh Cactus tree, have yourself a merry prickly Christmas.
Use A Cage For Your Trees 
An easy way to protect your tree from your cat is just to put it in a cage, and your pet wouldn't be able to go near it or even destroy it. "Hark! The herald-angels sing / my pet cat can't get to my tree."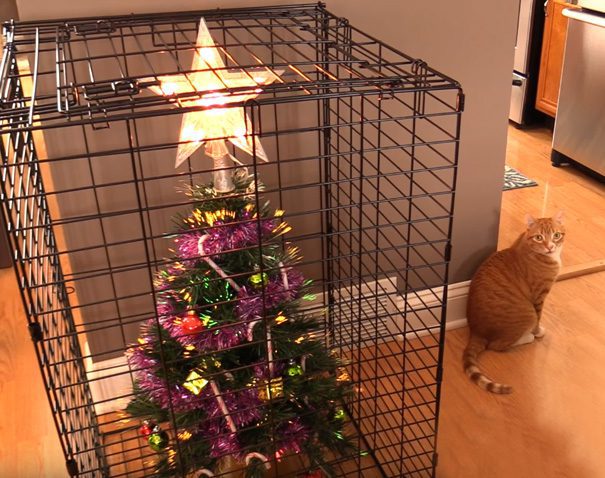 The cat's face is just too funny, and it sure looks like the cat from Cole and Marmalade. But this time, he's being kept away by this caged Christmas tree, and he is really displeased with it. Not this time, kitty. Try again.
Not The Best Idea
We'd like to ask this person how many of those ornaments are still hanging. The cat is looking up like he's about to rip these hanging decorations into pieces at the slightest chance he gets. This cat is about to cause a catastrophe!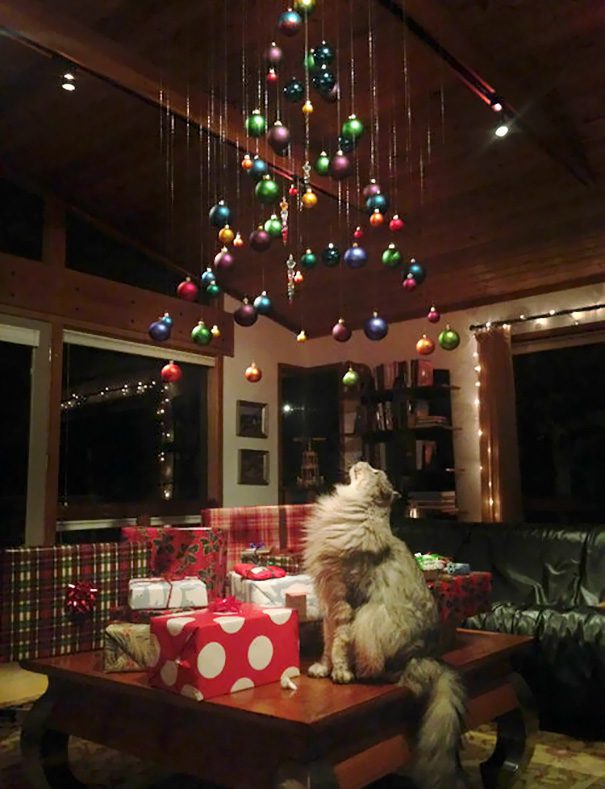 We don't feel like this is a good enough solution to keep pets away. From the look of things, who wouldn't want to play with that? This is just asking for trouble, and the cat is indeed ready to bring up a recipe for disaster.
Dogs Aren't To Be Trusted With Christmas Trees
There's so much going on in this decoration that you can hardly see the tree. This enclosure idea is great, and we are going to overlook the highly decorated tree and commend this person's effort at creating a dog-proof tree.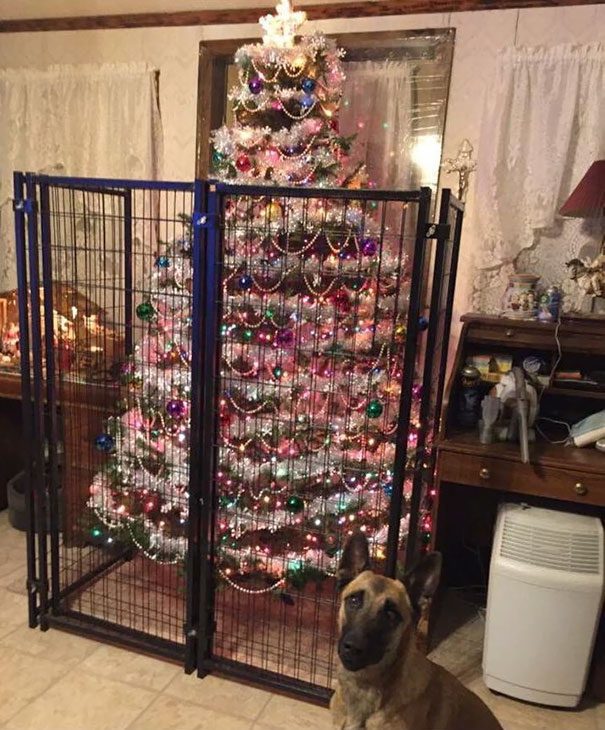 It might not be the perfect Christmas tree, but at least this person has got a tree where Santa can drop off his presents. Now the poor dog can't reach the tree, nor can he destroy the ornaments. Have yourself a nice beautiful Christmas.
Make Your Cat, Santa
Perfect idea! You should consider putting on a Christmas outfit for your cat for 15 minutes every time he tries to climb the tree. He definitely loves the idea of wrapping himself in this outfit and lying near the tree all day.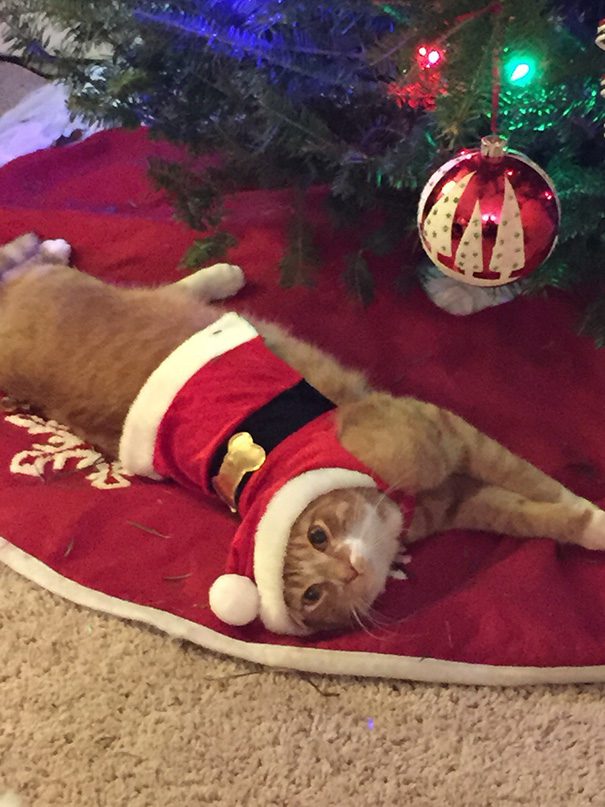 The cat seems well-adjusted and looks to us like this was his purpose from the very start. But by January, the owner would have a lot to worry about because he wouldn't want to go out without his Santa outfit.
Christmas Tree On The Fridge
From a desktop tree on the cabinet to one on top of the kitchen fridge. We doubt this will be very effective in keeping cats away. Cats love to be on top of the fridge and cabinets all the time!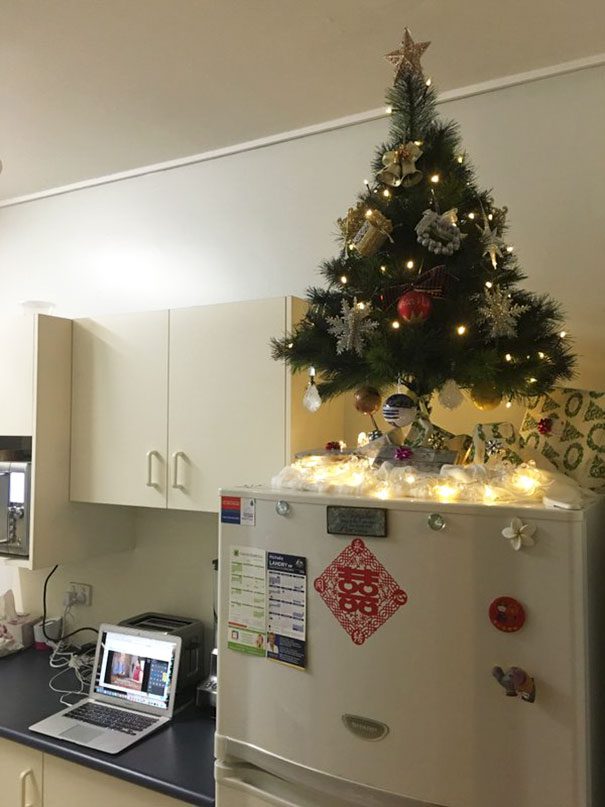 This amazing little tree design is best used when you have a kitten or pup as a pet. If you have a big cat or dog, we are so sure they would climb up the fridge and knock that thing off.
New Life Hack
This person decided that instead of getting a Christmas tree and risking it being ripped apart by her dog, the best solution was to make her dog the Christmas tree. The good news is the dog seems to like it.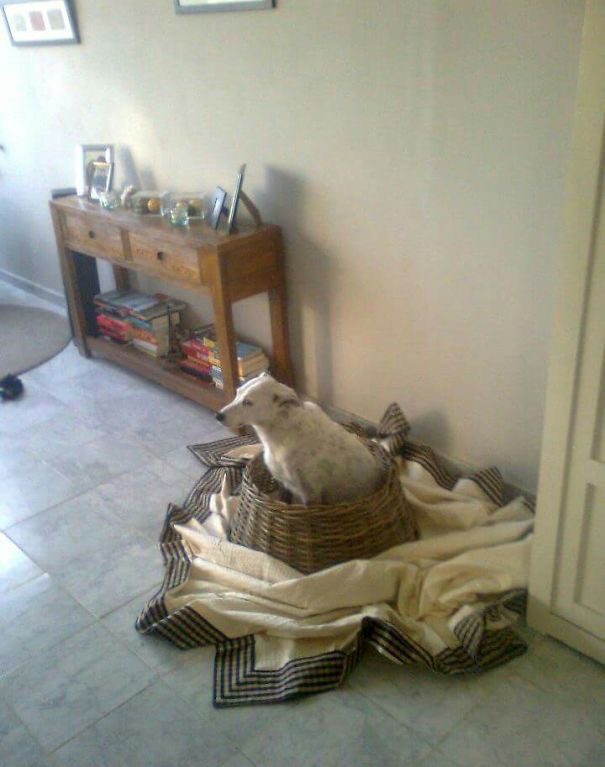 The is a really fun idea and an easy life hack that saves you some money and lots of tears. But where are the ornaments and Christmas lights, or are they not necessary here? And we doubt if he's even cat-proof. 
Artsy Ceiling Tree
Before we go into the main reason for this image, we have to say: this user has a very nice home. This woman decided to hang her tree from the ceiling. We must confess it really looks very cool and artsy.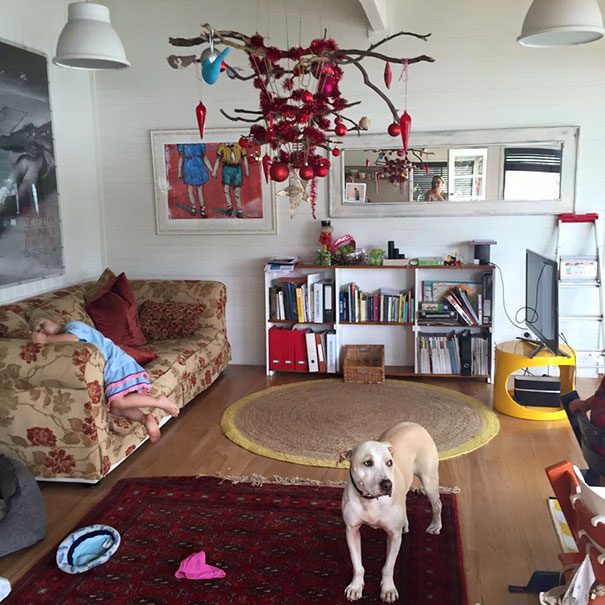 The red decorations match the carpet and sofa. This tree is dog and toddler-proof. But we aren't sure it was needed. If their TV is still standing, then it's not so crazy to guess that the tree would have made it on the floor too.
Gravity-Defying Tree
This one here is an anti-gravity Christmas tree hanging from the ceiling. In our opinion, it seems these trees on ceilings attract cats even more. They want to figure out how it's there, and they end up scheming mischievously on how to bring it down.
Although this tree defies the laws of gravity, we are pretty sure the cat did quite a little damage to that tree. What's with the Wii remote hanging on the tree, though? Maybe it's a form of decoration, or what do you think?
Put Your Tree Outside 
This one is by far the most inventive and creative. Instead of going through the stress of wrapping up your trees, hanging them on the ceiling, or putting them in a cage, all you just need to do is put the tree outside.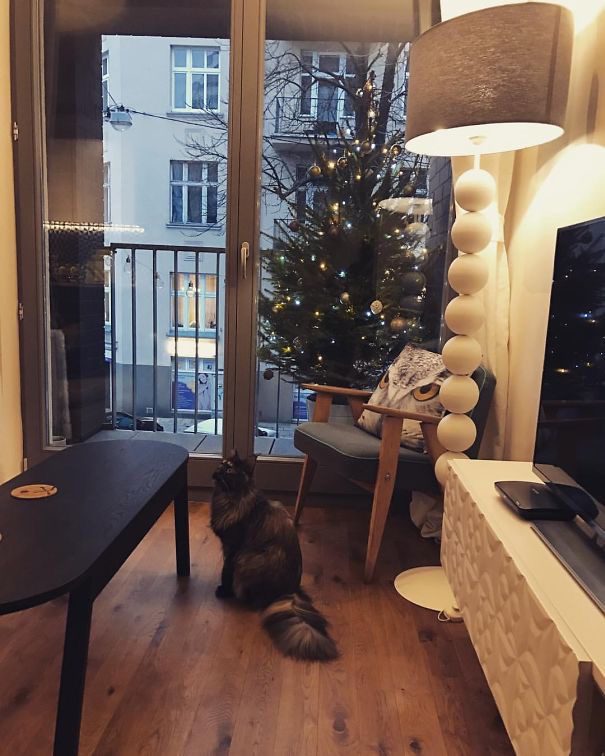 The tree stays safe, and so do the ornaments But before you do this, make sure it's safe to put your trees outside. Otherwise, you might wake up to an empty porch and missing presents. By the way, nice owl pillow and lamp.
Dog-Proof Indeed 
This user said her father told her he had a dog-proof Christmas tree, and she didn't expect it to be like this. Actually, we didn't expect this either. A tree surrounded by chairs and a blanket – who else does this?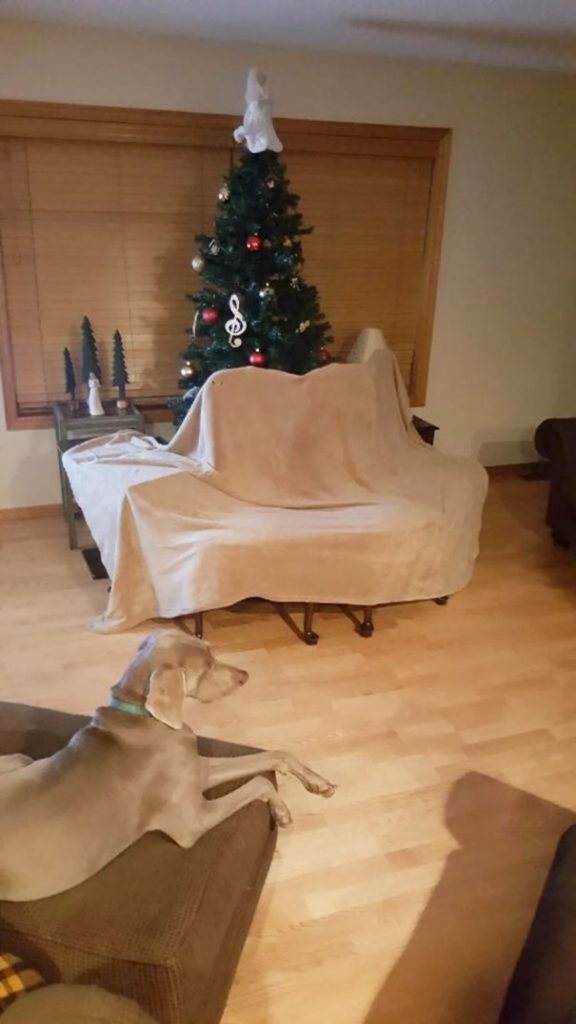 This barricade will certainly last only 10 minutes before this Weimaraner decides it's time to cause some destruction. What did he use to cover the top of the tree, and why is there a huge music staff on the tree?
The Cat Still Managed To Climb 
No, your eyes aren't deceiving you. There's a cat in the tree. Although the cat managed to climb the tree, we are happy the train that goes around prevented this cat from going any further. A brilliant idea even though it's not fully cat-proof.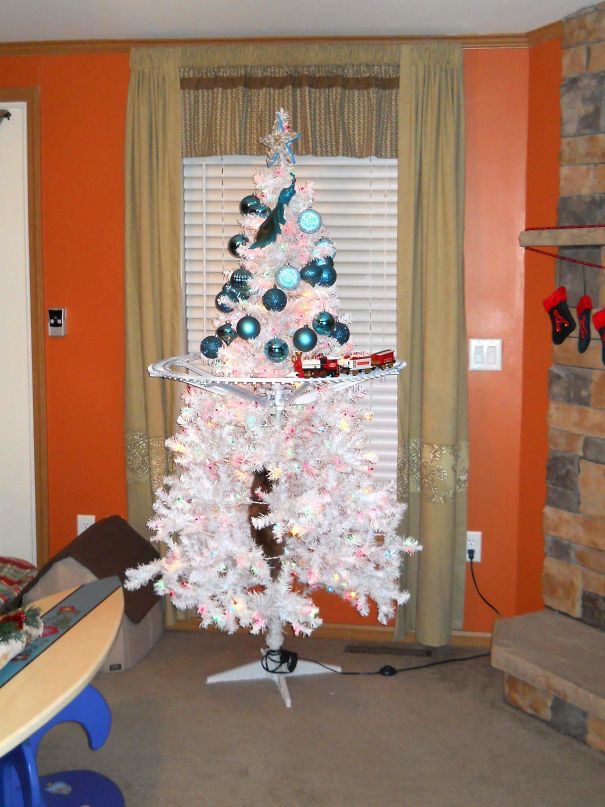 The owner of this tree said she got it like that, and the train around it bolts into the tree and helps to keep the decorations protected. If you're hoping to buy this tree just like us, we suggest you do it now.
Out-Of-Reach Tree
Of all the images we have seen here, this last post is the most original idea. It's completely out of the box, and we wouldn't have thought of it. This is a hilarious Christmas tree that should fit in a dollhouse and nothing more.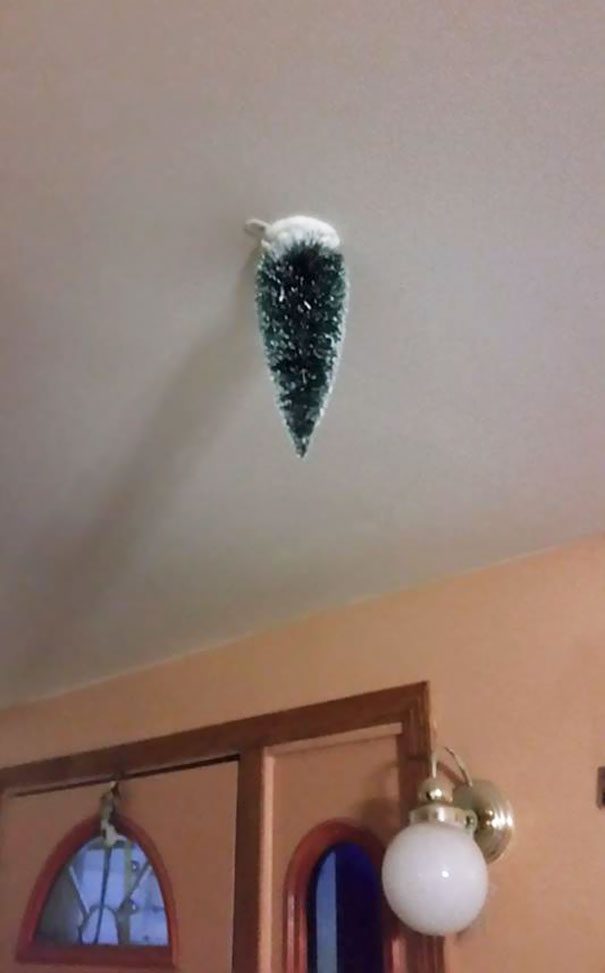 This person decided to be very petty and instead opted for this minute tree that they attached to their smoke detector to keep the pets from ruining it. It's really funny, and it's still a success because it kept the pets away.